Minister of Agriculture Saboto Caesar has complained to police about a "seven continuation dots" in a post that opposition Senator Israel Bruce made on Facebook.
Caesar told Parliament on Thursday — after Prime Minister Ralph Gonsalves was injured while walking among protesters outside Parliament — that he (Caesar) had filed with police, the previous week, a complaint about Bruce's post.
"I went to the Biabou Police Station after senator Israel Bruce placed a statement on Facebook saying that when the ULP and Saboto come to Parliament today that they will be our face," said Caesar, whose wife, in September 2018 fell victim to armed robbers, but later chose not to give evidence against the alleged assailants.
"I just want persons who are listening, persons who are close to me are aware that I made a report at the Biabou Police Station," said Caesar, who defeated Bruce, a first time candidate, in the Nov. 5 general elections by 239 votes.
It was Caesar's worst showing in the polls since he first contested in 2010, some years after being appointed a senator.
He said that he had asked the police to investigate the report.
"I did not know that today, as I stand here, bloodstains — and if the camera man could … pull it in closer — these are bloodstains of Comrade Ralph, the member for North Central Windward, these are his bloodstains on my shirt.
"And I'm telling you, I am going to do what it takes to ensure that there is justice in this country. There are some senators allegedly walking around, bussing people head and nothing coming of it. But justice must be served in this country," Caesar said.
Later in the meeting or Parliament, Caesar, debating the Eastern Caribbean Securities Regulatory Commission Agreement Bill, said that that day, Aug. 5, "will go down in history of this country as one of the darkest days in modern St. Vincent and the Grenadines.
He said that Bruce's post read, "Thursday, 5th August 2021, ULP and Saboto, we in your face" and was followed by what the minister called "seven continuation dots".
"And I can remember when I was being interviewed by the officer, I said to the police officer. I am not worried about somebody being in my face, what worries me is the seven continuation dots.
"And the fact that this wasn't coming from just an ordinary supporter of the New Democratic party but it was coming from someone who is a member of this honourable house who contested the last general election and lost, and will lose again if he chooses to contest, and I told the police, I said you have to take this matter as a serious matter."
Caesar said that he also called the prime minister's security and told the security to inform the prime minister about the police report.
"I placed it in a group chat with all the other representatives so that they could see and I went my mother's house and I said to my mother that August 5th, I am not going to stay away from Parliament but that I am going to be extremely careful because what Senator Bruce placed on the internet — seven continuation dots — could lead anyone to be incited and to create acts of violence against my person.
"I have practiced criminal law in this country, I was a prosecutor before I entered politics and I am aware of my rights."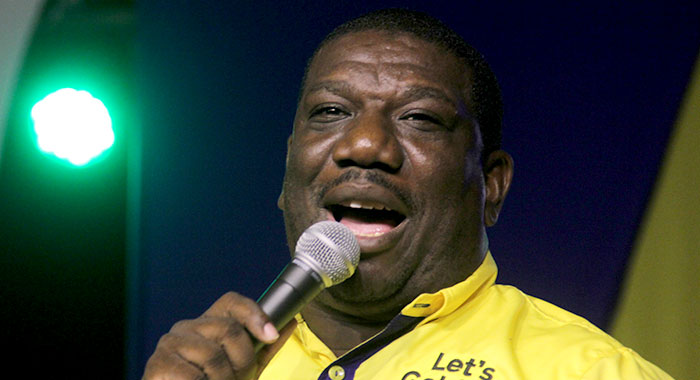 Meanwhile, Bruce, speaking at a New Democratic Party press conference, on Saturday, responded to Caesar's comments.
He said that after the PM's injury and certain interaction amidst government and opposition lawmakers outside parliament, he received permission for the leadership of his party to leave.
Bruce said he followed the parliamentary proceedings on television.
"And forgive me if I say 'dot, dot, dot, dot, dot' because it doesn't mean that I am going to shoot 'you, you, you, you, and you'," he told the press conference.
"I was absolutely amazed to hear the minister of agriculture in the house of Parliament that he went to report against me at the Biabou police station … because there was a posting that I made which said come Thursday Aug. 5th, ULP and Saboto, we in your face.
"That is a threat in St. Vincent now," said Bruce, who is also a lawyer, adding that Caesar had said he had informed the prime minister.
"I don't know what the plans are, but I am seeing the drum beats, and I want for person to know it too that if anything happens to me that these are the guys who are beating the drums against me silently in this country. I want people to recognise that and I am putting it on the record," Bruce said.'
He said that anyone who visits his Facebook page would see that most of his posts end with multiple punctuation marks.
"Whenever I make a post, nine out of ten times, it's either several exclamation marks, several question marks at the end, or you might see several full stops. It is just stylistic," Bruce said.
"But no, there is something afoot, I believe, something sinister is afoot when it comes to my life, so they are beating the drum quietly and setting in motion, that looks, something has to happen to me. I am watching it and paying attention to it…
"I just want to say, do not seek to intimidate the people of St. Vincent and the Grenadines for the exercise of their fundamental rights and freedoms," Bruce said, adding that he accepts that one person's rights ends where another person's begins.