One of the two men arraigned, on Friday, on four charges in relation to the protests in Kingstown on July 29 and Aug. 5, says that he only knows about organising the protests 21 years ago.
"Well, I was never part of organising this protest. But, in 2000, I was part of organising the blockage of the road," Joseph Da Silva, of Mesopotamia, told iWitness News on Friday, after he and Rohan Simmons of Diamond, were arraigned on separate protest-related charges.
"I helped to execute that protest in 2000 at Highway Trading. But I don't know anything about this one," he said, adding that he was a supporter of the Unity Labour Party in 2000, when the protest occurred.
In 2000, in what the ULP later dubbed the "roadblock revolution", major roads into Kingstown were blocked amidst mass protests in the city.
The protests forced the then New Democratic Party (NDP) administration to call fresh general elections, mid-way into its fourth consecutive five-year term in office.
The ULP won those elections, held on March 28, 2001, and has been in office since.
Since May, there have been protests in Kingstown highlighting a number of issues.
These issues included the response of police and prosecutorial authorities to the alleged shooting of Cornelius John, 60, at his Diamond Estate home on April 13, when Assistant Director of Public Prosecution, Karim Nelson and ULP senator, Ashelle Morgan were present and the making of COVID-19 vaccines mandatory for some state employees.
Da Silva and Simmons each pleaded not guilty to separate charges that on July 29 and Aug. 5, in Kingstown, they did organise or were concerned with organising a public procession, without notifying the Commissioner of Police at least 24 hours prior.
They each pleaded similarly to charges that on the same dates, also in Kingstown, they did knowingly take part in a public procession or meeting, in contravention of the Section 5(1) and Section 5(2) of the Public Order Act.
The men were represented by Kay Bacchus-Baptiste and Israel Bruce.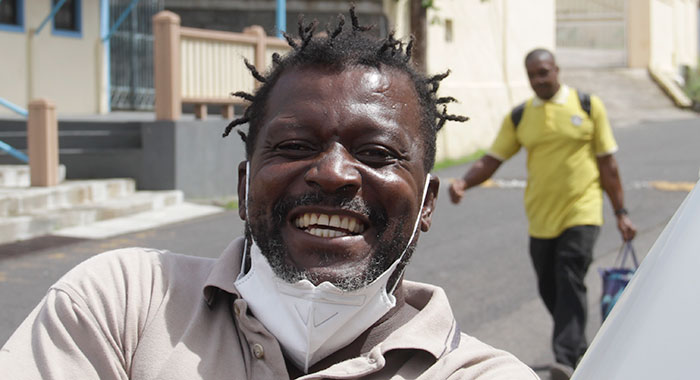 Senior Magistrate Rickie Burnett ordered that station bail be continued and that disclosure take place by Oct. 4.
He set Da Silva's trial for Dec. 7 and Simmons' for Dec. 13.
The duo brings to six the number of people who have been slapped with the same charges in connection with the protest.
Bacchus-Baptiste told iWitness News, on Friday, she suspects that more people could be hauled before the court in connection with the protests.
Meanwhile, Simmons told iWitness News:
"I am 45 years of age and I only know about protests under Ralph Gonsalves administration. And all I have to tell Ralph, 'I'm not afraid, I'm not gonna give up. Charge me again.'"
Simmons and Da Silva appeared in court one day after General Secretary of the NDP, Tyrone James, as well as Colin Graham, a spokesperson for the party, appeared before the Kingstown Magistrate's court on the same charge.
Kenson King and Adrianna King, cousins and NDP activists, are awaiting trial on the same charges.
On Wednesday, after Graham and James were charged, Bacchus-Baptiste said on radio that police had indicated that they wanted to interview three people.
The third one was yet to be interviewed, Bacchus-Baptiste said.
"I have not personally spoken to the person. I actually sent a message for him. So not yet."
She said that she anticipates that other people could be brought before the court as a result of the protests.
"I have been hearing rumours of other persons but nothing confirmed. I was only told of these two and other one."
She said that her view of the charges is the same as in all the other cases.
"It is such a total waste of time. Ralph Gonsalves issued a communique from his office clearly talking about the Public Order Act and the protest contravened the Public Order Act.
"Of course, that is his position. He is wrong. And right after Colin will go and arrest all these people and charge [them] under the same Public Order Act? And that was not done for all the years that people have been protesting in St. Vincent?" Bacchus-Baptiste told iWitness News.
Both the prime minister and Commissioner of Police, Colin John, are also lawyers.
Bacchus-Baptiste said:
"I am telling him, I am seeing it in the law; he is wrong and he knows he is wrong. But he is saying it because right now he is afraid of the protest of the people, clearly, and exactly what he is saying, in that article, 'Fear stalks the land', he could be speaking about himself now. They are using the law erroneously to suppress peaceful protest…" Bacchus-Baptiste said, referring to a 1989 commentary by Gonsalves, who was then an opposition parliamentarian.
Bacchus-Baptiste said:
"If not, let him come out and condemn these actions. I call on him to do it before and I do it again. Ralph Gonsalves, you are the prime minister of every square inch of St. Vincent and the Grenadines, and if you do not condone and absolutely agree with all these spates of arrests for persons who were lawfully protesting, come out and condemn it."