The House of Assembly has mandated special COVID-19 protocols for unvaccinated MPs or those who do not disclose their vaccination status.
In order to gain access to the assembly chamber, all lawmakers must prove that they are vaccinated or have a negative PCR test done no later than two days before the meeting.
There is no such requirement for vaccinated MPs, although vaccinated people, like unvaccinated people, can catch and spread COVID-19.
At least 31 cases of COVID-19 have been detected among vaccinated people in St. Vincent and the Grenadines, and one of those persons is hospitalised as a result of the virus.
The protocols for the House of Assembly say that vaccinated MPs could speak without a mask — although their COVID-19 status is unknown.
On the other hand, unvaccinated MPs or those who do not disclose their status must wear two masks while speaking, the outer one of which must be black — despite having a COVID-19 negative test. These MPs must speak from behind a speaking booth erected in the assembly chamber.
The Health Services Sub-Committee of the National Emergency Council, which is chaired by Chief Medical Officer, Dr. Simone Keizer-Beache approved the protocols last week Thursday, Sept. 23.
On that same day, Medical Officer of Health Dr. Roger Duncan, when asked at a Ministry of Health press conference about the wearing of face coverings by vaccinated people, said:
"I'm not sure we have specific protocols for vaccinated versus unvaccinated people. So for everyone, we still advise you, in closed spaces, please wear face coverings. And as far as possible, please keep your distance. If you could do six feet, that's really perfect. If you can do three [feet], then we could live with that. But that's the advice for everyone."
'continually under review'
The protocols were the subject of some debate during today's (Thursday) meeting of Parliament, which saw some opposition lawmakers refusing to pose questions that they had submitted.
At the beginning of the sitting, House Speaker Rochelle Forde noted the impact of the COVID-19 pandemic, including the fact that there were 1,051 active cases in the country.
Forde further noted that there were two COVID-19 deaths on Wednesday, bringing the total to 21.
"This Parliament, like Parliaments the world over, has had to institute measures to ensure the safety of all Members of Parliament, staff of the House of Assembly, and all other persons present while maintaining the integrity and sustainability of the parliamentary process during this public health emergency," Forde said.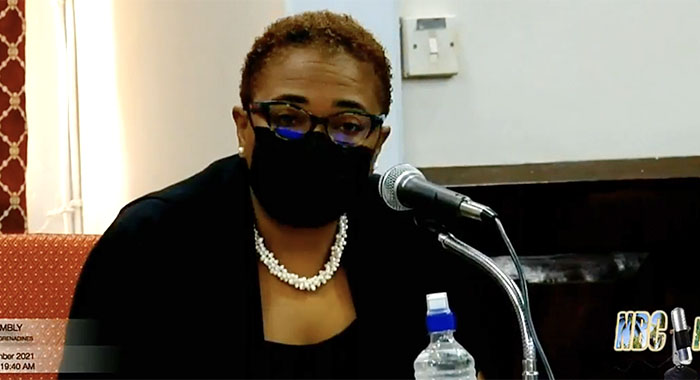 She said that the Office of the House of Assembly, on Sept. 23, circulated the protocols approved by NEMO for the sitting.
The protocols "are continually under review and are subject to change, becoming either less or more stringent at a moment's notice should the relevant officials so advise," the speaker said.
She said that while she has certain powers of discretion regarding the proceedings of Parliament they do not extend to the protocols.
"And we, therefore, rely on the relevant health authorities for their professional guidance, which I accept."
She said that no protocol is more important than the other and lawmakers are to adhere to them all in the interest of safety, leading the nation's people "by example, and in resolute support of the herculean national effort in the containment of the spread of virus.
"It is my hope that our country and, by extension, the parliamentary operations can return to a reasonable level of normalcy but this can only be accomplished if we arm ourselves with the tools necessary to defeat the invisible enemy which this virus is. I encourage us all, the citizens of our blessed nation state, to pay attention to the advice of the medical officials, to continue to regularly wash our hands, wears our masks properly, keep a safe distance, practice cough and sneeze etiquette, avoid large gatherings and vaccinate," the house speaker further stated.
'banished to the Siberia of the box'
However, Leader of the Opposition Godwin Friday rose and said:
"… while we all have public health as our number one priority, you can see how a procedure that requires members every time they open their mouths must get up and run to a booth to speak is going to interfere with the proper functioning of that member in this house and where it is rational and absolutely required, we could understand."
Friday spoke from his seat, without reprimand by the speaker. This suggests that he had submitted to the Clerk of the House proof of his vaccination status.
The opposition leader has publicly disclosed his status and has encouraged persons to get vaccinated, though he and his party are opposed to mandatory vaccination.
The opposition leader said that as far as he understood it, members on both the government and opposition sides of Parliament had complied with the protocols regarding indicating whether they were vaccinated or had a negative PCR test.
"Some members, like myself, have both, because I understand that having the PCR test is the surest way of knowing what your status is — not being vaccinated. Is that not the case? Because unvaccinated or vaccinated persons can contract COVID and can infect other persons.
"So, it begs the question then, if all members have been vaccinated or have had the PCR test, why some members would have to be banished to the Siberia of the box in order to make a contribution in this house, or to wear two masks.
"Nowhere else in this country has that been a part of any protocols. And, in fact, I see in the protocols themselves, the suggestion is that the outer masks has to be black. I don't understand what the colour of a mask has to do with public health.
"So it seems to me that some of the protocols, procedures that are here — it would have been very helpful for these matters to have been discussed with members of the house to have an input as well. Because I have looked as well at Parliaments in various jurisdictions and they have different rules."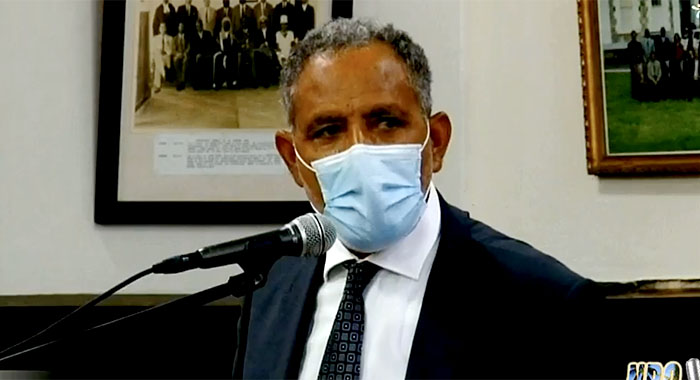 Friday used Greece as an example, saying that all MPs there have to have a negative PRC test regardless of their vaccination status.
He said that the Greek parliament recognised the PCR test is the critical thing in determining a person's COVID-19 status at a particular time.
"And so, that being the case, I would suggest that all members, whether vaccinated or not vaccinated, but who have had the PCR test as well, whose status is negative, that all members in this chamber should be treated with the dignity of all members, having the right to speak in the same way as any other member in this house.
"Because it does not affect the public health considerations that we are seeking to address and that has to be the only thing that we have to be concerned about in this honourable chamber," Friday said.
No compelling reason to 'disregard the sound advice'
But the house speaker said that some of the concerns that Friday has expressed, she had raised them with the relevant authorities.
"As indicated, these protocols have been approved by the Health Services Sub-committee, which is chaired by the chief medical officer. I asked questions very similar to those which you have raised and I was guided to maintain these protocols."
She said she understood that the rules and regulations were stringent and the protocols have changed.
"But, locally, circumstances have also changed," the speaker said, adding that since the last sitting of Parliament, on Sept. 9, three variants of COVID-19 have been detected in the country.
"We have always been guided by the medical officials and guided well. Where things have fallen short is where some of our citizens, unfortunately, didn't take heed to that guidance and then we would have had spikes accordingly," Forde said.
She said that the chief medical officer and her team have instituted new protocols "which in their considered professional opinion will greatly assist us as we carry out parliamentary functions.
"I cannot think of a compelling reason, as a responsible speaker of the house, to disregard the sound advice of the medical officers in a public health emergency."
'Not a legal infringement'
At that point, Prime Minister Ralph Gonsalves said that in terms of management of risk, the question of vaccination is of paramount importance, "at least as advised by the medical authorities as I read what they say.
"But if members of the opposition are, indeed, vaccinated, or those who are vaccinated, what is so wrong in indicating to the speaker, fill out the form and say, we are vaccinated, this is a copy of our vaccination certificate, so you wouldn't have to go down to the booth?
"I would have thought that is a simple solution. And, the idea of equating in the normal circumstances those who are vaccinated with those who are not vaccinated for the purpose of PCR test, that I don't know where that is anywhere in our part of the world, save and except when one is travelling, because of the peculiarities of air travel."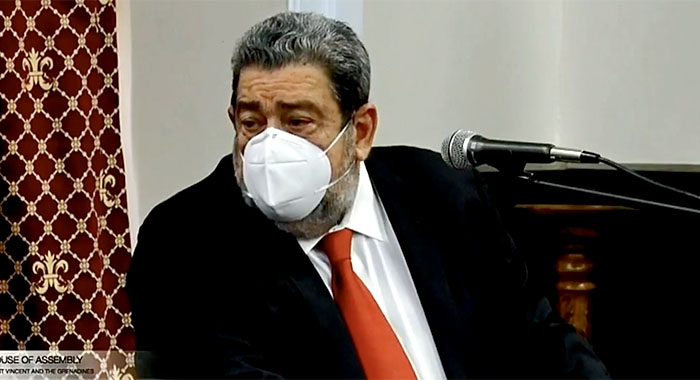 The prime minister said there are similar rules in the Parliament of Trinidad and Tobago.
He further stated that when the matter of proof of vaccination status or testing first arose, Friday said that he considers one's vaccination status to be a personal matter.
"But giving it to the speaker is not an infringement, a legal infringement, of that right within the framework of the Constitution of the country and the rules of the house."
What's the justification for 'differential treatment'?
Friday again rose and said he did not want the impression to be given anywhere that "this matter of the status of members in this house or any work environment should be treated as a political rather than a public health issue.
"And that is why we have to be careful about the example we set here as well. Because, if members have proven that they are COVID negative, the justification for a differential treatment in an environment such as this is really difficult to see, other than to interpret this as some sort of measure to bring out from people information that they have not given or essentially to name and shame. We can't have a situation where the public health consideration is not given the priority."
The speaker, however, said that there is a fundamental point that the opposition leader might be sidestepping.
"These protocols have been approved, discussed, verified by our chief medical officer and we are abiding by them," she said.