The UK's Royal Fleet Auxiliary Ship, Wave Knight has arrived in St. Vincent and the Grenadines for a short visit to demonstrate humanitarian aid and disaster relief (HADR) capabilities.
The ship is part of the UK's Caribbean Task Group, which is formed during the hurricane season, and held at immediate readiness to respond to hurricanes or other natural disasters.
On Sunday, the ship will host Prime Minister Ralph E. Gonsalves, Director of Foreign Policy and Research, Mozart Carr, Deputy Director of National Emergency Management Organisation (NEMO), Kenson Stoddard and other distinguished guests, in order to showcase some of the HADR capabilities that are held on board RFA Wave Knight.
This will include demonstrations from the 24 Cdo Royal Engineers Crisis Response Troop, and a tour of the Royal Navy Wildcat helicopter.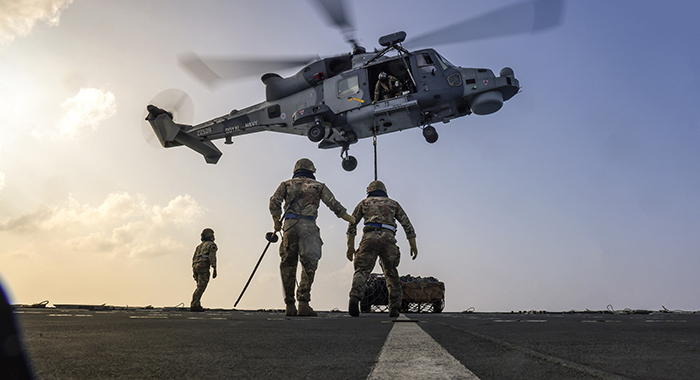 On Monday, there are also plans for the Wildcat helicopter to assist the NEMO with further surveying tasks on La Soufriere volcano which erupted in April this year.
Captain Ali Clack, Commanding Officer of RFA Wave Knight said:
"This is RFA Wave Knight's second visit to Saint Vincent and the Grenadines this year, our last in response to the devastating eruption of La Soufrière. This visit we look forward to displaying some of the Task Group's other Humanitarian and Disaster Relief capabilities and discussing how the UK can further support the region as it emerges from a globally difficult year."
The Caribbean Task Group consists of the patrol ship HMS Medway, the support tanker RFA Wave Knight and its embarked Wildcat HMA2 helicopter, along with the Crisis Response Troop drawn from 24 Commando Royal Engineers. It carries specialist equipment and emergency supplies for use in the immediate aftermath of a disaster.
RFA Wave Knight is a fast tanker, designed to replenish naval ships with fuel, food, fresh water, and ammunition while at sea. RFA Wave Knight can carry up to 2000 disaster relief packages, 150 tonnes of fresh food and provide up to 380,000 litres of fresh water. Her maximum speed of 21 knots and embarked helicopter increase the ship's reach to a large operating area.