Despite a trial of his alleged assailants last week, Cornelius John, 63, who was shot at his home in Diamond Estate on April 13, did not receive justice, says Leader of the Opposition Godwin Friday.
Friday, a lawyer, said on his New Times programme on NICE Radio, on Monday, that there was a "miscarriage of justice" in the matter.
"Mr. John did not receive justice. Everybody knows that. There is an outcome in the case, the matter went through the court and so forth, but somebody shot Mr. John, somebody injured him and nobody is being held accountable. So, he has not had justice," the opposition leader said.
On Thursday, after six days of hearing evidence, Magistrate Bertie Pompey upheld a no case submission in the matter and acquitted government senator Ashelle Morgan, a lawyer, on a criminal assault charge.
The magistrate ruled similarly on charges that Karim Nelson, an assistant director of public prosecution unlawfully and maliciously wounded John and unlawfully discharged a firearm at him.
"There must be justice for Mr. John," Friday said on his party's daytime radio programme.
"That is what people were calling for when the investigation wasn't going ahead, when it looked as though nothing was going to be done, people went on the streets and they called for justice for Mr. John."
He said that not many people knew John before the shooting at his home. He, however, said that in joining the protest in the nation's capital, these people were saying that Mr. John represents something.
That is, if it is "unambiguously" true that someone received an injury as serious injury as being shot in the leg, there must be an investigation and if the assailants are known or if there is reasonable suspicion of who they are, "you bring them before the court and let the process be done in the same way as it would be in any other case".
"Because the principle is that justice is blind. It does mean that it cannot see the truth. What is means is that it doesn't take account of the status or the position or who the victim or the accused is; that they treat everybody in the same way, you conduct your investigation, you do your prosecution and once you have done so in accordance with those principles, that you work to treat everybody fairly and justly then it inspires confidence in the system and people accept the outcome."
Friday said that if one were to ask, people would say that Mr. John hasn't received justice "because nobody has been held accountable; nobody is actually being asked or called upon to present a defence in response to the charge laid in connection with the shooting of Mr. John.
"So that leaves a very unsavoury taste in the mouths of people. People look at this and say, 'Boy, what is happening in this country?'
"Somebody needs to explain. The Commissioner of Police needs to say why it is that the investigation was done in a certain way that you can't even have sufficient evidence to present to ask the persons accused to answer, to mount a defence. Because from what I gathered from the outcome, when you have a no case submission is when the case is so weak that you don't even have to mount a defence."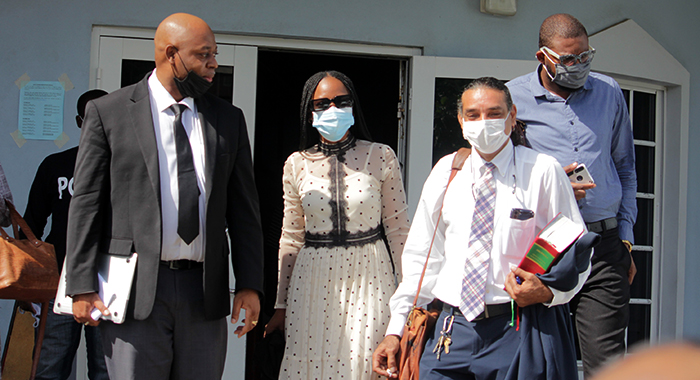 The opposition leader said the police chief and the Director of Public Prosecutions "have to inquire into this because it is their case that was presented.
"They are the ones who should be most concerned about the outcome if they felt that evidence was there for there to be a more vigorous prosecution. Those are questions that people are asking and they need to be answered because we cannot have a situation in our country where people lose confidence or faith in our criminal justice system, in our principle of the rule of law, in that everybody is treated fairly and equally before the law. That is something that is inviolable and when people came out on the streets of Kingstown as well, that was one of the things that they were defending."
Friday said that while some people asked about John and his political affiliation, these things are irrelevant.
"People are saying, listen, in this situation, it cries out for justice irrespective of who the person is and there must be an investigation. The investigation went ahead and then you have the trial, you heard people who are experienced criminal lawyers commenting on it.
"I wasn't there in the courtroom and other persons wouldn't have had the benefit of the arguments and so forth being presented because there was a media blackout — very unusual in itself in a magisterial matter," said Friday who practises civil law.
In an unusual move, the prosecutor in the matter, S. Stephen Brette, who is deputy director of Public Prosecution in St. Lucia, asked the court to order that the media not report on the evidence in the case before the trial was over.
The prosecutor cited no legal authority when he made the application, which was supported by defence counsel Ronald "Ronnie" Marks and Duane Daniel, and the court also cited no law in granting the application.
Friday said that in the court of public opinion, if one conducts a poll to see if justice was done, one would see that nobody feels that justice was done.
"People have said they are not surprised with the outcome … but they are still outraged at the outcome."
He said that people were not surprised by the outcome "not because they felt that there was no evidence and so forth, that there wasn't any case to be answered but that they weren't sure that the system was working the way it ought to.
"And we can't confirm that by simply letting the matter go. There must be some comment from persons involved in the prosecution."