Unvaccinated police officers in St. Vincent and the Grenadines who have not secured a medical or religious exemption from taking a COVID-19 vaccine, have until today (Wednesday) to take the jab or lose their jobs.
And, come Friday, other government employees for whom vaccination is required, will be considered to have abandoned their jobs, if they are still unvaccinated.
"I have been advised that today is the last day in respect of the 10 consecutive days for the police from the 19th of November for which, if they don't take the vaccine, they would be deemed to have abandoned their job. That is the end of today. And they would be taken to have resigned," Prime Minister Ralph Gonsalves said on NBC Radio this morning (Wednesday).
Gonsalves, who, as minister of national security, has ministerial oversight of the police force, noted that the pension arrangements for police officers are such that if they have served 10 years, they will get a "golden handshake, which is not a whole heap of money.
"Twenty years, it's a better handshake — your gratuity — and you will also get a pension, though a smaller pension than otherwise would be the case than if you had gone to the 33 and one-third years.
"I don't want to see anybody lose their jobs — losing their jobs not because I am making them lose their jobs. They are making the choice to lose their jobs. Because I don't see any rational reason and the science has it, why you shouldn't take the vaccine."
The prime minister said that he suspects that by tomorrow, or Friday, the police administration will send to the chief personnel officer the names of officers who have abandoned their jobs.
"And the CPO's office will begin to process whatever benefits are available to them — in the normal way."
He said that Friday is the day for other categories of government workers, because they have 10 work days during which to take the jab.
The prime minister said that the data that he has seen show that among police officers, prison officers, nurses, hospital staff, the community nursing service, and airport workers, 90% are vaccinated.
The Customs Department is about 88%, Gonsalves said, adding that he expects that by Thursday, Customs will be in the 90s.
The percentage of vaccinated teachers is in the low 80s "but everyday that is picking up".
Gonsalves said that there are a number of persons who have applied for medical or religious exemptions and these are being processed.
"I expect that by Friday that the chief personnel officer will have indicated whether this or that person has gotten the religious exemption," Gonsalves said.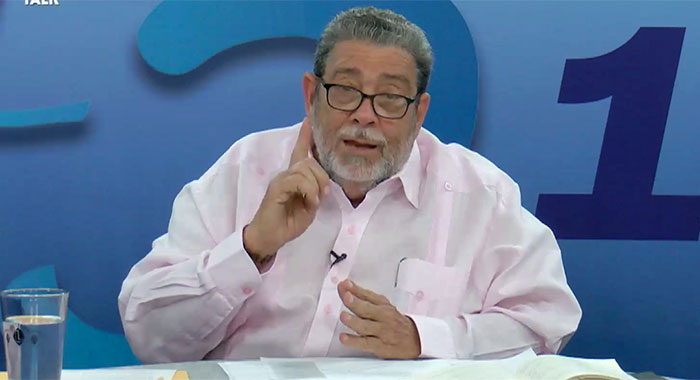 He said that applications for religious exemptions have to be signed by the head of the particular church or which the applicant is a member, saying that the applicant's objection to the vaccine issue is a matter of church doctrine.
"There are some people who have that as a doctrine, for instance, The Incient Churcical Order of the Nyahbinghi has that as a doctrine. I think the Thusians has that as a doctrine."
The law that mandates vaccination makes provisions for workers who receive an exemption on medical or religious grounds to work elsewhere in the government service, if the State can accommodate them.
There are some cases in which such accommodation can be made, the prime minister said, adding that he would suspect that it would be easier to assign a police officer to, say, provide security at the Office of the Attorney General or at the National Emergency Management Organisation.
He noted the other protocols, such as mask wearing, that have to be followed, even by vaccinated staff members.
The prime minister spoke about the possible challenges in reassigning a teacher.
"Let's say you are a graduate teacher, I don't know how many jobs the Ministry of Education may have to put you in a backroom to research down in the Ministry of Education or at the Curriculum Unit…"
He further spoke of the challenges of assigning such people to equivalent positions in the Public Service.
"So these are some of the challenges which exist and, again, I am advising and urging, again, my brothers and sister who are teachers — and teaching is my first love, please, take this vaccine, unless you have one of these exemptions…"
He said that the problem with accommodating Thusia Seventh-day Adventists is that on a matter of doctrine, they are opposed to testing for COVID-19.
"I may be wrong on that. That's what I have been made to understand. Now, if you don't want to be tested, there is no religious exemption in relation to a test. Only in relation to taking the vaccine," the prime minister said.
He said that his understanding is that the Nyahbinghi are not opposed to a test, doctrinally.
"So you see the kinds of assessments which have to be made in practical terms…
"I repeat it: I don't want anybody to make a choice to make them lose their work. The truth is this, is that vaccination among frontline and strategic workers, the rate, it has moved very high, as I gave those broad numbers."
He said that SVG was expected to receive today 11,000 doses of AstraZeneca vaccine from Argentina.
As of Monday, the remaining number of doses of the Pfizer COVID-19 vaccine was close to 2,000 out of the 35,000 doses that the country had received.
"So that what the chief medical officer tells me is that out of this 1,900 now, they are not giving boosters from those. They are giving first and second doses from the Pfizer which they have. They will give boosters from the AstraZeneca and, hopefully, before the end of December, we will get the other tranche of Pfizer," Gonsalves said.