Residents of Layou took to the streets of the Central Leeward town on Sunday in a march that ended at Jackson Bay, where quarry operators want to construct a rock pier.
"The persons who came up with this idea to erect a jetty down here have to be totally insane — totally insane," Vernon Cooper McDowall, one of the protesters, told iWitness News on the beach at Jackson Bay.
"I can't see people in their right minds come up with something like that. It will never happen at Jackson Bay," he said.
It was the second time in less than a week that residents showed their disapproval of building another pier in the town.
Last Wednesday, they also gathered at the beach in disapproval, and their MP, Orando Brewster speaking on radio from New York, where he is on official business, said one day later that he would act in the interest of constituents.
"And, I have constantly been doing that. So on this issue as well, it is what is in the best interest of the people of Central Leeward that I will support," Brewster said.
On Sunday, McDowall told iWitness News that he exercises on the beach between 5:30 and 7 every morning.
"Jackson Bay means so much to me and the whole community of Layou and the environment. So we can't just sit down and allow Jackson bay just to go away from us like that."
SVG Aggregate Inc., which operates a stone quarry in the Layou mountains, has asked planning authorities to permit the construction of a rock pier at Jackson Bay.
If permission is granted, the pier would extend about 150 feet into the sea so as to allow for the docking of barges.
However, many of the protesters noted that there are already two wharfs in Layou.
One, a concrete pier, was built by the state for public use and another, a rock pier, is owned by another of the three quarries operating in the Layou mountains.
"Look at the number of people who are here. Every Sunday, this is how this part of the beach is," Everard "Coach" Young told iWitness News.
Scores of people took part in the march and even more were playing soccer on the beach, while others swam and frolicked or relaxed on the sand.
Young said it was unfair to residents of the town for people to begin surveying land — suggesting that they already had a plan — before consulting residents.
"We are not willing to give up this part of the beach."
iWitness News pointed out that the notice of application was published in the newspaper, as the law requires.
"Come to the community first. That is important to come to the community before you publish anything."
Young said that consulting the community would not have made a difference.
"We are not giving up this part of the beach. This is where generation after generation after generation … bathe."
Young noted that the beach had stretched from one end of the town to the other. However, residents lost some of it when the government built a sea defence to protect the town from the rising sea.
He added that another quarry operator built a rock pier in one area of the beach.
"And we are decided that we don't want another wharf. We have enough," Young said.
Joanna "Nubian Princess" Christopher, a former national athlete and queen of calypso, told iWitness News that she has a spa on the beach and a quarry would hinder traffic to her business place.
"Not only that, I played national netball in St. Vincent. This beach is where I trained and many more of the celebrities like Ezra Hendrickson, Jolene Christopher and among them. Alston "Becket" Cyrus comes here every day to take his soak," he said, referring to Vincentian calypso legend.
"You know that Layou has a lot of stars. And we, the stars, are saying no wharf. We don't want it here. It is gonna take away from us," Christopher said.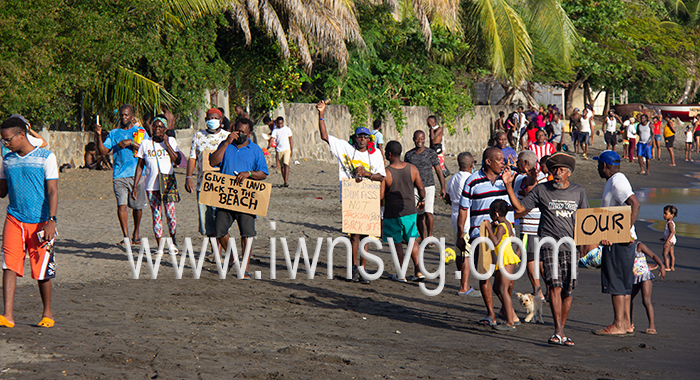 Vakeesha John, an educator, said that townsmen were "very much concerned about the environmental aspects, the negative impact that this third jetty will have.
"We are also concerned about the social impact, the cultural impact," said John, a former Miss SVG contestant.
She said that Layou is a fishing community and in the morning, many community elders, especially people with arthritis, go to the beach to swim.
"I saw a placard was saying 'I don't have a swimming pool at home so this is where I come to bathe and get that time with my family'. And these are all important elements of community and that energy that communities are to have in order to maintain the peace, in order to look out for each other and have that love."
John said residents understand that the proposed pier was just at the application phase and that complaints have to be submitted formally.
"But that doesn't invalidate the informal presence of the people here. That doesn't invalidate what is going on — the voice of the people.
"We want them (the authorities) to have a very good understanding as to the feelings of the people, how people are feeling about this jetty, and we want them to take everything into consideration when making that decision."
Meanwhile, Annie Christopher told iWitness News that she has grandchildren in New York, Canada and England who learnt to swim at Jackson bay.
"… they say, 'Grandmom, I want to come down to Vincy because I want to go on the beach.' So if they put the wharf, how they going go on the beach and they learned to swim from down there?" said Christopher, who is the mother of calypsonian Man Kemmy and basketballers Sophia Young.
Meanwhile, Annie Quashie said that instead of a wharf, washroom facilities should be built at the beach.
"You know how much s**t dey in a da sand ya?" she said in Vincentian dialect, adding that people have nowhere to relive themselves when they are on the beach.
"Tell the owner build a toilet dey gi we," Quashie said, referring to the "owner of the land, whatever construction going there."
"We need a toilet here and a little restaurant too so that when all the tourist come in the dingy fo' bring dem in and dem eat.
"Wharf? Wha' we getting form the wharf when it build? Any employment? You know how much people in the community nah had nothing fuh do," Quashie told iWitness News.
And, a man who gave his name as "Boots better known as NDP Boots" told iWitness News the quarry operators should fix the rock pier that is at the beach.
Maurice Raciad, a natioanlised Vincentian whose wife is born Vincentian, said he came to St. Vincent 10 years ago.
"I fell in love with the place the first time I saw it.
"The people come here at 6 in the morning, noontime, supper time; sometimes in the middle of the night, you hear swimming and laughter. It is an asset to this community."
He noted that there were two wharfs at the beach.
"Why build a third one and destroy this beach?" Raciad said, adding that the rock pier has blocked the sand from going on the east side of the beach.
"So there is no beach on the other side of that jetty, they are destroying this beach. Why?"
And, McDowall told iWitness News that formal objections have been lodged with planning authorities.
He said he had taken in over 600 signatures asking that the project not be approved.
"So I don't see physical planning going over that and granting these people permission to erect a structure down here. If they go ahead, with the kind of people we have in this community, they will come down here everyday and just block and stall everything.
"I don't believe it is going to reach that far. I believe true sense is gonna prevail…"
McDowall suggested that the quarries operators agree to share the existing rock pier.
"I am passionate about Jackson Bay and we won't sit down and allow it to happen in Jackson Bay. Will never happen," he told iWitness News.