Thousands of people in St. Vincent and the Grenadines caught COVID-19 after Christmas, leading to an "immunity bubble".
And, Minister of Finance, Camillo Gonsalves said that health officials have said that this immunity will wane, leading to another spike.
"And all the healthcare professionals have told us that another spike will come to St. Vincent," he told Parliament, on Thursday, two days after the government repealed some elements of COVID-19 response protocols.
"Thousands of Vincentians caught COVID in the months after Christmas. And those thousands of people who caught COVID are currently still enjoying a period of immunity," Gonsalves said.
He was debating a law that provides pensions for some teachers who had gone past age 55 when they retired as a result of the COVID-19 mandate, thinking that they would receive their benefit.
The amendment that Parliament approved on Thursday ensures that these teachers receive their pension.
"There is a prediction that a spike will come again; that the immunity bubble that we're enjoying because a lot of people were infected in recent months, will wane."
Several opposition lawmakers called for the lifting of the vaccine mandate for teachers and for the re-appointment of educators who were fired because they did not take a COVID-19 jab.
Gonsalves, however, said that he supported that policy when it was implemented and that he still supports it now.
"And then what are we going to do when the spike comes — because we're still in the public health emergency — pull back unvaccinated teachers?
"Say, 'Well, you're working this week while COVID case is low. But come back out when COVID case is high'?"
"That's an irrational response. We encourage all teachers to get vaccinated. We recognise the absolute heroism of the teachers of St. Vincent and the Grenadines over the last two years — absolute heroism between COVID and the volcano, teaching children remotely, learning how to teach remotely on the fly."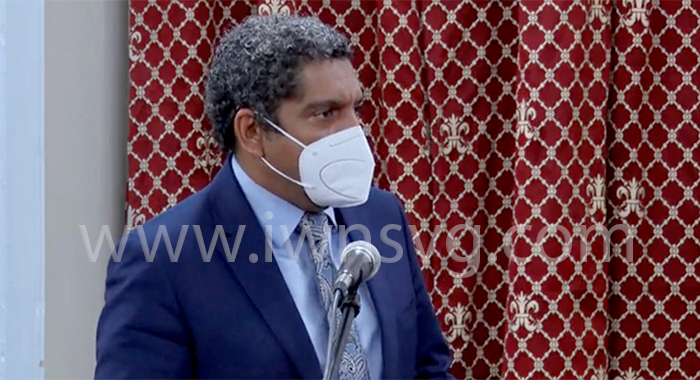 He said that there were no classes to teach educators how to deliver content online, keep discipline in virtual classes, and to ensure that students were not being truant.
"They learned all of that on the fly and still produce excellent grades in the standardised tests across this country. It was miraculous the work that they did. But children must be safe," Gonsalves said.
He said that even above the obligation of the state to keep the average citizen safe "is the obligation to keep children safe and if there is an extra burden to keep your child safe, Madam Speaker, or my child safe in a classroom.
"I think that is a burden that society will, on balance, say is correct in all circumstances."
He said the encouragement should be for teachers to get vaccinated.
"And this bill deals … with a small subset of teachers who thought, mistakenly, that in retiring at 55, they would get certain benefits.
"And because of that mistaken belief or that expectation that they would get their benefits, this bill is doing the corrective to ensure that.
He said the underlying principle that was "being introduced and attacked by the opposition, first of all, turns its the head the original position, about focusing on health and not economics, because now it's focusing on economics and not health". 
Gonsalves continued:
"But, secondly, it misleads the people of St. Vincent and the Grenadines into thinking that the only players in this conversation about teachers are teachers. The 30,000 children of St. Vincent and Grenadines were made safer by this policy.
"And the parents were placed at more ease mentally because of this policy. And for that, I say thank you to the Ministry of Education."