Defence counsel, Grant Connell, on Wednesday, informed the court of his intention to challenge the admissibility of two crucial pieces of evidence on which the prosecution intends to rely in the trial of the former police officer accused of stealing guns and ammunition from the Georgetown Police Station.
Connell will challenge notes that the investigator, Assistant Superintendent of Police Oswin Elgin Richards, allegedly made during a conversation with the defendant, Zackrie Latham after allegedly cautioning him, and an electronic interview in which those notes are referenced.
The development came as the trial moved into day 3 at the Calliaqua Magistrate's Court before Zoila Ellis-Browne.
Latham, 26, of New Grounds, a former police constable, is being tried on charges of official corruption, burglary, sale of firearms without a dealer's licence, sale of ammunition without a dealer's licence, possession of a firearm without a licence, possession of ammunition without a licence, possession of a prohibited weapon without authorisation of the minister, and possession of criminal property.
The charges stem from the theft of firearms and ammunition from the Georgetown Police Station last year.
At least one of the firearms and what the trial so far has suggested is hundreds of rounds of ammunition were not recovered.
The trial, however, is concerned with four firearms — three Glock 22 pistols and one M4 rifle — and 305 rounds of ammunition.
As the trial resumed on Wednesday, in Calliaqua, prosecutor Crown Counsel Maria Jackson-Richards made an application for detective Corporal 646 Shoy to testify by video link from Barbados.
The prosecutor said that Shoy was involved in preparing a forensic report in relation to the case.
Connell then rose and gave the court notice that he intends to conduct a voir dire or a trial within a trial, in which he would like Commissioner of Police, Colin John to testify.
However, the prosecutor told the court that the police chief was out of state.
Connell noted that when the court summons someone, they make themselves available and that the commissioner should be on standby.
Detective admits to taking accused to hospital but denies he was beaten
As the trial continued, a detective admitted, under cross examination, that he took Latham to hospital after he complained of pain in the ear.
Corporal 563 Alex Primus of the Major Crimes Unit (MCU), however, denied that Richards, the police chief or any other officer struck Latham. 
"He complained of something with his ear. The doctor did not give us a report," the officer said.
He further told the court that when the police take a prisoner to hospital, the doctor does not usually prepare a report.
The lawyer suggested to Primus that Latham had fingernail marks to his throat.
"I don't know of any injuries. He complained of something with his ear."
The detective said he only did not know about Latham complaining about any oozing from the ear or mild swelling to the left side of his face.
"Why did you not tell the magistrate of your trip to the hospital with this young man," Connell said.
"I did not mention it at the time," Primus told the court, later saying that he had "no intended time" to do so but that did not mean that he did not intend to say so.
"I am putting it to you that you were not going to tell the magistrate because it would justify that this man was beaten by you all," Connell said.
"He was not beaten."
Primus said he could not say whether Superintendent of Police Trevor Bailey was present at MCU when Latham was brought there on June 18.
"… as soon as we came, we came to the office with him. My focus at that time was on ASP Richards."
Connell suggested that as Latham walked into MCU, he was greeted by a slap by the police chief.
"That did not happen. As soon as we entered we went into the room with him," Primus said.
"I am putting it to you that Corporal Ollivierre, aka Nigerian, said, 'Me ah wuk tonight; I go deal with it."
"That did not happen. Ollivierre was not there," Primus said.
"Then you all start to beat him."
"That did not happen."
"When that happened, that is when ASP Richards stepped in and carried him into the little office on the side," the lawyer said.
"That did not happen," Primus maintained.
Primus said that the commissioner and Bailey did not question Latham and Avi King together at MCU.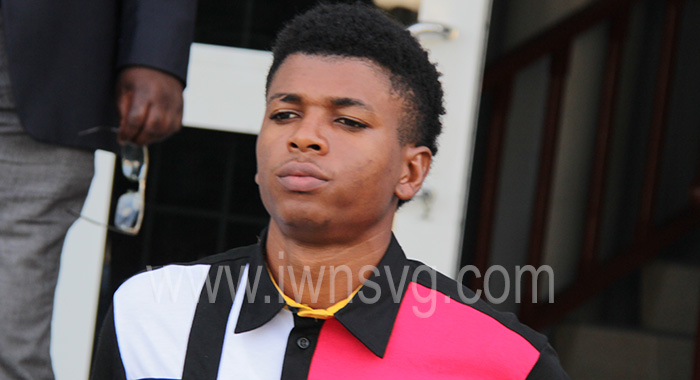 In his evidence in chief, Prims told the court that on June 17, 2021, he, along with Richards — who is also head of MCU — and detective Corporal 483 Edmund Ollivierre went to the police eastern division, which consists of the Colonarie and Georgetown districts, in connection with investigations into the alleged burglary. 
During that investigation, they spoke to Avi King of Diamonds Village who told them something in relation to a quantity of firearms removed from the Georgetown Police Station.
King also told the police something about Latham and Meshack Dublin of Diamond Village and those firearms.
The detective was not allowed to tell the court what King told him because of a rule that prevents a witness from repeating certain things that were not said in the presence of the defendant.
Primus said they went to Diamonds Village and found Dublin walking along the public road and took him into custody.
Dublin told the officers something in respect of King and Latham and a quantity of firearm and ammunition and took the officer to a cemetery near his home and pointed out an area and told them to dig there.
Primus said he was present when Ollivierre dug that area and found a sack in the presence of Dublin.
The sack was opened in Dublin's presence and was found to contain one M4 rifle.
The rifle was kept as an exhibit and Dublin also told the officers something about Delroy Fergus who lives with his mother, Caska Fergus, in Diamonds Village.
A search warrant was executed at that home in the presence of Caska Fergus, who directed them to Kelroy's room, and a quantity of ammunition was found in a pillowcase. 
Dublin also took the officers to his home and handed over to them EC$3,250 and told them something in respect of that money as it relates to King and Latham.
King and Dublin were charged in connection with the theft of the firearms and ammunition and pleaded guilty to their charges and are serving prison sentences.
None of the Ferguses were charged and they testified on behalf of the Crown on Wednesday.
Primus said that on their way back to Kingstown, they stopped at the Biabou Police Station, where King and Dublin volunteered statements, which Richards recorded and he witnessed.
They left Biabou and went to the Calliaqua Police Station, where Richards informed Latham of the investigation and cautioned him. 
"He said, 'ASP, me go talk to yo'," Primus told the court. 
He said they left with Latham for the MCU office in Kingstown.
"On arrival at the Major Crimes Unit, Richards cautioned the defendant in respect of the offences of burglary, possession of unlicensed firearm and ammunition and informed him of his rights to legal representation," Primus told the court.
"Latham gave ASP Richards an account as to what he knew regarding the allegations. ASP Richards informed him that he would be taking notes of what he was saying. ASP Richards also made notes of what Latham said.
"After the defendant was finished giving his account, ASP Richards read the note over to him and he agreed it was true and correct and signed his name," Primus said.
He said he and Richards also signed the note and Richards kept it as an exhibit.
On June 18, 2021, about 3:45 p.m., Richards told Latham of his intention to conduct an electronic interview regarding the allegations.
Primus and Richards began the interview 10 minutes later at the Criminal Investigation Department at the Central Police Station.
"He was informed of his rights to legal representation. He indicated that he did not have any and proceeded without a lawyer present," Primus said.
He said the interview was burnt onto a blank DVD and two copies in movie format and one in data format made.
The detective said that all three people involved in the interview signed and that Latham spoke of his own free will.
During cross examination, Primus told the court that the MCU team left Kingstown sometime after 10 a.m. for the Eastern Division but did not go on any "expedition" as the defence counsel had said.
He said that he does not know an MCU officer called "Nigie" or "Nigerian".
When the lawyer asked if Corporal Ollivierre is not called by those names, Primus said, "I only know him as 'Ollivierre'."
Primus said that members of the Rapid Response Unit (RRU) aka " Black Squad" were "not initially" part of the party when they left MCU, but they joined later.
"You made no mention of this joining of the party by RRU. Is there a reason why you are not telling the magistrate about this person?" Connel asked.
"Yes. They did. As the investigation progressed, we sought further assistance to provide security," Primus said, and told the court there was no reason why he did not mention this.
"I can safely say that you have not told the magistrate exactly what happened on your journey,' Connell said, but the officer maintained that he had.
Primus said that the RRU joined the team at Diamonds to provide security.
He said that the MCU team got back to the Calliaqua Police Station but did not visit the scene of the crime in Georgetown because "that was not our game plan at the time".
Primus said that the police did not make a video of their arrest of Latham
He said no RRU officer was present in the dorm when the arrest was made.
"Richards said, way the gun dem day?" Connell said.
"No," Primus said.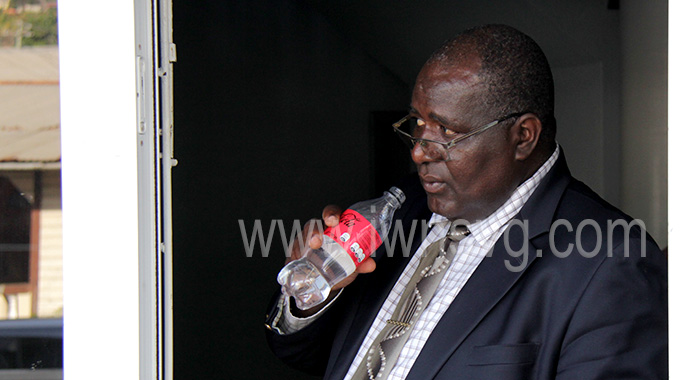 The lawyer put it to the witness that Richards told Latham, "Man done say yo give him gun" and then slapped Latham.
"That did not happen," Primus said.
He also said that the RRU officer did not hit Latham.  
"As I mentioned before, no member of the RRU was in the room," Primus said.
He also said that Ollivierre did not hit or threaten Latham.
Primus said he could not recall who handcuffed Latham.
He said there was no reason why he did not mention in his evidence in chief that Latham was handcuffed
"Is that one of the many things you left out that happened?" Connell asked.
"I have not left out any significant thing — in my view that is significant."
The detective said that when they returned to MCU, as they walked in the door, Richards did not say, "Chief, look the man here", as Connell had suggested.
Primus said he did not see the commissioner of police at MCU when they returned.
"When we all walked in we went straight to a chair and table, ASP cautioned him and that is where he made the note,' Primus said, adding that it was "in a cubby area — small office area".
Primus said that Ollivierre was not there at the time.
He said that while Latham said he could not afford a lawyer, the officers did not call a justice of the peace to be a neutral party doing the interview, because "it was not necessary at the time".
The lawyer asked Primus if they told Latham that he could write a statement voluntarily or elect an officer to write it for him.
"We cautioned him and he gave an account. He spoke of what he knew of the allegation and ASP Richards informed him that he was writing what he said."
Connell said:
"I told an officer yesterday, your brightness blinding you. When you carried him to MCU, the nature of the matter you were investigating, you were aware at that point it would warrant an electronic interview being done?"
"No necessarily," Primus responded. "The law does not mandate it. The option was available"
"I am putting it to you that you were part of the party that abused the young man," Connell said.
"That is not so. He was never abused."
"When you were driving from Calliaqua to town, was he in the back between two officers?" the lawyer told the witness.
"Obviously he was."
And even during the journey to town, he was being hounched," Connell said.
"There was no reason for that. He was cooperating," Primus told the court.
On Wednesday, the court also heard the evidence of Corporal Ollivierre and detective Sergeant 240 Dwight James.
Richards was giving his evidence in chief when the trial adjourned around 4:40 p.m. It resumed at 9 a.m. today (Thursday).