At least 101 rounds of ammunition allegedly stolen from the Georgetown Police Station were sold illegally for EC$20 each before the heist last June that made national headlines.
The information came from notes that the lead investigator, Assistant Superintendent of Police Elgin Richards said he took during a conversation with the accused, former police officer Zackrie Latham, 26, after his arrest on June 17.
Richards said that he, Latham, and detective Corporal Alex Primus, also of the Major Crime Unit, who witnessed the interaction, signed the notes as a correct record as what Latham had said.
As the trial moved into its fourth day, on Thursday, at the Calliaqua Magistrate's Court, Magistrate Zoila Ellis-Browne allowed into evidence some notes that Richards said he made during a conversation with Latham, under caution.
The magistrate also allowed an electronic interview that investigators conducted with Latham to be tendered in evidence.
Defence counsel Grant Connell had challenged the admissibility of the two pieces of evidence.
However, prosecutor Crown Counsel Maria Jackson-Richards convinced the court, during a voir dire (trial within a trial) that the evidence was properly obtained.
As the trial resumed after the voir dire on Thursday, Richards told the court that he arrested Latham on June 17 at the Calliaqua Police Station — to which he had been transferred after the firearms and ammunition were found to be missing at the Georgetown Police Station on June 3.
Richards, who is head of the Major Crimes Unit (MCU), said that Latham was later taken to the MCU office, located at police headquarters in Kingstown.
Latham is among four persons to be charged over the firearms and ammunition.
Avi King, 26, who told police that the firearms were handed to him at the Georgetown Police Station, as well as Meshach Dublin, 26, also of Diamonds, are serving prison terms for possession of unlicensed firearms and ammunition and other offences.
Myron Samuel, 28, of Layou, was also jailed for possession of an unlicensed firearm and ammunition, but was released three months later on compassionate grounds.
Richards told the court that Latham told him and Primus, also of MCU, that King had always said that he wanted "to lick a shot" but he always told King it "is not a good idea to come into the station".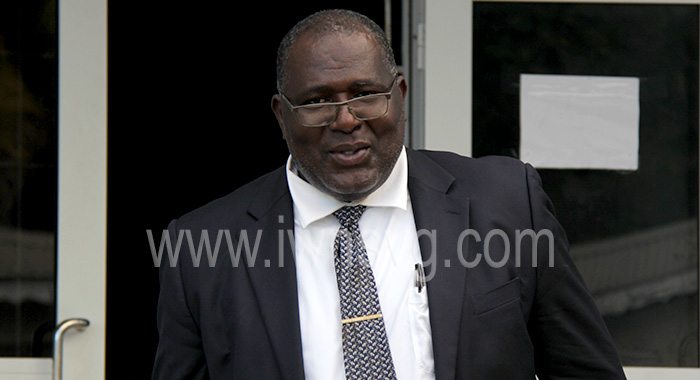 According to Richards' notes, King always brought up the issue with Latham, and on June 2, told Latham he was going to "come over late".
Latham was sleeping in the dormitory of the police station, having gone to bed after 9 p.m., when his cell phone rang.
It was King.
"Me been wake up but me nah been hear what he was saying properly so me go outside to see if he was outside," Richards quoted Latham as saying.
When Latham went outside, he met King at the steps of the conference room of the Georgetown Police Station.
He asked King what he was doing and King said he had come to "call a shot" and asked Latham which was the door to the armoury.
"Me show him and then went back into the dorm," the notes further quoted Latham as saying.
Latham said he did not know what King removed as he (Latham) did not go into the armoury but went back to sleep, waking up about 5:15 a.m. on June 3 to take up station orderly duties at 6 a.m.
"When Avi told me that he was going to call a shot, he also told me he would give me something," Latham allegedly told Richards.
Richards' evidence is that Latham worked from 6 a.m. to 8 a.m. and handed over duty to PC Hackshaw.
He then went to Kingstown for prisoners to "fatigue" the station — which was being cleaned of ash from the eruption of La Soufriere volcano.
Latham, another constable and the prisoners, spent all day on the roof of the station and then he took over station orderly duties from Hackshaw at 4 p.m.
The police transport was going back to Kingstown with the prisoners and PC Horne asked Sergeant Lett for a weapon.
The sergeant went upstairs and then said someone had broken into the armoury and taken all the weapons.
Richards said Latham told him that when he heard the sergeant say weapons were missing, his mind ran on King but he did not tell anyone anything.
The Commissioner of Police and other officers went to the station and informed the staff there that each of them would be treated as a suspect.
Latham signed a paper giving permission to search his phone, which, as with those for all the other officers, was confiscated.
He gave his phone and password to Superintendent of Police, Trevor Bailey.
Richards told the court that Latham told him that when he took over station orderly duties at 4 p.m., he deleted his WhatsApp because communication between him and King were on the phone.
He and King were talking about the M4 rifle, but Latham "did not have none on my phone".
So he downloaded "a pattern for it off Google" and sent it to King.
"He was saying he get one ah these. He can get EC$6,500 for it," Richards said Latham told him of King.
Latham allegedly told Richards that on June 10, about 10 a.m., he received a WhatsApp message from King inviting him to Diamonds to "check him".
"Me check him and he gave me EC$2,800," Richards' notes quoted Latham as saying.
Latham asked King what he removed from the armoury and King said an M4 rifle, one Glock, a toy gun, and some bullets.
Richards said that Latham told him that the majority of the cash was in his uncle's car in Calliaqua.
He allegedly further told Richards that in February 2021, he found a round of Glock 40 ammunition in the station orderly's desk drawer in Georgetown and gave it to King.
As time went by, King told Latham "… 'The man them from Sion Hill want shots.'
"So through the carelessness of the NCOs, I get a box from the armoury when it was in ASP Francois' office in late February, early March."
He gave the box of ammunition to King, who told him he sold the ammunition in Sion Hill for EC$20 a round.
The evidence in the trail is that each box of .40 ammunition contains 50 rounds, while there are 20 rounds in each box of .56 ammunition.
King told Latham he got EC$500 for the box of ammunition and gave Latham EC$250.
Around April, King told Latham that "the man in Sion Hill" said that he wanted more "so I got another box of ammunition from the armoury and gave it to him.
"He gave me BD$200. At that time, Avi sent me a WhatsApp message with a lot of money made up of Bajan and EC money," Richards quoted Latham as saying.
Richards' testimony continued on Monday, when the trial resumed at 9 a.m.