The lawyers representing two accused murderers have asked the court to rule that they should not be tried a third time for the same offences.
Justice Brian Cottle is expected to rule this month on the application by defence counsel Kay Bacchus-Baptiste and Shirlan "Zita" Barnwell on behalf of their clients, Che "Ragga" Bute, 38, and Azari "Nines" Ash, 33.
The two men have been in custody since April 2010 in connection with the murder of Lloyd Samuel aka "Lazarus", "Lazo" and "Hawkie".
The 27-year-old Redemption Sharpes man was shot in the head while reversing his vehicle in his yard during the pre-dawn hours of Dec. 21, 2007 and died in hospital four days later — on Christmas Day.
In July 2011, a jury found the men guilty of charges of murder, possession of a firearm to commit an offence, possession of a firearm with intent to injure, and unlawful use of a firearm.
Justice Frederick Bruce-Lyle sentenced both men to life in prison, and their lawyers, Carlyle Dougan, QC and Jomo Thomas immediately signalled their intention to appeal.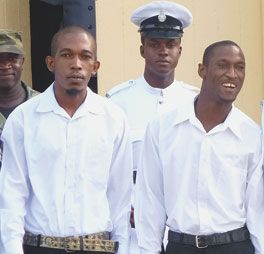 The accused on a 2012 Searchlight photo.
Then, on May 26, 2014, the Court of Appeal ordered that the men should be retried, having found, as Bute's lawyer, Bacchus-Baptiste, argued, that "a considerable body of prejudicial evidence was let in which had no probative value and therefore, it impacted on the fairness of the trial and the safety of the conviction".
A second trial was held in November 2017 but the jury failed to reach a verdict.
Justice Cottle discharged the jury and told the accused men that the Director of Public Prosecutions will decide the next step.
Earlier this year, Barnwell and Bacchus-Browne filed joint submissions that the two men should not be tried a third time.
"The accused cannot receive a fair trial because his main and only witness Maurice 'Gamoon' Clifton is not reachable. He did not give evidence in the first trial. But his evidence made the difference in the second trial," Bacchus Baptiste said in Feb. 11, 2022 submissions to the court.
She argued that the accused has spent 11 years and nine months real time in jail, adding that the relevant starting point for murder is 25 years with a range of 15-35 years.
"It is disingenuous for the prosecutions to say 11 years 9 months is not long," she said, adding that the defendants have served the lower range and possible sentence for murder –15 years.
Bacchus-Baptiste said that 11 years nine months is equal to a sentence of about 18 years in prison.
"Have they been presumed guilty? Because 18 years for a presumed innocent is gross. To try them after having possibly served the possible sentence is abuse and cannot be fair."
Speaking to iWitness News on Thursday, Bacchus-Baptiste noted that the men have been tried twice, in addition to a Court of Appeal hearing.
"So that is three times they have come before the court and the prosecution wants to do a third trial. And, in all my experience, we have never tried a defendant three times," Bacchus-Baptiste told iWitness News on Thursday.
"So now, it is for the court to decide whether or not it would be unfair, whether it would amount to a delay, whether it would be a breach of his constitutional rights to have a fair trial within a reasonable time — because those were the submissions that we made."
Justice Cottle was slated to hand down a decision on Wednesday, but the decision was deferred by two weeks.
Bacchus-Baptiste told iWitness News that the defence was anxious to hear the decision of the court.
"I don't think the submissions are that complicated that it should take four months," she said, adding that the last submissions were filed in February.
"That's going into four months, and four months longer that they have been in there waiting for their fate. So I don't understand why it was adjourned again…. In the meantime, they have spent — it's gone past 12 years now … for murder charges, and two trials and a Court of Appeal hearing."
She said there is case law supporting the defence argument that a person should only be tried a third time where the case for the prosecution is "so strong".
"And you will have gathered that from my submissions this case is particularly weak. I cannot see any legal justification to prolong this."
The lawyer said that the main witness in the case is now deceased and the prosecution wants to use his deposition at a third trial.
"But the problem with that is that the same man had recanted his story and then recanted the recantation. It's just incredible," Bacchus-Baptiste told iWitness News.
"And then there were problems with the gun, which was never properly identified. The ballistics did not match. It is one of the weakest cases to try and do over again and, certainly, not for a third time. If the court doesn't agree with us, we are going to have to appeal it, but the sad thing is that they'll be in there some more and wait for this appeal to be heard."