An 18-year-old man has been remanded into custody until Monday, when he will be sentenced for possession of a homemade firearm.
Tevin Miller, a mechanic, of Belair, was denied bail despite the pleadings of his lawyer, Grant Connell, after he pleaded guilty to the offence at the Serious Offences Court, on Tuesday.
Miller pleaded guilty to a charge that on June 3, at Kingstown, he had in his possession a homemade firearm without a licence.
His co-accused, Carl Quow, 21, a labourer, of Chauncey, and Anil Greaves, 22, a delivery clerk, of Belair, pleaded not guilty, and were each granted.
Prosecutor Station Sergeant of Police Renrick Cato told the court that the Crown was accepting Miller's guilty plea.
He asked for a two-week adjournment to effect disclosure ahead of a trial of the other accused.
The prosecutor objected to Miller's bail, based on the serious nature of the offence and his plea.
He said that with Miller having pleaded guilty, bail ahead of his sentencing becomes a privilege.
However, Connell, who was also holding for Israel Bruce, Quow's lawyer, said he was asking for bail for Miller.
He noted Miller's age and spoke of the "corrosive effect" of prison on anyone, especially a young person.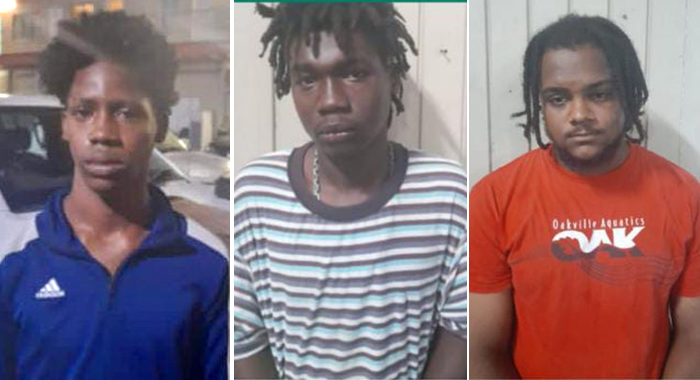 The lawyer said he did not know what "serious nature" Cato was speaking about.
"Is it the Facebook thing he is talking about?" Connell said, apparently referring to a video circulated via social media in which two men resembling two of the accused are seen holding what appear to be firearms.
"That cannot be of any merit," Connell said, adding that Miller is not a flight risk.
He said that if his client is to be denied bail, he might be forced to ask the court to put the charge to him again.
The lawyer said he did not expect the prosecution to act in this way, adding that if the matter is disposed of, "it is possible that he can get mercy next week".
He was apparently referring to the recent case in which the Mercy Committee freed a woman less than a week after she was jailed for possession of an unlicensed firearm with which she posed in a photo posted to Facebook.
Connell asked the court to allow him to consult with Miller's relative to see if they could post bail for him.
He returned a few minutes later, saying, "Your honour, they are not of great means so he would have to go to jail."
The other accused were granted bail in the sum of EC$10,000 with one surety.
They were ordered to report to the police station in their districts on Fridays between 6 a.m. and 6 p.m.
They were further ordered to surrender travel documents and seek the permission of the court to leave the state.
Stop notices have also been issued for them
They are also scheduled to return to court on Monday.
Police Constable 1098 King is leading the investigation.