Fire destroyed a house in Clare Valley Sunday afternoon, hours after intruders attacked one of its occupants, inflicting a wound to his head.
Police have taken a man into custody in connection with the assault of the resident, Derry Thomas.
Thomas told iWitness News that two men, one of whom said they had a gun, came to the house Saturday night.
He said the men attacked him and struck him in the head as they were leaving.
Thomas, who is originally of Chauncey, told iWitness News on Sunday that the fire woke him up around 2 p.m.
He said he was sleeping in one of the two bedrooms in the house, where he lives with three other adults – two women and one man — and his daughter, who is just over 1 year old.
Thomas said he first saw the fire in the area of the patio, where some sheets of plywood and other items were stored.
He said he attempted to put out the blaze but his efforts were futile.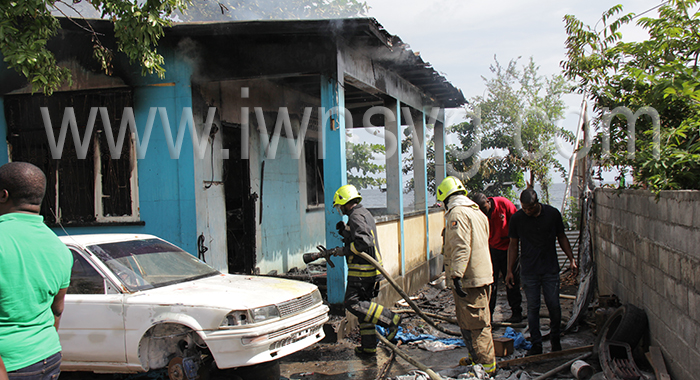 A fire tender responded from Kingstown, located five miles away, but was too late to save the building or its contents.
Thomas, an auto body repairman, told iWitness News that he was unable to save the house or its contents, but was able to push two vehicles out of the yard.
He said the house belongs to Nelcia Robinson, with whom he grew up, and that he had been living at the property for over a year.
He said that the house had been locked up for some time before he moved in.
No one was injured in the blaze Thomas said, adding that while he was unsure of where he would stay, he has his mother and siblings.
"I feel bad," he said, as he spoke of his losses.
"My passport — everything burn up. I didn't save a pants, shirt, absolutely nothing; fridge, stove, everything's gone," he told iWitness News.