Black Sands Swim Squad (BSSS) won 180 medals — 58 gold, 59 silver and 63 bronze — and the trophy for top competing club in the National Gallagher Swim championship earlier this month
Blue Marlins and Rising Stars swim clubs and several unattached swimmers also competing in the meet.
BSSS faced a stiff challenge from Blue Marlins but won with a final score of 1,598 to Blue Marlins' 1,289 points, the closest result to date.
Seven BSSS swimmers broke national records during the meet:
Kennice Greene: 50m freestyle – 27.12 (27.13); 100m freestyle – 1:06.68 (1.06.86); 100m IM – 1.11.04 (1.11.07)
Kevern DaSilva: 50m backstroke – 31.46 (31.81); 200m backstroke – 2.33.70 (2.39.28)
Mya DeFreitas: 200m freestyle 2.13.31 (2.13.98)
Abigail Deshong: 100m butterfly 1.07.20 (1.09.13)
Brandon George – 100m backstroke 1.00.89 (1.01.57); 200m backstroke 2.16.25 (2.22.61)
Kenale Alleyne – 100m freestyle 52.46 (53.01); 200m freestyle 2.00.00 (2:00.09)
Shane Cadogan – 50m backstroke 27.44 (27.89); 50m butterfly 25.69 (25.81)
St Vincent's para-swimmer Kentreal Kydd set personal best times in his events, which will be recorded as national records, once the newly formed para-swimmer record category is established.
Winners for the sprint challenge in the 13 years and over were Kennice Greene and Kenale Alleyne and taking home the trophies for overall champions were Kennice Greene (girls 13 to 14 years), Brandon George (boys 13 to 14 years) and Mya DeFreitas (girls 15 years and over).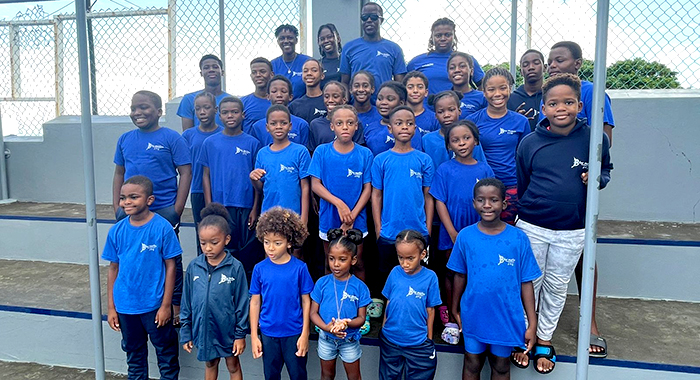 Meanwhile, Blue Marlins, boasting a cadre of young swimmers, dominated the junior divisions, capturing six individual titles as well as winning four of the sprint challenges.
Blue Marlins swept both the boys and girls individual titles in the 8 and under category- Taj Henry claimed the boys title with Tru Matthias placing second and Saj Caesar third. In the 8 and under girls category, Skylar Byron won the title while her teammates Kmar Rose and J'Nyah Rose placed second and third.
The sprint challenge in the 8 and under category in the boys division was won by Taj Henry while Skylar Byron took the title in the girls division.
Blue Marlins also did the double in the 9-10 categories. Jadon Hamilton who had a remarkable performance won the individual boy's title and broke two records, the 100 and 200m backstroke.
Caghry Williams placed second in this category.
In the girls division, Belle Adams won the individual title and Rolene Sam placed second.
Hazen Dabriel secured both the boys 11-12 individual title as well as the boys 9-12 sprint challenge title.
Tayeah St.Hillaire won the girls 11-12 individual title, while Zaryah Samuel placed third. The girls 9-12 sprint challenge was also won by Tayeah St.Hillaire.
Malique Mayers was third overall in the 13-14 boys category. Other swimmers who competed and medalled in the event were Ronyah Jack, Frencille Davis, Jod Baker, Aedryon Sam, and Ezron Quashie.