A Clare Valley man says he made three attempts to board the minibus that crashed on Sept. 11, killing five villagers.
The man, Earl Roberts, told a nine-nights event in Clare Valley, on Monday, that one of the men who died told him to stay at home.
Giovanni "Durh" Barker, Ishmael Bruce aka Darrel, Elvis "Logie" Harold, Khalil Robin aka "Keno" and "Snacks Man" and Kenroy "Pressure" Haywood died when motor vehicle H-8190 went over an embankment along the Old Sandy Bay Public Road.
The vehicle, a green Toyota van, was driven by its owner, Napata Louis, of Clare Valley.
The men were on their way to the funeral, in Owia, of murder victim Rohan "Charla" Rawlins, 43, who was shot and killed in Lowmans Bay on Aug. 15, becoming the country's 27th homicide victim this year.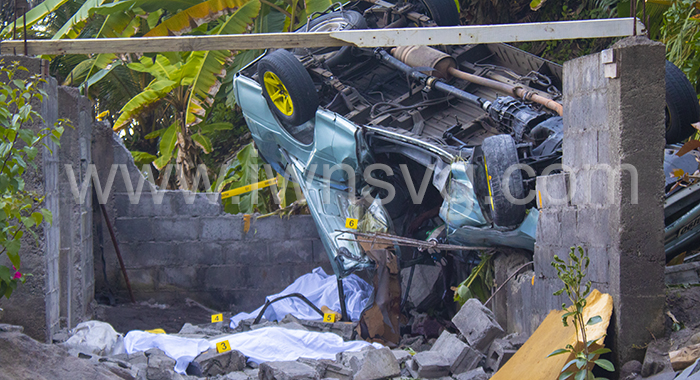 Roberts, speaking in the Vincentian vernacular, said he was on the block in the village on the day of the accident when he saw Harold.
"I said, 'Logie, is the van going? I want to go (to the funeral) because the man (who died) is my friend."
Earl said Logie told him to stay at home.
"Logie turned to me and said, 'Earl, stay home. Where are you going? Stay at home."
He told the crowd that he went to another area of the village and asked a villager where the van was.
Roberts said the villager told him and he ran in that direction to try to catch up with it.
He said that when he arrived he saw the van going "under speed" and he shouted at them to wait for him.
"They said, the van was full but the van wasn't full."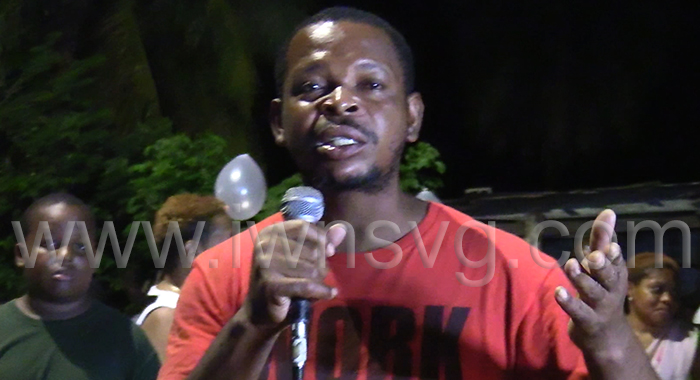 He said that the conductor told him that he had been looking for him to drive the van.
"I don't know about that but they said I was supposed to be driving the van. But when I was stopping the van, it left," Roberts said.
"Earl could have been there," Roberts said, referring to himself. "I missed the van three times for the day, and praise God I am alive all now. Praise God for that.
"Logie is the one who said, 'Earl, you cannot go. Stay where you are.' He went and he died," Roberts told the gathering, adding that Harold is his close cousin.
"I can't view Logie's body when the funeral is held on the playing field here. I cannot watch his face. I can never do that. I will become too emotional. I thank God for Logie. He saved my life. Praise God for Logie."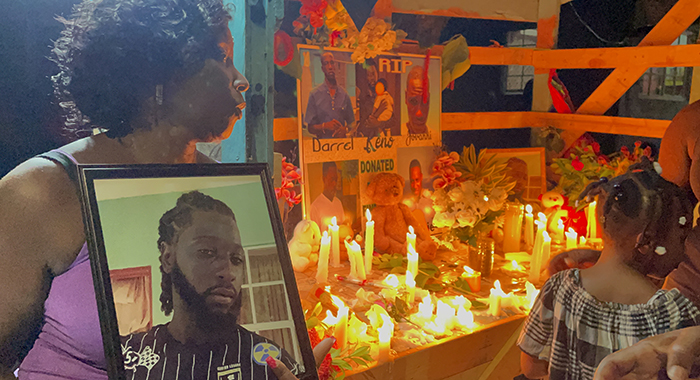 Nine-Nights is a funerary tradition held to mourn someone night nights after they die.
Monday's event included the singing of hymns and gospel songs, expressions of condolences and recollections on the lives of the deceased.
In her comments, Nadia Slater, a community leader, said she wished she was welcoming people to the community under different circumstances.
"It's a hard time for us; it has been a hard week for most of us. We have been comforting each other, we have had support from the whole nation of St. Vincent and the Grenadines and we are grateful for that."
Slater expressed appreciation to those who had travelled from other parts of the country to show their support.
"We need it and we are very happy for it. And while I am at it, I would like to encourage everyone even as we are comforting each other, to seek God because he is the great comforter," Slater said.
She said that when God touches and comforts, it is "the proverbial balm of Gilead. It soothes your soul in a way that nothing can.
"So, as we go through this trying period, I encourage everyone to go on their knees and pray. Live better with each other … be a support to one another and let us get through this tragedy as a community and let us never forget Sept. 11, 2022."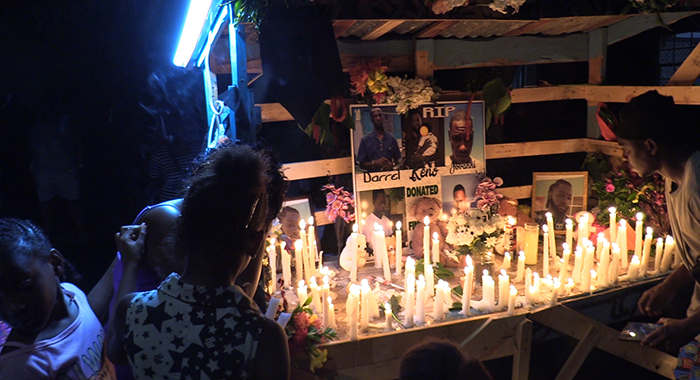 Meanwhile, in his exhortation, Anglican priest Justice Apo said he believed, hoped and trusted that a lot of questions are being asked.
"A lot of questions will be asked and this is not going to be the end of the questions. Some of the questions could be, 'Why only men?' There were so many people onboard. Another question could be, 'What happened? Who caused it?' Again, we can ask ourselves, '9/11 again?'"
Apo said that had the men known that they would lose their lives on the way to another person's funeral, they would have prepared before embarking on the journey.
The cleric reminded the audience that anyone could lose their life.
"Life is not about how long you live but it is about how well you live."
The men will be buried in Chauncey on Oct. 16 after a joint funeral at the Clare Valley Playing Field.