As work resumes on setting up a stone quarry in Richmond, a group opposed to the project is calling on the government to cancel the 30-year lease it has given to Lucian investor Rayneau Gajadhar.
The North Leeward Heritage Preservation Front (NLHPF) said that Gajadhar's company, which has a licence to mine 58 acres of land for aggregates, should donate his equipment as compensation.
"We are asking the government of this country, … send back Rayneau to St. Lucia; leave the equipment with us for compensation for the damage you caused," Adonis Charles, leader of NLHPF told a public meeting in Fitz Hughes on Saturday.
Charles said that his group has no quarrel with the mining company, noting that it could not have come to St. Vincent without government approval.
"But in all fairness, do a proper environmental impact assessment by an independent body. You cannot have Rayneau doing a social management plan for Rayneau. It is a conflict of interest. it doesn't make sense," Charles said.
Saturday's meeting was the latest in efforts by the group to get the government to suspend the project, at least until what it says is a proper environmental impact assessment is done.
A number of farmers were uprooted from the prime agricultural lands on the headland separating Richmond and Fitz Hughes, as Rayneau began exploratory work for the quarry.
The meeting heard addresses from agronomist Clive Bishop, former MP for North Leeward, Roland "Patel" Matthews, a north leeward resident, and engineer and environmental scientist Daniel Cummings, MP for West Kingstown and chair of the opposition New Democratic Party, of which Matthews is a former vice-president.
Charles, a school principal and Fitz Hughes resident, appealed to members of his community to reject the quarry, saying that his activism goes beyond politics.
"This nah politics," Charles said in the Vincentian vernacular. "This bigger than party politics because I am the biggest ULP supporter in Fitz Hughes. You know that," he told residents of the community closest to the quarry location.
"This is bigger than politics. This is bigger than white and red. This is a matter of life and death."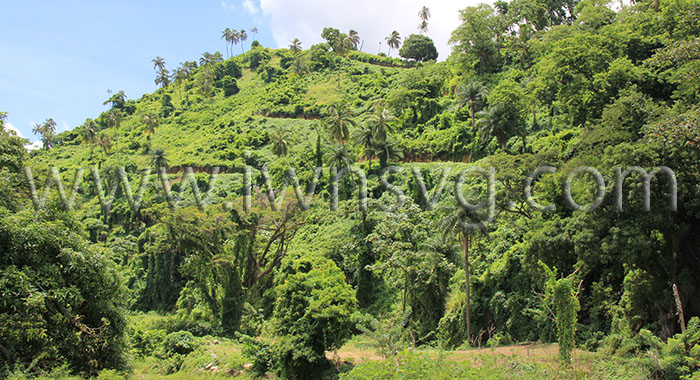 He said that immediately after La Soufriere volcano erupted in April 2023, some financial institutions refused to give loans to people in North Leeward, because of its proximity to the volcano.
"Now you have a greater hazard which is a quarry, for 30 years," Charles said. "What will happen to us? It's not fair. It's not right. And that must be registered.
"And that must be the resounding theme, that the government is disrespectful. Everybody could see that. but North Leeward has a voice in the North Leeward Heritage Preservation Front and we will let that voice be heard."
Charles accused the government of failing to do the studies that would guide and inform the establishment of the quarry.
He said that in granting the licence in the way in which it was done, the government broke a number of the country's laws and flouted international convention to which it is a signatory.
He said no wave action study was done, adding, "And I am wondering if the government told Rayneau that Richmond Bay usually sinks every couple of years.
"… our guys are going to be at stake," Charles said, an apparent reference to North Leeward residents employed with the company.
He noted that Rayneau was recently quoted in the media as saying "government and politicians do what is in their best interest, and not necessarily in the interest of the people".
Charles said the media report further quoted Rayneau as saying Vincentians must decide whether or not they want the quarry project.
Charles said: "And anybody who thinks a quarry for North Leeward is development, think again. You don't know what development is. Anybody who thinks that the quarry in Richmond is progress, you don't know what progress is."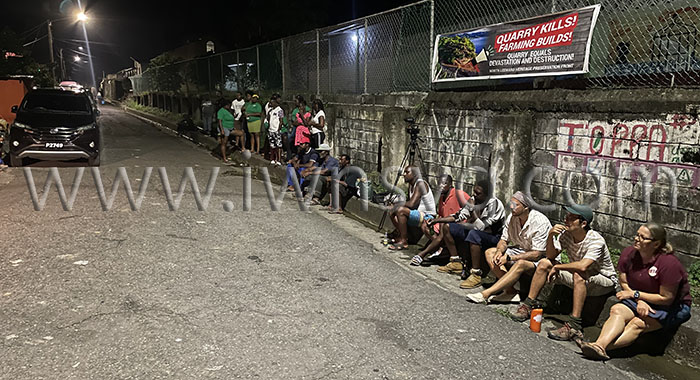 Charles repeated his accusation that the government paid scant regard to residents of North Leeward.
"And we have a disrespectful government coming in North Leeward, bringing in foreigners and say do what you want. The collective wealth of North Leeward is more than the quarry."
He urged residents to "stay tuned for our actions that will take place," adding that his group will take the issue "to the wider world.
"… We know how to write; we have the technology. We will write every single organisation that St. Vincent and the Grenadines is affiliated to and with. In fact, we have already sent out some of those letters outlining the plight of North Leeward."
He further stated:
"The North Leeward Heritage Preservation Front, we're registering what we need before you go any farther: we need an environmental impact assessment done by an independent and recognised entity. After that, we are demanding community consultation to discuss the same results."
He noted that environmental scientist Dr. Reynold Murray and data collector and community leader Cuthbert "Mr. Cool" James have denied doing an environmental impact study on the area where the quarry would be set up.
Murry and James have said publicly that their study was of Larikai, located north of Richmond.
Charles said he has a copy of that study. "That is how we know the quarry will destroy wildlife," he said, adding that the study said mining in Larikai is likely to affect fishermen as far south as Cumberland.
"This quarry moves further south, it means that the impact of this quarry will reach Barrouallie and further," he said, referring to the Rayneau quarry at Richmond.
"No study was done as to the species that are there, the endangered species, the types of plant. None of that was done and we are saying that the government must stop the project immediately," Charles said.