A grieving mother, mourning not just the death of her fellow villagers, but also her own daughter's death, was consoled at the funeral in Clare Valley, on Sunday as the caskets of five men arrived in this coastal town for a joint funeral.
"This one is hard. Seven young people in one village," the woman said, apparently thinking out loud rather than offering consolation.
The grieving woman is the mother of "Momo" Roberts, 32, of Clare Valley, who died in hospital last week after a brief illness.
Nearby, another woman struggled to raise to her feet another villager who had collapsed as she howled her grief.
Villagers thronged the five hearses as they arrived in this coastal community, draped in banners that include the colours and insignia of the national flag, days before the nation's 43 anniversary of independence on Oct. 27. 
Hundreds of people have turned out to view the bodies of Giovanni "Durh" Barker, 21; Khalil Robin aka "Keno", 29; Kenroy "Pressure" Haywood, 29; Elvis "Logie" Harold, 30; and, Ishmael Bruce aka Darrel, 39, at the grounds of the Clare Valley Government School.
The men died on Sept. 11, in Sandy Bay as the omnibus in which they were travelling to a funeral in Owia overturned in Sandy Bay, in north eastern St. Vincent.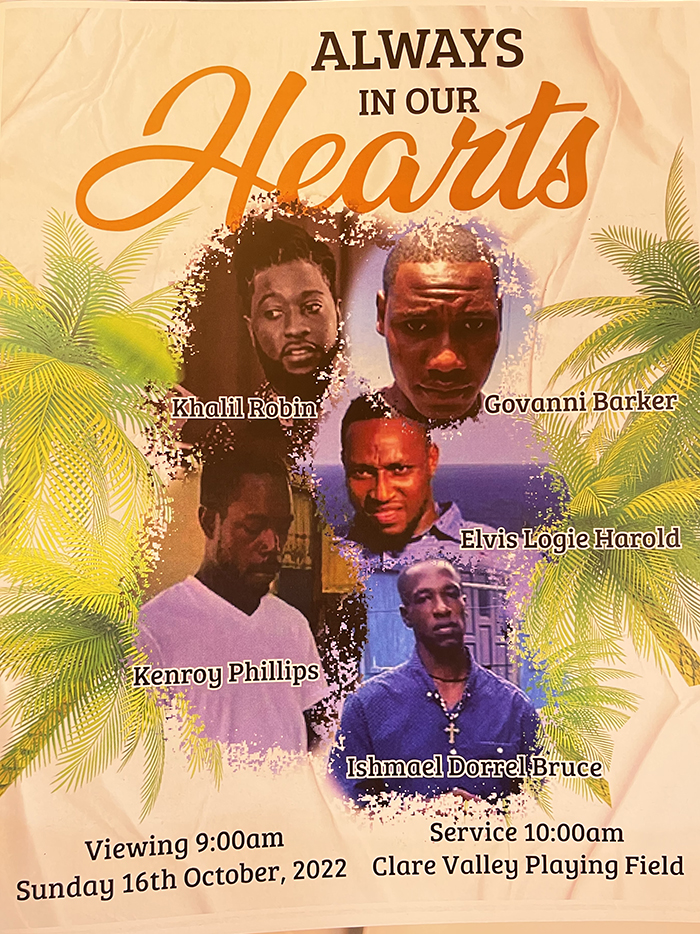 They were on their way to the funeral of Rohan "Charla" Rawlins, 43, who was shot and killed in Lowmans Bay on Aug. 15, becoming the country's 27th homicide victim this year — a number that has since increased to 33.
The death of the five men is the worst vehicular accident in St. Vincent and the Grenadines since Jan. 12, 2015, when seven students died when the omnibus in which they were travelling from Fancy to schools in Kingstown, crashed in Rock Gutter, also in northeastern St. Vincent.
The bodies of two of the students were never recovered and the five others were buried in a joint funeral in Fancy.
And, as Clare Valley buries its Sept. 11, 2022 dead, the community is also mourning the death of MacGyver Allick, 31, of Clare Valley, who was shot and killed in Martinique
In 2016, Allick was rescued in Jamaica after 45 days adrift at sea after setting out to sea in St. Vincent.
Prime Minister Ralph Gonsalves and Leader of the Opposition Godwin Friday are slated to pay tribute to today's funeral.
Other tributes will come from Nigel "Nature" Stephenson, MP for South Leeward, where Clare Valley is located.
Eli Slater will pay tribute on the village's fisher folk.