Opposition lawmaker Fitz Bramble has rejected the explanation given by Tourism Minister Carlos James regarding the expected increase in cruise arrivals in St. Vincent and the Grenadines this season.
"The factors which you highlighted to me are nothing new. But you know, I take your word for it. I'm not convinced that anything different has been done to support your claim…" Bramble said after James responded to a question in Parliament last week.
Bramble, who is MP for East Kingstown noted that James told a recent press conference that the 2022/2023 tourist season will see a record number of cruise passengers arriving in SVG.
"More specifically you mentioned that over 320,000 cruise passengers will arrive," Bramble said, and asked James to state the factors which will contribute to this record number of arrivals and the projected revenue that SVG will earn from these arrivals.
James told Parliament that tourism in SVG continues to recover from the negative impact of the COVID 19 pandemic and the explosive eruption of La Soufriere volcano in April 2021.
He said that prior to these two events, the country saw consistent increases in visitor arrivals.
"The COVID-19 pandemic had a catastrophic effect on the global travel industry, which affected the tourism sector for every destination, including St. Vincent and the Grenadines," James said.
"This season, though not out of the woods, we are seeing increases in regular schedule international flights, the resurgence of yachting and also in cruise."
He said that over the last two years, the Ministry of Tourism's internal work, including the implementation of the Cruise Tourism Task Force, "played a very important role and an active role in steering the sector through the pandemic.
"We, through the Tourism Task Force, worked closely with the stakeholders within the industry and members of the task force, including taxi operators, local tour operators, the police, customs, immigration, Port Authority, and agents for some of the vessels, we had to strategic discussions with the cruise line executives," James said.
"And during the pandemic, the task force was responsible for rolling out the cruise tourism protocols, otherwise known as the bubble tours, which enabled us to have ships come in during the pandemic."
He further said SVG participated actively at cruise tourism fora, including Florida Caribbean Cruise Association conferences and meetings and Seatrade Cruise global, which, he said, is one of the largest cruise industry stakeholder forums for executives and senior professionals within the industry.
"And we have had active consultations with a number of these cruise lines who expressed an interest in St. Vincent and the Grenadines as a preferred destination," James said.
He said that one of the challenges is the size of the nation's port and its ability or inability to dock several ships on the same day, which, he said has adversely affected arrivals over the years.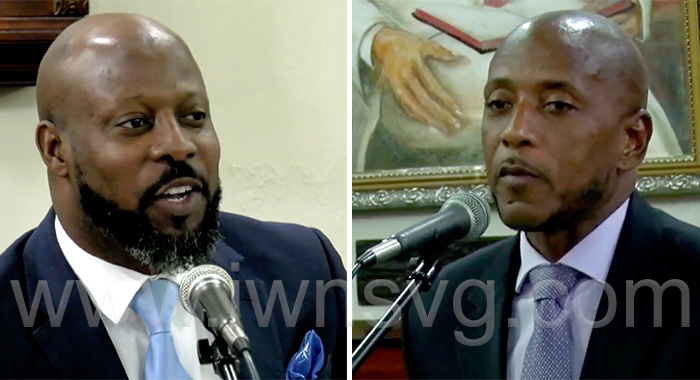 As regards projected revenue, James said that in the absence of a tourism satellite account, which measures a direct contribution of tourism to the national economy, his ministry arrived at a ballpark figure of $112.52 on average spend per visitor in the cruise sector.
"We're looking at an approximate figure of EC$36 million coming into the economy within this cruise season," James said, noting that there is a projected 44% increase in visitor arrivals by cruise and 29% increase in calls.
He said the Port Authority is looking to receive EC$3.8 million in service charge and environmental fees alone.
"In addition to that, we have a number of other levies and charges: harbour due, pilotage, mooring, launch, overtime service, navigation aids, boarding fees, vessel clearance, etc.," James said.
He said that in 2019, National Parks, Rivers and Beaches Authority generated about EC$385,000 from site fees.
"We're hoping to see that figure going up this year, as a result of the increased visitor arrivals by cruise," James said.
He said taxi operators make, on average, US$150, adding that there are 112 registered taxis and their projected income this season is US$2.7 million.
"You go to tour buses, which is an average of EC$900 per tour, and roughly about 12 to 20 buses are on call at any given moment during the season. And this, naturally, we'll put our figure to about just under $2 million to tour buses alone," James told Parliament.
He said a few tour bus operators have said that they gross over half a million in revenue.
"And this is, of course, before expenditure. So, all of these computations with the additional visitors spend, we will see roughly about $36 million come into the economy from cruise tourism," James said.
"And I want to indicate that we don't have the computation for the rented chairs," he said, adding that these go for between US$5 and $10 each per day at beaches.
"And there are quite a few of those persons across Villa and Indian Bay and other areas that are renting chairs to these visitors," James said.
"So, we've always had the conversation that cruise tourism doesn't bring in a lot of revenue, but we are seeing these actual numbers that are going directly into the hands of stakeholders within the industry."