Opposition Leader Godwin Friday says the EC$1.44 billion budget that Finance Minister Camillo Gonsalves is asking Parliament to approve for 2023 is like "old announcements, reheated and dished out again".
Leading off the debate on Tuesday, the opposition leader said that after the Budget Address on Monday evening he experienced the "less charitable" feeling that people are sometimes "provoked" into, after hoping that the goodwill of Christmas lasts throughout the year.
He said the finance minister seemed very pleased with himself after his five-hour address Monday night.
"I don't know how much of it he wrote because I know sometimes I heard him stumbling as he was reading certain sections, suggesting a bit of unfamiliarity with it," Friday said.
He noted that Gonsalves did not "entertain the simplest of questions" when MP for West Kingstown, Daniel Cummings, an opposition lawmaker, asked him to which actuarial study he had referred.
The Standing Orders of Parliament says that the finance minister is to present the budget uninterrupted and has an infinite amount of time in which to do so.
"But, by and large, he read it well. He read a script well," Friday said, noting that Gonsalves called the fiscal package many things, including "a jobs budget".
"But it is clear after listening that, like many other things from this government, this is simply a case of a lot of promises. There's a lot of assumptions but little in the way of actual delivery," Friday said.
"The minister, it seems to me, he wants to get credit for his government's intentions, rather than for their actions. It is clear that when something good happens, you have a positive piece of news that you want to brag about, you quickly take credit for it.
"When something negative happens, things ain't going the right way, it's a result of factors beyond their control. It's never their policy, it's never an error, it's never a mistake. It's never something that you could have done better."
The opposition leader, however, said he lives "in the real world here in this country" and knows what people are going through.
"I go about St. Vincent and Grenadines. I meet people, I talk to them on the street. Some people say I'm too accessible. And from that experience, the overwhelming issues that I gather facing this country are the high cost of living, … the high unemployment, … and, of course, the high crime.'
He said that yet, the finance minister did not set out anything in his five-hour presentation "that came close to any comprehensive plan for dealing with these critical issues going forward.
"Much of what he said was things he spoke about the previous budget — old announcements, reheated and dished out again. Some will say it's a case of a more commonplace expression — old wine in new bottles."
To illustrate, Friday pointed out that this year's budget provided for a national youth advisory council.
He reminded Parliament that Budget 2022, which Gonsalves called a "youth budget", an "important goal" was "the reinvigoration" of the National Youth Council (NYC).
In the 2022 Budget Address, the finance minister said this reinvigoration was derailed by the challenges of 2021 and that "these initiatives will take place in 2022".
Last year, Gonsalves further said his government would seek to initiate the youth volunteerism advocacy campaign and develop a national youth service programme.
"Did the government try to do any of this?" Friday said, as he noted that in Budget 2023, the finance minister said the government will launch a national youth advisory council "to ensure that the perspectives and experiences of young people are central to the creation and implementation of development".
This year's budget address further said that the council will be drawn from people of diverse backgrounds and skill sets nationwide.
"And the idea is that the members of the youth council would gain a fuller understanding of how policies and programmes work," Gonsalves said.
Friday commented:
"Again, very highfalutin kinds of expectations…"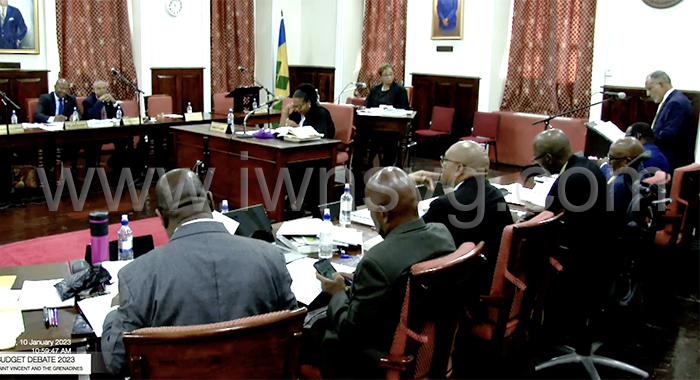 The opposition leader further noted that the finance minister had spoken about Prime Minister Ralph Gonsalves' interaction with the National Youth Advisory Council during his visit to Guyana last week.
"So after that engagement, they come back and suddenly we have a youth advisory council. All the other stuff, I hear no mention of them in this budget so I don't know if that replaces everything."
He said the government's policy has now moved from reinvigorating the well-known NYC, which was not done "to now this high-sounding notion of the national youth advisory council with high ideals and noble goals…
"So as I said, is either this is old wine, the same old thing with a new face, new bottle, new label, new colour maybe, so people think it's something else — or the same thing.
"If it is the same thing, then the way I have characterised it is accurate but if it is different, it means that the promises that were made by the minister in 2022 were promises that were not kept."
The opposition leader said that if the government is continuing with its policy to re-invigorate the NYC, the finance minister should have said that the national youth advisory committee is an addition to this.
"… But it seems to me it's suggesting that they've moved on. Why should, therefore, young people, or anybody believe what the minister says there and anywhere else in the budget?"
He said the same principle applies, where, repeatedly, there is a gap between what the government proposes to spend and how much it expects to receive in revenue.
This has "morphed now, over the years, into a credibility gap because there has been no attempt to rectify the problem that has been pointed out".
The opposition leader said there are "too many glib comments, too many empty promises, things that sound nice that have no bearing in reality.
"In fact, there are downright lies that are printed in the pages of the Budget and the Estimates," Friday said.
Friday said the opposition repeatedly addressed the issue because it is important but "the government simply just ignores it, because they feel the people in the country are not paying attention to it.
"But we have a greater responsibility than that if we understand the importance of it to do it right because somebody may be able to get away with it."
At EC$1.4 billion, the budget is bigger this year, as is the case annually, Friday said.
"And it is to be funded by tax revenue, non-tax revenue, grants, external loans, local loans, capital revenue, that is what they know of and other capital receipts," Friday said.
"The sinister part of this is the category of Other Receipts, which, this year, amounts to EC$226 million," the opposition leader said, adding that last year, Other Receipts amounted to EC$265 million — just over 15% of the total budget "that they don't know where the money comes from".
The opposition leader said that what is clear is that what the government receives under Other Receipts "is a pittance compared to what is stated that they would receive… I know it's put there as a balancing or some accounting figure to try and make the budget balance. You can't present a budget that doesn't balance."
Friday, however, said the situation "is much more serious than that.
"I will never tire of speaking of it because I can't imagine how you can know this, put it in there and then present it to the people and say, listen, this is what we're going to implement when you know that $225 million are short and you're going to have to cut certain things."
He said the government should be honest with the people and present a fiscal package that is EC$225 million less than it actually did.
"It shouldn't have this falsehood that has been perpetuated year after year after year to make the budget process look so trivial, so unimportant that you do something like that, and not respond to the queries that are made by members on this side.
"So when people see all these things in the budget, and they say, 'Well boy, things gonna get better. And then they're left to wonder why it didn't come true and why their lives continue to be so hard," Friday said.
He told parliament that managing the finances of the country is "a solemn responsibility".
The debate continues.