A lawyer says that while Prime Minister Ralph Gonsalves has called on police chief Colin John to put more boots on the ground, "you can't put no comedy boots".
"It is not quantity. It's quality. No sense mek ah phone call and send Tom Jones for training and the police training a whole set ah dem and half ah dem incompetent," Grant Connell told the Serious Offences Court, on Friday.
"The phone calls have to stop if competent police are what we want. You just want to send out Tom, dick and Harry, 5 foot 2, 4 foot six…" he said as he mitigated on behalf of Kevin Lewis, 38, of Campden Park, and Jomodean Alexander, 25, of Richmond Hill, each of whom were jailed for possession of unlicensed firearm, unlicensed ammunition and cocaine. 
Connell commended Sergeant 403 Nigel John and his squad of Rapid Response Unit (RRU/"Black Squad") officers, who made the arrest when they stopped a taxi during a downpour at Brighton Gap around 10:45 p.m. on Jan. 4.
"You can't have those who don't follow proper policing and just doing desk work getting high ranks and climbing up the rank and turning SOP and going right up and those like plenty in this court don't get no ranks," Connell said, adding that there must be a balance.
Chief Magistrate Rechanne Browne, who was presiding, said that it seems that Connell was giving the media "a field day".
Connell said that this year, "you have to give Jack his jacket".
The chief magistrate mentioned by name and gave kudos to each of the officers in John's team.
"The counsel says kudos to you, the whole team; well done. And the defendants as well. Lewis agrees," she said.
Connell said:
"So, when the prime minister says put more boots on the ground, you can't put no comedy boots. Put more boots like them."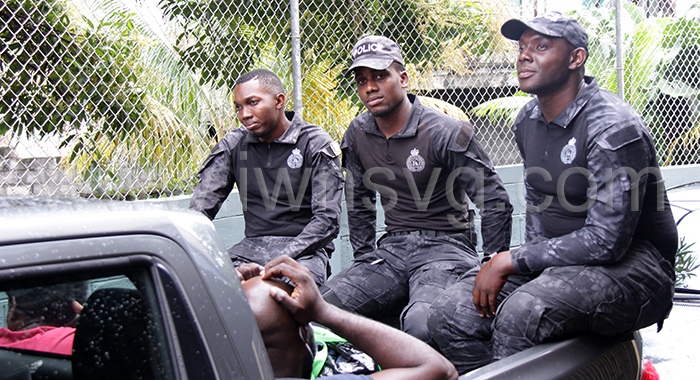 Connell's comment came as he tried to persuade the court to impose a fine on Alexander for the firearm charge.
He said that there was an element of coercion and exploitation involved, adding that Alexander surrendered the firearm and this was an extremely mitigating circumstance
"Because without that, the police may not have retrieved that," Connell said.
The firearm was recovered after the police, who had intercepted Alexander in a taxi driven by Lewis, took him to his home and asked if he had anything illegal there.
Alexander told the police he had an ounce of cocaine and a firearm.
He pointed to two backpacks in which John found a 9mm pistol fitted with an extended magazine with a capacity of 24 rounds, loaded with nine rounds, and a second magazine loaded to capacity with 17 rounds.
"This squad?" the chief magistrate said.
"Yes," said Connell, adding, "Although a lot of brawn — and brain — you need something else and that is what the police in St. Vincent, from the commissioner right down, lack."
The chief magistrate disagreed with Connell, noting that in the case of Lewis, as part of the investigation they also took him to his home after finding cocaine in his taxi and a loaded gun in his crutch, and found cocaine at his home.
"That team is a good one," Connell said, adding that he was not underestimating the officers.
"And they have other good teams," the chief magistrate said.
But Connell said that the magistrate should not paint the police force "as any great police.
"There are specific police who do their work. Half the police need send home," he said.
The chief magistrate told him that is "another story".
Browne then refocused the proceeding, saying she was certain that in the same way the investigation led to the discovery of the drugs at Lewis' home, it would have led to the firearm at Alexander's, even without him volunteering the information.
Connell said that is the inference that can be drawn "because you are dealing with one of the bright sparks — John".
Connell said he is the lawyer that goes to all the police stations.
"I can tell you who is who. So, when you have John, Grandpa (Inspector Nolan Dallaway), I can name them for you. The others are a joke," Connell told the court.
He said the facts would show that even before John could start the chronology of the investigation, Alexander said, "Officer, let me take you there."
"The point I am making is, you need community," Connell told the court.
"You need good policing," the chief magistrate said.
"Which includes the community," Connell responded.
The magistrate said the country needs police officers who are trained, who can use instincts, pick up things and execute properly and professionally "so that they gain the respect of civilians as well".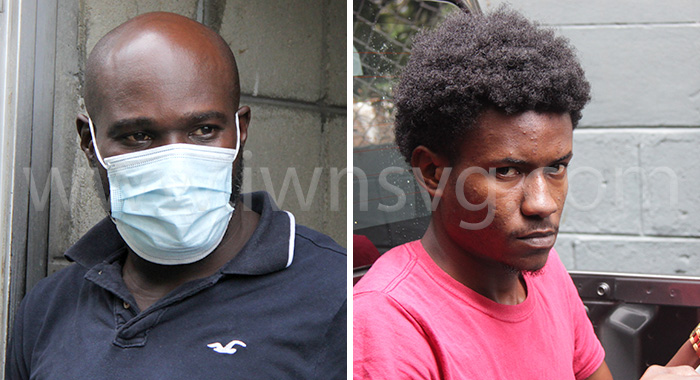 Browne asked him where, under the sentencing guideline, he would put the defendant's claim that the firearm was for my protection because of the state of affairs in the country.
She asked Connell to tell the court where that statement was mitigating or aggravating a feature of the offence or whether it falls under "this heading coercion and exploitation".
Connell said there is a song "Jail and Graveyard", adding that he would not say who the singer is.
The lawyer said that unfortunately, it seems to be that the approach in SVG now is "that you arm yourself so that in case you are met, if the police meet you, you go jail, if your enemy meets you, you go brave. That is the choice."
Connell said it is a song that the chief magistrate would not know.
Browne said she doubted she would, adding "give me hymns and sankies".
Connell argued that his client had assisted the police, adding that it was "not fear-factor assistance", adding that John and his entire team must be credited for their professional conduct.
"I have seen for myself, contrary to what the public may say, there was no beating."
The chief magistrate said there is a way to do things professionally, adding that good police officers act professionally.
She noted that even Lewis was nodding his head in agreement.
"So, if you have a defendant saying the professional approach, that is what you need."
She said everyone has rights and should be treated as such, adding that if someone breaks the law, they should be told that their actions have consequences and they have to be dealt with accordingly.
"And just do your stuff professionally. That is all that is required," Browne said.
"There is a way to do things. Good police act professionally. Look at Mr. Lewis saying yes. When you have a defendant agreeing."