Philip Andrew Mitchell, 62, brother of Frankie Gooding, 60, who was killed in Bequia last Saturday says he is not involved.
He told iWitness News that he was released from police custody after 48 hours as part of the investigation and is cooperating with investigators.
Mitchell said that people are accusing him of being involved in his brother's death and he has instructed his lawyer to sue people making such claims.
"I'd like the public to know that I love my brother every day; daily," he told iWitness News today (Friday) at the chambers of his lawyer, Kay Bacchus-Baptiste.
"I did everything in my life, in my power, to assist him with all his ventures in life. Even in the United States, I was there. I invited him to the United States, I left him a business fully running and came back to Bequia. I gave him a good start in life."
Mitchell said that he and his brother had a dispute over property but it was being handled by their lawyers, Bacchus-Baptiste, and Godwin Friday, who is leader of the opposition and their cousin.
"I would like the public to know that I was not involved in anyway with my brother's murder and I would like all the negative reports online to be stopped otherwise they can be sued by my attorney," Mitchell said.
"I've seen those reports. But it's not true. I was no way involved in my brother's murder. I assisted my brother in everything he was doing in Bequia. Every day we had a conversation on the phone asking me for assistance or the people who work for me for their assistance in doing things – I.T. and other mechanical work," Mitchell said.
Victim had threatened to go to the police
He said that Gooding had threatened to go to the police because of a text message between them last week, but he told Gooding that it was a matter for their lawyers and not the police.
Mitchell, who runs Maria's Café, in Port Elizabeth, said he also refurbishes yachts and is involved in real estate.
He said that the relationship between him and Gooding "has been very good.
"I've been doing everything he requested," Mitchell told iWitness News, adding that the relationship has been "sometimes a bit bouncy; but normally it was good between him, myself, my son and my staff.
"We had coffee many mornings together, discuss issues in the cafe. I went to his house many times, having fish broth and other things he likes to eat. I supply him with all the fish he needs.
"I helped him when he was in the States, looked into his business, his cameras and things like that, making sure everything is going as smoothly as I could, you know, for him. Every day we were on the telephone doing something together."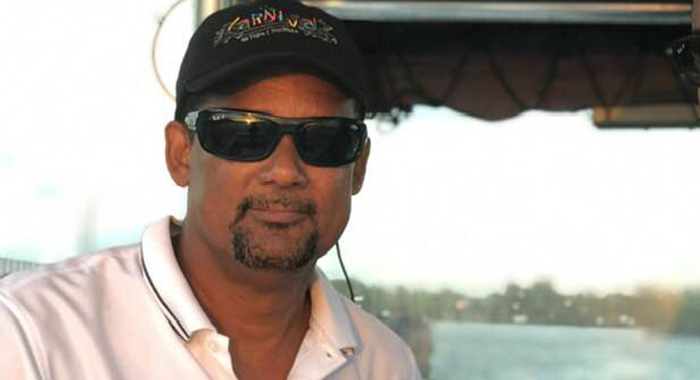 Mitchell said he last spoke to Gooding about three days before he died.
"… He asked me — he was a bit upset with one of the texts I sent so he said to me don't text him anymore."
Asked what the text was about, Mitchell told iWitness News, "I just jokingly said that we should better have a –"
However, his lawyer, interjected, telling him, "I don't think you should go into that. Police have the phone and all that."
'very nervousy the last week'
Mitchell said he believes people are speculating that because he and Gooding had a property dispute that he was involved in the murder.
"But I think there is a lot more to it than that. We also had a boat together — a yacht. I have 50% shares in it… And Frankie wanted to buy out my 50% share. And I was awaiting him to start his payments. I turned over all my shares to my son, Drew Mitchell.
"And Frankie had made an arrangement to pay him $10,000 a month as of August last year, which he had never fulfilled for his new business — Drew Enterprise.
"I told him there's no point we fighting each other. We pay other people to fight for us," Mitchell told iWitness News.
He said he did not know of any reason why anyone wanted to kill Gooding.
"I don't know. He was very nervousy the last week, I noticed. Even in his texting and things like that. But I cannot tell you what was going on. I never really asked him what was going on — what was in his feelings, whether it was a dispute with the work being carried out at his new restaurant he was building.
"He was not happy about a lot of things…" he said "So, I cannot point fingers at this moment. I don't know what else he has been involved in because he's been involved in lots of things. But with me and him, everything was golden."
Asked to elaborate on his claim that his brother was nervous last week, Mitchell said:
"From his texts. When he texted me and said do not text me anymore. I think that was kind of very funny. And because I was also in contact with my other brother, Anthony Mitchell, who's living in Canada, and I was sending him some mails of something that he should consider doing, you know, with the estate.
"And I do not know if Frankie took that to heart or what went wrong but I was told not to send Anthony any more emails. He told me not to send Anthony any more mails and I just hold off for a little bit. I said, 'I'm going to come and talk to my lawyer when she's back from her vacation.'"
Mitchell said that on the day Gooding died, Gooding asked Mitchell's son to help him resolve some issues he was having with his cameras.
He said that another cousin sorted out the issue.
"My son spoke to him on the day he died and one of my workers spoke with me the day he died, too," Mitchell said.
Police said that at about 7:30 p.m., Saturday, Gooding and a friend were boarding a vehicle when an assailant approached and shot him.
He was taken to the Port Elizabeth Hospital for medical attention, where he subsequently succumbed to his injuries, a police press statement said.
Police have released a 13-second video clip of the shooting, saying that it is being circulated on social media.
People with information that can assist in the investigation are asked to telephone 1-784-457-1211 ext 4816; 1784-456-1810 1784-457-1211 ext 4810/4881; or any police station or police officer they are comfortable speaking with.
Separately, Gooding's family is offering a US$5,000 reward for information that can help in solving the crime.
'I just couldn't imagine it happening'
Mitchell told iWitness News that he was at his business when his brother was killed.
"I was at my business, cooking in my kitchen. I had about 26 people for dinner and as soon as I heard the news, I just dropped everything and ran."
Mitchell said he could not get to the scene because he did not have a vehicle available to him.
"And my friend said the ambulance is already there and they should be back at the hospital any minute. So, instead of going out to Friendship, I went to the hospital and waited for him to arrive."
He said that when he saw Gooding at the hospital, he was dead.
"I spend about half an hour to an hour with him. … It was horrible. I just couldn't imagine it happening. It's the most horrible thing I've ever seen in my life, really; looking at my brother that's been murdered," Mitchell told iWitness News.
"And it was just unbearable. Lots of tears. Lots of people, sympathies. And it still has not stopped. Just, you know, every day every minute somebody's giving their condolences. It's just — I can't sleep thinking about it. And now I feel there are also threats on my life and my son's life."
Mitchell said the police detained him from 10 a.m. Sunday to noon on Tuesday but released him pending further investigations.
He said he handed over his mobile device to the police as part of their investigations.
"They said they're still doing some further investigation because I don't know what they have. But they said they're still having some further investigation. So far, there's nothing on me," he told iWitness News.
"We have property disputes. But as I told everyone, the property dispute is between the lawyers Miss Kay Bacchus-Browne and Dr. Godwin Friday," Mitchell told iWitness News.
Bacchus-Baptiste said the dispute has been going on for years
"I'm pleased what my lawyer had advised me to do and it was just waiting for the other side to think it through and get back to us. But we weren't going to proceed further as we speak," Mitchell said.
Bacchus-Baptiste said she had had discussions with Friday regarding the matter and was awaiting a response.
'not a matter for the police'
Mitchell said he fears for his life and told iWitness News "guys I know who is connected to organised crime has been in my cafe yesterday for over an hour observing everything".
He said there were also text messages from some of Gooding's children that are "not very pleasant".
He further said that some posts have been made on social media "turning me into a criminal.
"I don't like it. So, I just feel worried for me and my son at this moment. And, I do not want anything to happen to us, of course," he told iWitness News.
He said that in Bequia, because of what is being said on social media he is "having problems facing people.
"So, I'm staying in a very dark corner in Bequia and I'm a little bit afraid for my life. So, my back is always against the wall.
Mitchell acknowledged that Bequia is a small place.
"Yes, I know that but people wear masks, people wear hoodies. So, I don't know what's going to happen next. You know, my only protection now is a big dog."
iWitness News was reliably informed that Gooding told his family last week that he was going to apply for a firearm permit.
Mitchell said he did not know about this, nor was he aware that Gooding had asked police to escort him to Hope Bottom, where the property in dispute is located.
"I know nothing about that. In one of his texts, he just said to me that he is going to the police. I told him that this is not a matter for the police. This is a matter for the court and Dr. Friday and my lawyer Kay Bacchus will be working on it.
Gooding's family has said he would be buried in the United States, the resting place of his mother and daughter.
Mitchell said he would have attended the funeral if it were taking place in Bequia.