The Serious Offences Court is expected to hear today (Tuesday) prosecutor Renrick Cato's submission on sentencing in a case in which a 69-year-old man who says he has vision problems pointed an unlicensed firearm at another man on Sunday in an unprovoked assault.
On Monday, Chief Magistrate Rechanne Browne and other people at the court struggled to contain their laughter as the man, John Felix Bristol, a security guard, who did not have a lawyer, mitigated on his own behalf.
Bristol, who said he had to give up masonry because of vision problems, pleaded guilty to charges that on Feb. 26, 2023, at Diamond, he:
1. had in his possession one black and grey Walther 4.5mm pistol, serial number unknown without a license issued under the Firearms Act; and,
2. did assault Arnold Baptiste, 24, of Riley, with intent to commit an offence.
Ahead of Bristol's mitigation, the court was shown footage of the incident in which Bristol had pointed the unlocated firearm at Baptiste inside Diamond Grocery.
On seeing the video of Bristol wrestling with the virtual complainant who had tried to relieve him of the firearm, the chief magistrate commented that Bristol "is very strong, very fit; not at all the picture that was presented here in court".
Bristol, who told the court that glaucoma, said he is blind in the left eye and almost blind in the other, and had to be assisted by the arresting officer, Detective Constable Strongson Soleyn, as he made his way into the courtroom.
In the video, Bristol is seen lifting up one of his legs in an attempt to get the firearm back as he wrestled with Baptiste.
"Look at that!" the chief magistrate commented.
The defendant told the court that he works with soca star Skinny Fabulous as a watchman.
He said that his (Bristol's) house was burglarised twice and that when he saw Baptiste at the supermarket, he thought he was a Diamond resident who had stolen a phone from him some time ago.
"This guy look everything like him. And my sight ain't so good. I tek out the gun just for he to get frighten," Bristol told the court.
"I never put no bullet in that… I ain't intend to hurt nobody. But there is something there that I intended. I never intended — the gun didn't have in any bullets. But I frighten him to get my phone…" he said, referring to the assault charge.
The chief magistrate later explained to him the meaning of the word as used in the charge.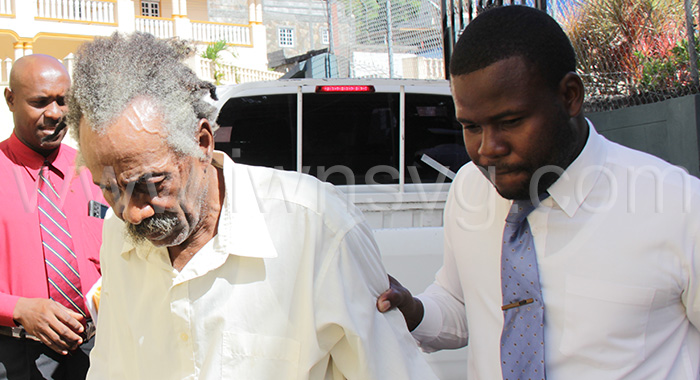 Bristol told the court that while wrestling with Baptiste, he realised that he was not the person who had stolen his phone.
"I thought it was him so I took out the gun and tell him give me my phone. I don't know the guy and he don't know me."
The chief magistrate commented that Baptiste looked terrified.
"He is fighting for his life. He certainly needs counselling," she said.
Bristol said:
"I know that is wrong. I know I should not have it."
He, however, said that his problem is that people burglarise his place constantly, adding that the areas where Skinny Fabulous has his studio was burglarised twice when he was not on duty and, therefore, the artiste hired security to work on the weekend also.
He said he had the gun to scare away people because the place is lonesome and he is the only one there.
"It didn't have in no bullet. I don't intend to hurt anybody. If I wanted to do something, I woulda get bullets but I never intend to kill nobody or hurt nobody," Bristol told the court.
The chief magistrate told him that he could have pulled the firearm at someone, causing them to get a heart attack.
"I could see the terror. In all his actions, he was frantic," the chief magistrate said, referring to Baptiste.
"He very strong," Bristol said.
"You are strong, too," the chief magistrate commented.
"Yeah. For an old man," Bristol responded. "I do very good for an old man," he said, adding that he wrestled Baptiste because he was afraid Baptiste might have hit him a gun butt if he had succeeded in wresting the gun away from him.
"You could see he hold on for life. He real strong," Bristol said, adding that if he (Bristol) had gotten away the gun he (Bristol) would have "gone through the door".
He said he can move fast for a 69-year-old but has to take his time going down steps
"I have to look down and hold on to step; because I can't see, I go turn over. I will do whatever on the main road because is a big [place]," he said, suggesting that he can run fast on the road.
"But if I going down the step and he brisk and he pen me up down there, is double trouble. I can't run because I go tun over," he said triggering even more muted laughter in the courtroom.
"I very sorry it happened. I should not have the gun. I very sorry that it happened that way," he told the court.
The facts of the matter, as read by Sergeant Atnel Ash, are that about 8 a.m. on Sunday, PC 629 Alex Richards was at Diamond Grocery, in Diamond, when he saw Bristol and Baptiste in an altercation.
Richards saw what appeared to be a firearm being brandished and he responded immediately and sprinted to defuse the altercation between the two men.
The officer took the firearm away from the men, detained them and contacted the Stubbs Police Station for assistance.
PC 591 Robinson responded and both men were further detained on inquiries of possession of an unlicensed firearm and taken to Stubbs Police Station.
Detective Soleyn of the Calliaqua Police Station was summoned to Stubbs Police Station and carried out investigations.
When cautioned, Riley said, "Officer, the gun nah mine is his."
Bristol responded, "Is he had the gun; me'en had no gun."
Soleyn later executed a search warrant at Bristol's home but nothing illegal was found.
The detective later obtained footage from Diamond Grocery, which showed that Bristol had pulled the firearm from the left side of his waist with his left hand.
When shown the footage, Bristol said, "Officer, yes officer, is me had the gun."
A justice of the peace was summoned and Bristol said in his presence:
"Officer, I had the gun and I pulled it from my waist and pointed it to the man named Arnold Baptiste because upon seeing Mr. Baptiste I wanted to frighten him because he resemble a man name Nazem of Brighton who stole my cellular phone some months ago from me."
Station Sergeant Julian Cain, a firearms expert, examined the firearm and found it capable of discharging live ammunition.
Before adjourning the sentencing, the chief magistrate said there is a problem of firearms and ammunition in the country.
She asked the detective to inquire as to Baptiste's well-being, saying sometimes when people have these experiences others dismiss them as simple, but they have a lasting impact.
"A little course of counselling may help. I know in cases where people have been the victim of robbery and the traumatic effect lasts for years later."
Browne said that each case must be considered on its merit.
"Your circumstances are peculiar and different and I have to consider the sentence in that realm," she said and remanded Bristol in custody until today so that the prosecution could make representations ahead of sentencing.