Head of the Tourism Authority, Glen Beache has made clear his position on the longstanding ban on jet skis in St. Vincent and the Grenadines.
"… it makes no sense to me," the former tourism minister said at a Ministry of Tourism press conference on Monday, at which the current minister, Carlos James, said the law will be reviewed later this year.
The topic of the lifting of the ban has come up a decade after a similar proposal was met with stiff resistance from stakeholders in the tourism sector.
Among the arguments advanced in 2013 were that jet skis conflict with SVG's reputation for tranquillity, noise pollution, danger to marine life, danger to users and other people, questions of emergency medical response capability, liability issues, crime and law enforcement issues, and developing countries as dumping grounds.
At Monday's press conference James said the government will, later this year, look at the regulation as it relates to the importation of jet skis.
"Not to have them come in in an unregulated way, but to see how we can zone the locations in which they operate, to have licensed importers and to have regulations as to how they operate the within the sector in terms of these operations," the tourism minister said.
Beache, speaking at the same press conference, said:
"If you listen to the minister in terms of jet skis, I know that's something that people have been asking for, for God knows how long.
"Even when I was minister and we couldn't get it across the line, so I hope he gets it across the land."
He said it is "funny" that the ban is still in place because the "marine sector is our strongest sector" in the tourism industry.
"Nearly every super yacht out there comes with jet skis now. And I remember some years ago, we lost two super yachts during the Christmas period because they had jet skis and they want to ride their jet skis," Beache said.
"And so, we had accidents way back in the 80s. I remember when jet skis were banned. I think I was still in Grammar School. I don't make policy but I think it's time we get above that because my thing on it is simply this and I think people would be surprised that it's some of the stakeholders that are against it."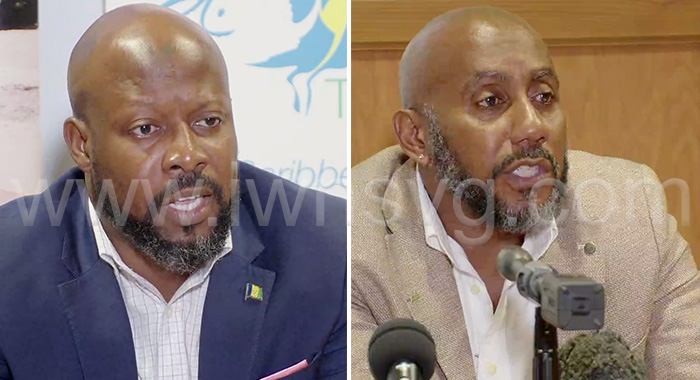 He said some people speak about how dangerous jet skis are.
"And the minister made a good point. We have to zone it. But … jet skis have inboard engines or jet thrust engines and we have boats with their outboard engines in and out of — it makes no sense to me. I don't mean to — because this really isn't my — but it makes no sense to me and I think we have to zone it; you license a few people."
Beache said Barbados and St. Lucia have done this well.
"But we can't expect to grow the tourism sector and not willing to make — it's like what I said with Air Canada we came with a solution to Air Canada and out of the four meetings they had that day, we were the only ones who came with a solution. And God knows I hope it benefits us," he said responding to Air Canada's suspension of flights to St. Vincent.
Meanwhile, James said there is a misconception that "a lot of the things which we are hoping to see in terms of the value added to the tourism product, … that it is the government that has to put in some of these resources and infrastructure".
"For instance, WaveRunners (jet skis), zip lines, off-road utility vehicles — ATVs, and so on. In any other countries you go, it's not the government that is spending on the infrastructure or the investment to see these tourism services supporting the sector …" James said.
"They are private sector initiatives. And I'm encouraging persons within the private sector who may have an interest in offering these types of experiences to both locals and visitors that you visit the ministry," the tourism minister added.