The Lions Club St. Vincent South on Saturday inducted eight new members into its club after completing the orientation process and presented Dr. Roger Duncan with a Melvin Jones Fellowship award for his national service during the COVID-19 pandemic and 2021 volcanic eruptions.
The new lions, De-Anna Ralph, Colvin Harry, Martin Sheen and Freddie Harper were sponsored by Lion Dionne John; Sigmund Wiggins and Ellsworth Providence sponsored by Lion Junior Bacchus; and Dr. Matica Glasgow and Noel Samuel sponsored by Lion Noel Dickson.
The induction ceremony was conducted by Lion Isaac Solomon, who congratulated the new lions for joining the world's largest service organisation.
"Today's ceremony represents the expansion of the club's ability to serve its community for generations to come and expand its humanitarian effort," Solomon said.
"As new Lions, you play a very important role, you hold the key to our future and it's our responsibility to teach you well as you will become the leaders to take the next generation of lions forward. We will look to you for new ideas and inspiration so that we can all learn from each other."
Lion Dr. Roger Duncan was also presented with a Melvin Jones Fellowship award for his dedication and outstanding national service during the COVID-19 pandemic and the 2021 eruption of La Soufriere volcano.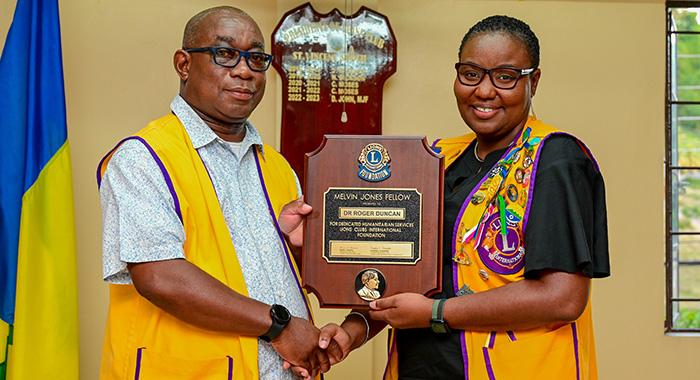 The Melvin Jones Fellowship award is the highest recognition for humanitarian service.
Duncan, a member of the Lions Club St. Vincent South joined the movement over 20 years ago and has served as the club's health coordinator and tail twister for many years.
In the Lions Club, the tail twister's duties are to instil enthusiasm and good fellowship in the meetings, and to keep harmony.
Duncanreceived a commemorative plaque and lapel pin acknowledging hisdedication to the foundation's humanitarian goals.
As a Melvin Jones Fellow, Duncan becomes a part of the growing network of individuals who are committed to improving the quality of life for people locally and in communities around the world.
In presenting the award, John, who is president of the Lions Club St. Vincent South, said that Duncan's contribution to the national COVID-19 response, coupled with his outstanding service and dedication to the movement during the volcanic eruptions merited the award.
"We are immensely happy to present this MJF recognition to you as you truly deserve it," she said.
Several past presidents of the club which was chartered in 1978 were also present for the unveiling of the Presidents' Wall of Fame project spearheaded by John.