By *Lavern V. King
St. Vincent and the Grenadines (SVG) possesses an untapped treasure trove beneath its crystal-clear waters: sea moss.
Yet, this vital component of the blue economy remains underutilised and underappreciated. In this article, I hope to shed light on the enormous potential of sea moss and call for government support to harness this natural resource, not only for economic growth but also to improve livelihoods, create jobs, and protect our marine ecosystems.
Sea moss — a global goldmine:
In 2021, the United States witnessed a sea moss product retail boom, with sales reaching a staggering US$326 million. Projections suggest that this industry could grow by 5 to 10% over the next five years. The question is: What if we could capture even a fraction of that market in SVG, bringing millions of dollars into our economy?
A call for adequate funding:
Despite its potential, the Ministry of Agriculture and Fisheries in SVG is allocated a meagre 3% of the national budget, translating to just EC$27 million. Fisheries receive a paltry EC$2.4 million to conduct essential operations. This underfunding not only hampers the sector's growth but also shows the blatant disregard of the ULP government for both Minister Saboto Caesar and the hardworking people in this vital industry. It is truly a disheartening injustice.
The disconnect between Invest SVG and agriculture:
Invest SVG, tasked with promoting investment and development, falls under the Ministry of Finance. Unfortunately, there seems to be a disconnect between Invest SVG and the Ministry of Agriculture and Fisheries. This lack of collaboration hampers the development of a cohesive, strategic and aggressive marketing plan for "Vincy Sea Moss" on a global scale.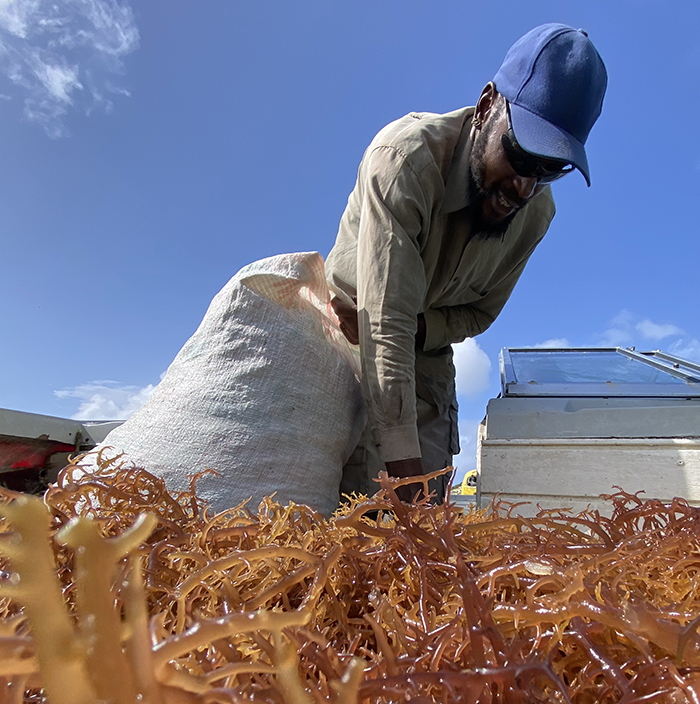 The need for collective action:
While individual farms can market their own brands, they face a significant disadvantage when measured against the national brand of St. Lucia Sea moss. To succeed, we require a unified effort and significant investment that surpasses what individual small businesses can afford.
What we need:
Sea moss farmers' ID: A formal identification system for sea moss farmers to protect their rights and products.
Legal Protection: Legislation to protect against theft of sea moss, and to provide further licensing and regulation for sea moss farms.
Duty-free concessions: Allow sea moss farmers the same benefits on boats and equipment as agricultural farmers and fishers.
Networking opportunities and grants: Support from the government in securing opportunities for global exposure, similar to what St. Lucia has done when they took their sea moss to Dubai. The government of St. Lucia also allocated $500,000 to Export St. Lucia for continued development in the sector. What is SVG allocating in comparison?
Collaboration with FAO: Invite the Food and Agriculture Organization of the United Nations to develop a working relationship with sea moss farmers for value chain product development and global market expansion.
Benefits of sea moss development:
Boosting exports: Increasing sea moss exports will bring more foreign exchange into SVG's economy.
Job creation: In a time when unemployment rates are at an all-time high, sea moss development can create numerous jobs, especially in marginalised communities.
Preventing unrest: Farmers won't resort to taking justice into their own hands to protect their ocean beds.
A sustainable vision:
Imagine the impact of 10 sea moss farmers in SVG increasing their productivity and exporting a minimum of 1,500 pounds of sea moss monthly. That would create 70 direct sustainable jobs. This number surpasses what some regional export companies situated in SVG currently offers, even with all their duty-free concessions. Furthermore, the money generated would circulate within our local economy, benefiting all.
Conclusion:
Investing in sea moss development is a win-win for SVG. It not only promises economic growth and job creation but also a sustainable way to protect our marine resources. With the right support and collaboration, "Vincy Seamoss" can become a global brand, putting SVG on the map as a key player in the blue economy.
It's time for our government to recognise the immense potential of sea moss and take the necessary steps to unlock its benefits for the people of SVG. Together, we can turn our marine riches into a source of prosperity for all.
*Lavern V. King is a marketing consultant and the business owner of Grenadines Gold, a sea moss business in SVG.