About 1,700 people were interviewed at the Sandals job fair in Kingstown last week, which was expanded on two of the five days to accommodate the large number of applicants.
Sandals is planning to recruit about 800 people in St. Vincent and the Grenadines, to work at its Beaches Resort at Buccament Bay, which is scheduled to open on March 27, 2024.
The job fair in Kingstown interviewed people to fill spaces in rooms division, food and beverage, watersports, engineering, administration, finance, entertainment, communications, human resources, Sandals Corporate University, sales, weddings, loyalty and travel, spa, photo shop, landscaping, resort shop, and laundry.
"I would describe it as very, very successful," Winston Anderson managing director Sandals Resort Management Ltd. told iWitness News on Friday, 90 minutes before the expanded cut off time expired.
"We are on our last day now and so far, we have seen I would say close to 1,500 and looking outside we have a full house," he said.
"Today we are going up to five and we expect another 200 at least, I would say between now and 5 o'clock," he said in the interview shortly after 3 p.m.
Anderson told iWitness News that while cut off time was 3 p.m., his company had agreed to a request to expand it to 5 p.m. on Thursday and Friday.
"I would say we are seeing from an educational level extremely well qualified bright, young bright persons we are seeing. So, we are very, very satisfied with that," the Sandals executive told iWitness News.
"We are seeing also a mixture. We are seeing a lot of young people, middle aged and more mature, but there is a lot of young, bright persons there."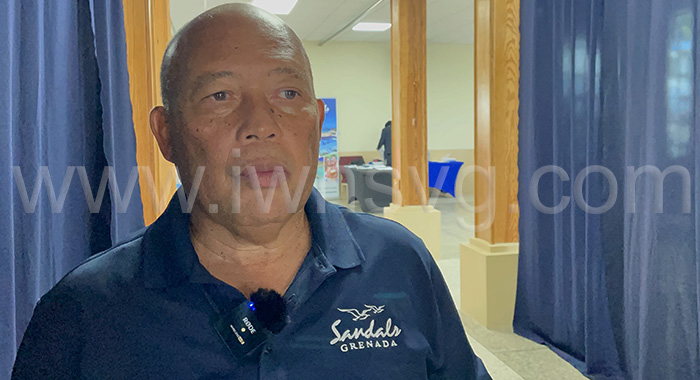 He said that as his company expected, many of the interviewees did not have a high level of experience.
"And, in fact, we're not worried about that because of the level of training that we do, because of the exposure that we do," Anderson said.
"We have said it before that our approach is to hire the personality, hire the attitude and we will train the skills…
"We are looking at about 800 team members who are going to be on site," he said, adding that the company had advertised for management positions during the previous two weeks.
"So, our corporate directors have been in the process of interviewing via Zoom, managers. We got close to 300 applications for management positions. So, this job fair, it is for middle managers, supervisors and our line team members."
He said that after the job fair, the company will assess the applicants.
"Within the next two to three weeks, we are going to contact every single person and, of course, they will know where they stand."
He noted that although someone may have applied for a particular position, the company would make a determination about their best fit.
"… looking at their skill set, looking at their personality, their qualification, we may shift around and recommend another position to start after which we do what we call a welcome day where we invite all of them in, … we have an orientation and then extensive training. We would do up to two and a half, three months of training before the resort opens."
Regarding where the training would take place, Anderson said his company had been looking around and had identified a number of locations.
"Of course, there is no one location that would be able to accommodate everyone. But what we would be doing is breaking them into departments and we have identified a number of different locations across the island," he told iWitness News.
"We are excited, we want to truly thank our Vincentian family for being so accommodative, being so warm, for being so friendly. I really have to say that the level of warmth, the friendliness, the attitude that we have seen over the last four days has been nothing short of just truly encouraging and just cement the fact that we are doing to have an amazing resort, but most importantly, we are going to have an amazing set of team members at this resort," Anderson told iWitness News.