The family of a 4-year-old boy is seeking answers about how he ended up dead, allegedly bleeding from his organs four days after what was billed as a simple surgery to make his legs the same length.
The child, Aveek Gerald, of South Rivers, died at Milton Cato Memorial Hospital after 9 p.m. on Sunday, four days after he underwent the surgery there.
Myrah Gerald, speaking on behalf of her uncle, Mowatt Gerald, the child's father, told iWitness News today (Monday) that they will have to wait until this weekend, when an autopsy is conducted, hoping that it would uncover what caused the infant's death.
"At first, they (doctors) were talking about the bleeding, saying it could be dengue, Ibuprofen, COVID, leptospirosis," she said, recounting what doctors told the family before the child died.
"Then they said sometimes somebody is sick and doesn't know until they do a surgery. 'Who knows if the cause of the death was just the surgery?'" Myrah further said.
"We feel broken. He was the smallest child in the home but had the biggest mouth and felt he could have done what he felt. On mornings, he would ask if I am coming to drive him to school or his daddy. He would sometimes even hide the car keys," Myrah said.
The grieving aunt showed iWitness News on her mobile phone a video of Aveek in a hospital robe shortly before his surgery on Wednesday.
The child was gleaming with the prospects that the three-hour procedure would help him to be able to walk just as children whose legs are the same length.
However, just four days after the surgery, his family has to cope with the reality of planning a funeral for the child.
Myrah told iWitness News that one of Aveek's legs was shorter than the other at birth. Therefore, he walked with an unusual gait.
The child was initially scheduled to undergo surgery in July but he had a cold then and the procedure was postponed to last Wednesday.
The aunt said that doctors conducted the requisite tests ahead of the surgery last week and said that everything was fine with the child.
He checked in for the surgery at 7 a.m. on Wednesday, as scheduled, and the procedure lasted three hours. Aveek was discharged from hospital Thursday afternoon.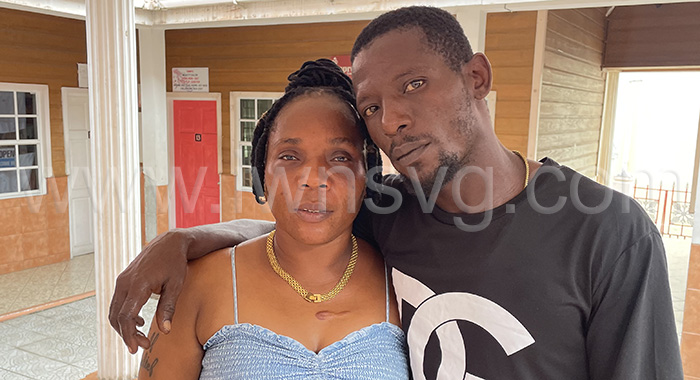 On Friday, he only had water and juice and defecated as normal. However, he also threw up and his family noticed it contained a speck of blood.
Then on Saturday, the child faeces was black and he also vomited, which was also black.
On Sunday, Aveek's father became concerned as the child's belly was swollen and he was complaining that his belly was hot.
The father decided to take the child to the hospital in Georgetown, and doctors there placed him on drips, saying he was dehydrated.
Aveek's palms, soles, face and lips were pale and doctors decided to send him to Milton Cato Memorial Hospital, the nation's main healthcare facility, located in Kingstown.
This was about after 7 a.m and the hospital transported the child by ambulance, while his father and other relatives, including Myrah, travelled in a private vehicle.
Myrah told iWitness News that the private vehicle developed a mechanical problem, resulting in them getting to the hospital two hours after the child.
She said that when she got there, her sister — Aveek's aunt — told her that the child was admitted to the Paediatric Ward immediately on arrival at the hospital.
Myrah said her sister told her that a doctor has asked some questions, some of which the sister could not answer.
Myrah said that after waiting for a further three hours, they spoke to a doctor who told them that the child had faeces and blood in his stomach.
"They came and were running up and down and asked if we were sure he did not fall," the aunt said.
She showed iWitness News a video of how the child's legs were wrapped when he was sleeping so as to prevent him from rolling around in or falling from his bed.
"They came back and asked if we were sure he didn't have a fever because he was bleeding from everywhere," Myrah told iWitness News.
"They then came back and said he was just vomiting blood," she said.
"They didn't show where he was bleeding from or the vomit. We didn't see any of that or anyone went in with cleaning material. When the door opened, we were not seeing any blood on the floor."
She said the medical staff later told the family that they were going to take the child for a CT scan, but the family did not hear back about the results at that time.
"They said they are going to take him to the ICU. In less than an hour after, he was gone," Myrah said, adding that the child died around 9 p.m. Sunday, shortly after she left the hospital.
Meanwhile, Natasha Gerald, another of the child's aunt, who was present when he died, told iWitness News that the child was in ICU for less than half an hour when a doctor came and said, "'We are going to lose him because he is bleeding from everywhere now. His lungs and everything has blood. Blood everywhere in his body'"
She said that the doctor came back and asked if anyone in the family had bleeding cancer.
The doctors were told that a member of the family died of cancer in 2008 and another had cancer in 2019.
"They went back in and in less than half they said we are going to lose him. It is not good," Natasha said.
She said the doctors asked them if they wanted to go back into the ICU to see the child.
The child's father went inside then came back out screaming, Natasha said.
The father who was also present during the interview, told iWitness News that when he saw the child in the ICU, he looked as if he was already dead.
Natasha said he had bloody tissue paper in his nostrils.
"By the time I got there, I heard them call a number and they were looking at each other and said, 'Daddy, he died'," Mowatt told iWitness News.
"I feel so left out," Mowatt, 38, said of the loss of his only child.
"I just want to see justice. Just to know what happened. Because just a foot can't make this happen," he told iWitness News.
Myrah said her nephew was a lively child who had gone to school up to last Tuesday, the day before the surgery.
"He was looking forward to surgery. He was so happy to go. He said he was ready to walk good," she said, adding that besides the discrepancy in the length of his legs, Aveek was healthy.