Minister of Youth, Orando Brewster has told the Prime Ministerial Advisory Council on Youth that while they are coming with their brilliant ideas and are ready to roll with them, "… sometimes it is said that experience is the greatest teacher".
Brewster, who is also a preacher, cited the Biblical account of King Saul and David, who had to wait to ascend the throne even after he had been identified as Saul's successor.
The minister, speaking at the launch of the council in Kingstown, on Tuesday, noted the theme of the event, "Balancing experience with youth".
Brewster said he is guided by a lot of biblical principles, adding that he reflected on the story of young David and King Saul.
"David was chosen to ascend the throne to become king. And Saul was sitting on the throne. Can't share the throne, one man has to be king," Brewster said.
He said that Saul was plotting to kill David even though David had married into Saul's family.
"But David had to endure, he had to sit at the feet of Saul. And he had to learn some very important lessons," Brewster said.
"And I want to urge you, the young people, look around in our society. There is a fundamental disconnect between some of our elderly folks and the younger generation," he said, adding that gone are the days when people would seek the forgiveness of the elders against whom they have transgressed.
"Now persons are resorting to different means of settling their differences," Brewster said.
"And it is important for us to return to that era where we seek advice from the experience from the elderly. They are an important part of our society.
"I know you're coming in with all of your brilliant ideas, you're ready to roll with it. But sometimes it is said that experience is the greatest teacher," he said.
He told the councillors that there are important lessons that must be learnt when they sit on the Youth Advisory Council.
"And that is the reason why we are balancing the experience with the youth. From this council, I am expecting great things. It is wide and it is cross-cutting. We have many different sectors on this council," he said.
"And every form, and every aspect of our society is being captured on this Youth Advisory Council," Brewster said.
"And this, young people, this is a heavy mantle. And you have to take your time with it. You have to be passionate about it. You have to have the drive to move forward with it," Brewster said, adding that he sees "some excellent persons who're sitting on this council.
"And I know that they are going to do a tremendous job," he said, adding that it is his "solemn duty to work with this council in making sure that the voices not only from the council, but the voices from across the length and breadth of St. Vincent and the Grenadines is not only amplified, it's not only unified, but these voices are heard".
Brewster said the launch of the council was historic, even as he noted that the history of St. Vincent and the Grenadines "has been enriched with organisations that are youth based.
"There have been many youth organisations and councils here in St. Vincent and the Grenadines. And many have impacted the lives of many Vincentians here," he said.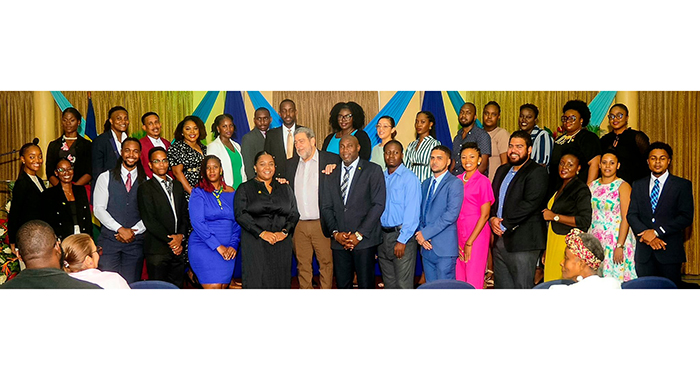 He mentioned among them the Boy Scouts, Girl Guides, Seventh-day Adventists Pathfinders, youth ministries in churches and the Inter-School and College Christian Fellowship.
"However, many of these organisations have been tested and they have been tried and some have flourished while others have disappeared over the years," Brewster said.
He quoted Zimbabwean born author, Matshona Dhliwayo, who said, "Be wise enough to learn from the past, shrewd enough to capitalise on the present and clever enough to prepare for the future."
He said the launch is historic because the advisory council is the first of its kind to be launched in SVG.
"Secondly, this Youth Advisory Council is the newest kid on the block in the Caribbean region. And as Vincentians we must be proud of this accomplishment.
"Thirdly, this Youth Advisory Council has yet again opened another door for young people in our country to serve in a national capacity to build and to continue the development of our blessed country, St. Vincent and the Grenadines."
Brewster said the event was also historic because the youth advisory council "will unify and amplify the youth voices across St. Vincent and the Grenadines.
"… young people were left aside in many decision making processes. And I've always wondered why. Why do we push some time the youth aside in the decision making process?
"And history also pointed us to inexperience. And that is why I will re-emphasise the importance of balancing the experience and the youth."
He urged the council to work in harmony, saying that in order for a choir "to have a unique song, a perfect symphony, there must be harmonisation and you must bring all the working pieces together…
"And the only how this Youth Advisory Council will stand is if each of the working parts unify and create one voice," Brewster said
"Amplification is good. But I have to remind you this evening that unity is strength. Throughout this country, this government has listened to the voice of the young people.
"But never before did we have such a large grouping of young people coming together in unity and I am prophesying because I do not want division. And I do not want discord.
"We are all unique. We have our differences. We have our strengths and we have our weaknesses," he said and urged the young people not to allow discord to destroy the council.
Brewster said the launch was also historic because "it further empowers the next generation and this is important, empowering the next generation.
"This government has done tremendous work in empowering youths across St. Vincent and the Grenadines. It can be seen through the many policies and programmes under my ministry," he said.
"There is a plethora of programmes and policies that we have used over the years to empower our young people here in St. Vincent," he said.