Police could be closer to cracking the murder of Precious Williams and Veronica 'Keisha" Small who were murdered in separate incidents last year.
The body of Williams, 17, of Sion Hill, was found in a bag in Richmond Hill on May 12, 2022.
A post-mortem revealed that she died as a result of being inflicted with "multiple sharp injuries". No one has been charged in connection with her death.
Police are also yet to lay charges in connection with the death of Veronica "Keisha" Small, whose body was found at the tarmac of the decommissioned ET Joshua Airport, on Aug. 25, 2022, with a piece of PVC conduit protruding from her vagina.
On Monday, acting Assistant Commissioner of Police with responsibility for crime-fighting, Trevor "Buju" Bailey, a seasoned detective, said that since taking up the post in October, he has ordered his detectives to take a fresh look at the cases.
"I want to tell St. Vincent and the Grenadines that those two investigations are very much alive and ongoing and work is being done every day," Bailey told a joint press conference with acting Commissioner of Police Enville Williams and the senior ranks of the constabulary.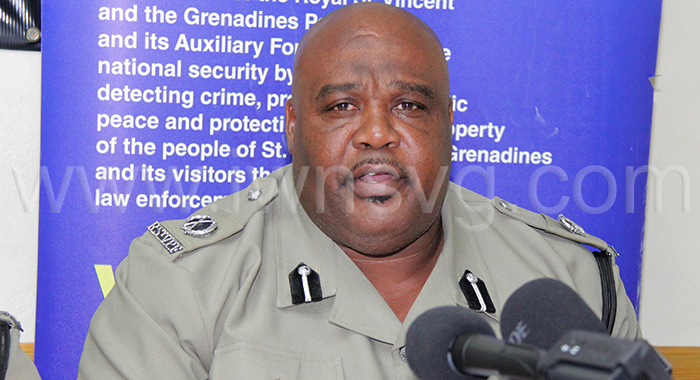 "Since I … assumed office as assistant commissioner of police in charge of crime, I have personally sat down with the investigators who are members of the Major Crime Unit who are heading the investigations into these two particular crimes," Bailey said.
"We have done a review of the statements. I have ordered some investigations to be done along certain lines and those investigations are very much ongoing," Bailey said and urged the nation to have faith in the homicide investigators.
"Believe in the investigators that the Royals St. Vincent and the Grenadines Police Force has within its ranks. We have proven before that we are more than capable of doing in-depth and technical investigation," Bailey said.
"And these two crimes in particular are high on our agenda and they are very much alive and we are working. I am hopeful that in future a press conference I would be able to speak more definitively with regard to these two murder offences."