"We have a problem". That was the admission of the new police chief as he met with the media on Monday for the first time since taking up the post in early October.
Acting Commissioner of Police Enville Williams noted that St. Vincent and the Grenadines has recorded 47 homicides this year, 43 of which police have classified as murders.
With seven weeks left in the year, SVG has recorded five more homicides than in 2022, when a record 42 homicides replaced the previous record.
"I wish that my first chat with us as commissioner of police were under better circumstances but it is not," said Williams, who before becoming police chief was assistant commissioner of police with responsibility for crime fighting.
"Over the period Friday to Sunday, three lives were lost due to senseless acts of violence, two of which were by the route of illegal arms and ammunition," Williams said.
The acting commissioner spoke about "the disheartening nature of crime generally but more specifically crime committed by the use of the fire arms".
He said firearms were used in the commission of 36 of the 43 murders recorded this year.
"But, like I said before, we have a problem. That is the reason why the government and CARICOM is treating illegal firearms as a pandemic," Williams said.
"So, it is not just a police problem but a whole-of-society problem and as such we must address this pandemic in a united fashion, hence the reason why I appeal and we continue to appeal to the people of SVG to partner with us."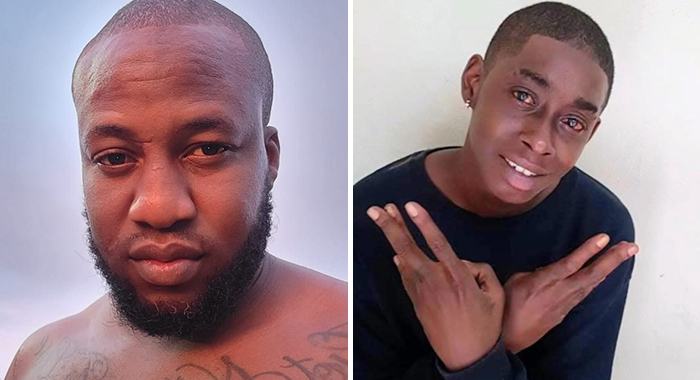 On Friday, SVG recorded two homicides with the death of Zachari "Zack" McIntosh, 31, of Calliaqua, who died three days after he sustained injuries allegedly in an altercation with a close relative.
That relative was on Monday in police custody as a suspect as investigators awaited a post-mortem report.
Around 10 p.m. Friday, police responded to a report of gunfire in Fair Hall and met Maurice Primus, 31, dead with gunshot wounds to his body and head.
Then, on Sunday, Tambu Patrick, 39, was gunned down in Ruthland Vale, Layou around 7:45 p.m.
Two people were in custody on Monday as detectives continued their investigation into Patrick's death.
"Friends, we have a problem where the use of illegal guns is becoming all too rampant among us and we must not, as citizens, as Vincentians, allow this practice to be normalised as the way forward," Williams told the media.
"As right-thinking Vincentians, we must not accept these occurrences as normal and we should do everything in our power to rid our streets and our communities of illegal arms and ammunition and the few rogue men and women who seek to use them to instil fear among citizens."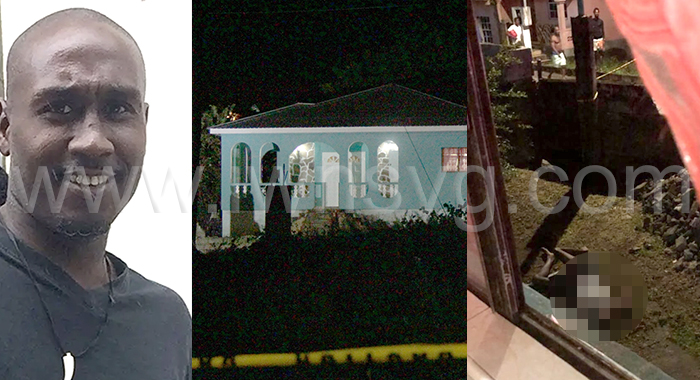 Williams said that very shortly the Royal St. Vincent and the Grenadines Police Force (RSVGPF) and law-enforcement community in general wouls roll out "the highly-anticipated gun amnesty" that the Prime Minister Ralph Gonsalves Minister announced in his independence address on Oct. 27.
"This, among other measures, is geared towards making our streets and our communities safer for all of us because too often lives are lost because of illegal firearms. Homes are shattered, dreams are broken and too many cries are going up because of violence," Williams said.
The police chief urged Vincentians to partner with the constabulary and the law enforcement community in general "as we seek to tackle this scourge of crime and criminality because we must continue to make our country safe and secure for all of us.
"I encourage, therefore, civic groups, neighbourhood watches, religious organisations to join in solidarity with us as we make a Herculean effort to rid our streets of violence.
Yes, it is our job, but together we can do this together to make St. Vincent safe for all of us."
Williams urged the nation's youth who are involved in the bloodletting to stop.
"I want to, again, appeal to our nation's youth, those who think it is ok to perpetrate these crimes, to stop. Make no mistake, make absolutely no mistake, our resolve to get rid of the guns off the streets of St. Vincent is strong," Williams said.
"Make absolutely no mistake, we want to give you an opportunity to give up the guns and ammunition where you have them. But make no mistake, we are resolved to get them.
"So, we want to encourage you who in some way, shape or fashion, believe that you have an upper hand to know that the Royal St. Vincent and the Grenadines Police Force and law enforcement generally in St. Vincent, we will do all that we have to do to protect the good name of SVG and the citizens of SVG from these senseless acts of violence."
He appealed to the public to say something when they see something.
"But there is that small sector of society, those who harbour the criminal and shield them from police action and or prosecution — stop these acts. It is eroding the very society that you live in. It is undermining the peace and security of your neighbours.
"And if you continue to do it, we will come for you likewise. When you continue to give them shelter to criminals, they are emboldened to do more. So, I want to appeal to you not to hide them, not to give them shelter or safe space to operate in because by doing that, your neighbours and brothers and sisters are affected by the crime perpetrated by them," Williams said.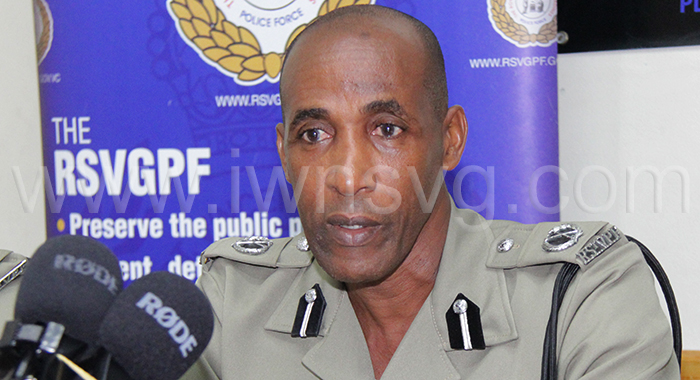 Meanwhile, Assistant Commissioner of Police with responsibility for police operations, Christopher Benjamin told the media that the police urged the public to work along with the police to fight crime.
"I know the question is being asked, 'What the police is doing? We are working hard to keep everybody safe but if I outline to you exactly in detail what we are about to do or what we are doing, it will defeat the purpose," Benjamin said.
"But all I will say, you will feel us. So, expect some inconvenience based on our initiatives. We will be seen. A high police presence will be visible throughout our communities and also, we will be present but not so present. So, we will be there and you won't know we are there," Benjamin said.
"I urge citizens, come forward, give information to the police so that we can bring these people who are committing these crimes to justice. Don't wait until it is affecting you to come forward. Remember we are all in this crime fighting business together."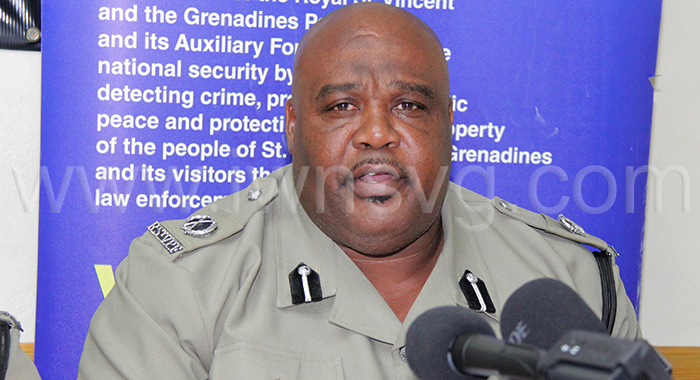 Also at Monday's press conference, acting Assistant Commissioner of Police with responsibility for crime fighting, detective Trevor Bailey, said that the police had taken immediate steps to address an upsurge in crime in the Central Leeward town of Layou.
Bailey said the constabulary recognised that there was "a bit of a fall off between the citizens and the police.
"And we are committed to mending that bridge, to fill in that gap," he told the media.
He continued:
"We are committed, deeply committed, and we are concerned about the level of crime in St. Vincent and the Grenadines and we have every shoulder, every boot that is being laced, the members of the Royal St. Vincent and the Grenadines Police Force, our shoulders are committed to the task of making sure that crime is at a minimal and more so, homicides in St. Vincent and the Grenadines, with dispatch, with urgency, we get a proper grip on the entire situation."