Newly elected head of the SVG Bar Association Shirlan "Zita" Barnwell says that despite her politics she had the personality that can unite the legal fraternity.
Barnwell, a former senator for the main opposition New Democratic Party (NDP), was elected president of the association for a two-year term ending in November 2025.
She comes to the head of the Bar Association after a period of dormancy, following the last elections almost a decade ago
In an interview on Tuesday, Barnwell agreed with iWitness News that the Bar Association had been accused of being partisan and selective in its advocacy.
iWitness News noted that Barnwell has a partisan political background and asked her how she thinks this would affect the association.
"Well, I'll tell you this much: that is true. And one of the things going into the election when I spoke to people and said I was interested in running for president and got the support of people across the political fence, both NDP and, speaking frankly, ULP (Unity Labour Party), is that they think that I have a personality to unite the Bar," she told iWitness News.
"Because I think even though I support a particular party, which is the New Democratic Party, I don't have that type of, in my dealings, especially professionally, very partisan type of politics.
"And I make sure I build relationships with my colleagues as they are in a professional manner and anything that has to do with politics stays for when we ever meet in the political corridor or otherwise."
Barnwell replaced another politician, former West Kingstown MP and speaker of the OECS Assembly, Rene Baptiste as president of the Bar Association.
Baptiste, who as recently as January 2022 served as a senator for the ULP, is an ex-officio member of Barnwell's executive.
The vice-president is Moureeze Franklyn, a Crown Counsel, Jadric Cummings is the treasurer and Patricia Marks-Minors, secretary.
There are three committee members — Chelsea Alexander, Dalana Horne Senior and Jemalie John.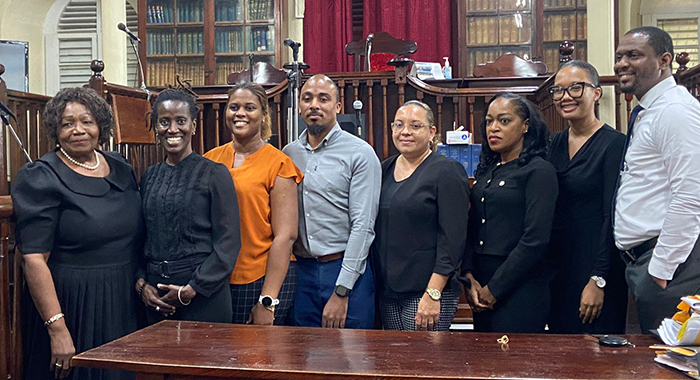 Barnwell told iWitness News that during her tenure she would like to raise the visibility of the Bar Association "in a very positive way.
"I'd like to see or move towards more presence in the community; so, community engagements," she said, noting that legal aid clinics used to be an annual part of Law Week activities.
"That has not happened for a very long time. So, in the coming year, which is 2024, I'd certainly want to see that we have that Law Week. It is really, really good for engaging with the community, offering free legal services."
She said that unlike in St. Vincent and the Grenadines, where there is no legal profession law, continuing legal education is mandatory in other jurisdictions.
"I want to see we move towards passing that," Barnwell said, adding that her executive would push to have this passed into law by 2025.
"… it would be the regulatory legislation for barristers and solicitors in St. Vincent and Grenadines. And in it, one of the things would be that the continual education is mandatory.
"So, we'd have to ensure that all barristers, in order for you to gain a practising certificate, that you update your knowledge and keep abreast with what's happening, or the development of the law to be able to practice."
Barnwell said the constitution of the Bar Association mandates that there be a standing committee called The Legislative Reform Committee.
"And we'd like to see that working," she told iWitness News, adding that this committee is often engaged only when the government asks it to review legislation.
"But I really want to see us moving to look into different areas of the law as practitioners, seeing where there are gaps or where there are laws that need amendments and make recommendations to the attorney general," Barnwell told iWitness News.
She said that as regards public education, she would like the Bar Association to take to radio, television and social media to help people to understand the law better.
"Sometimes when I'm listening to radio, I hear people talking about, especially the areas of sentencing, you realise little ignorance there that needs to be addressed. And one of the ways that can happen is by the Bar Association engaging a bit more with the community at large, including the media."
Barwell also suggested a media session with electronic and print media to help the public to understand better how the court system works.
She told iWitness News there might be multiple reasons why the association has been dormant over the last few years.
"The factors might be a few. The Bar Association, I think the last election — I might be very wrong — … was around 2014, 2015 thereabout and since then we've never had, really, an election."
She said she was a committee member on the executive but became an inactive member after she was appointed a senator in 2015.
"And maybe the first three, four years, lot of activities, and then it just dropped off. I couldn't say why," Barnwell told iWitness News.
"One of the things that the former executive said in a meeting that I was not there just before we had elections, I understand, would be that barristers themselves were not interested. But I think once you have a good leadership position that you have to do what it takes to motivate people to get involved. And I'm hoping that they can do that," Barnwell said.