Opposition Leader Godwin Friday has called on the youth of St. Vincent and the Grenadines (SVG) to use their vote at the next general elections to bring about change in the country.
"Young people, I am calling on you to make the next election your election. Make your voice so loud and so clear that it will no longer be ignored," he told the New Democratic Party (NDP) ""Hope for Youth Rally" in Campden Park Saturday night.
General elections are constitutionally due by February 2026 but the NDP has been ratcheting up its campaign, hosting two "Hope" rallies featuring local and regional entertainment acts as well "Hope for Home" town hall meetings in New York and Toronto.
"Young people, be heard. Make this country feel your power. When you come together, when you organise and you vote for something, nothing and no one can stop you. So, vote for change and I promise you change will come," he told the thousands at the rally.
"Voting, you know, it's an awesome power. Because with it, you can humble the mighty and you can exalt the humble. Use it. I'm begging you, use it and help me to form the next government that will look out for you, that will create jobs and opportunity for all and will bring a new era of hope and prosperity in our land."
In 2020, the NDP, with Friday at the helm for the first time, suffered its fifth consecutive defeat at the polls since being voted out of office in March 2001, ending its 16-year-old administration.
Since then, the party has struggled to retake the reins of power but in 2020 won the popular vote for the first time since 1998, even as the ruling Unity Labour Party (ULP) picked up another seat, returning to government with a 9-6 majority after 10 years of ruling on a one-seat majority.
Friday told the young people that for too long they have left the "business of government to your elders, and to be thankful for what little that you get.
"And what did you get? Very little."
Friday, who has been representing the Northern Grenadines since March 2001, said almost half of the nation's youth are unemployed, adding that it is little wonder that they feel neglected and left out.
"It is sad, but not strange that so many of you don't want to have anything to do with politics and politicians. I understand how you feel," Friday said.
"But if the last few years have taught us anything, it is that leaving it up to others will not make things better. You must do it yourself."
He told the crowd that "nobody will fight harder for you and for this country than me.
"No one will do better to fix this country now than me and my colleagues," Friday said and urged the youth to believe that the NDP "is the vehicle for hope and change.
"It is the best place for all of us, who have been let down by this government, who have been left out of their progress, who are fed up with being called insulting names by arrogant, out-of-touch ministers; who are fed up of being told to keep your mouth shut because you don't know enough to have an opinion that is worth considering," Friday said.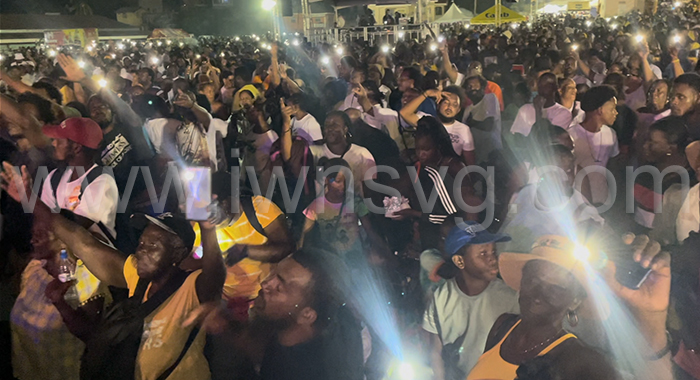 NDP to build 'the four pillars of the economy'
He said an NDP administration would build on "the four pillars of the economy" in its bid "to bring prosperity" to SVG, namely "agriculture, tourism, the blue economy and the new economy".
This approach would require new initiatives, the opposition leader said.
He said an NDP government would focus on technical and vocational education to train people for existing jobs and would create a new centre of excellence for technical and vocational education.
"We will also implement the Youth Guarantee Pledge, a commitment that by the end of the first term of an NDP administration, every young person in SVG would have the opportunity of a job, or a training programme, or a place or an internship with an employer.
"We will also establish a national job and skills agency that will help our people to find work," Friday said, adding that an NDP government would also re-establish the National Youth Council, "that has died under this present regime", so that young people would have "an advocate, an independent voice".
The opposition leader said an NDP government would promote the arts and sports by building a performing arts centre and an indoor arena to help young people to excel.
"We have to create financing opportunities through a new national development bank that will provide loans."
Friday said hope is also underway for farmers because an NDP government would re-establish the national marketing board to help you to find markets for agricultural produce.
"And for those people living in the diaspora, so important to us, you will be able to find business opportunities here because we will create an investment programme to help you to work with Vincentians here to create business opportunities."
Friday said this will also form a bridge between SVG and the Garifuna, who revere SVG as their spiritual homeland.
"I will deliver on these commitments. Unlike the ULP politicians, they promised the world every election, and they blame everyone when they don't deliver, I will honour my commitments," Friday said.
"I know that excuses don't put food on the table and wages in your pocket. So, mine will be a government that will deliver for you."
He asked the youth who received a leaflet at the event with the proposals he outlined to keep them safe "and hold me to account when you put me in government.
"You will not be disappointed. … I am putting together a team that will not only win the next election, but it will implement all the policies and the things that I've said and will transform this country for the better."
'There is no reason to fear change'
Friday told the rally that putting his plan in place starts with changing the government.
"There is no reason to fear change. Change for us means making progress. It means keeping promises. It means delivering a plan for the future. It means giving our people, especially our young people, hope."
He said public servants need not fear an NDP government for your jobs.
"Don't let them fill your head with that divisive nonsense," he said.
He promised that an NDP administration would return public sector workers that the ULP fired in 2021 under the COVID-19 vaccine mandate to return to their jobs — as the High Court has ordered – with all benefits intact.
The ULP administration has appealed that ruling and the appeal is slated to be heard in January.
"Traditional NDP and ULP supporters, we are one people. And we must all have an equal place in our country. We have a plan to create jobs. So, let's get it done," Friday said.
"We have the plan to build a thriving economy. So, for heaven's sake, let's get it done. We have a plan to build a prosperous future, my friends. Let's get it done," Friday said.
He said he believes that the ULP are "trembling in their boots right now", knowing that "the people are tired of them and that they see a brighter future with the new Democratic Party.
"Young people, that future is more yours than mine. Work for it. Let's get it done," Friday said.