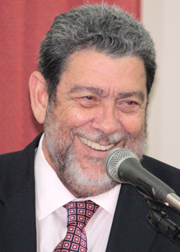 KINGSTOWN, St. Vincent, May 28, IWN – US$40 million is available to this country from the Bolivarian Alliance for Our Americas (ALBA) Bank after a visit to this country earlier this month by a delegation led by the bank's president.
Prime Minister Dr, Ralph Gonsalves made the announcement to Parliament on Monday during the debate on the Public Sector Projects (ALBA Bank) Loans (Amendment) Bill, 2013.
Gonsalves' comments came as he responded to Central Kingstown representative, St. Clair Leacock, criticism that the "coalition of willing nations" is no longer willing to contribute to the EC$652 million project.
"The Honourable Member for Central Kingstown said … that I am changing the goalpost because the initial arrangements have fallen through — the coalition of the willing is no longer willing.
"If they are not willing, how is it that the president of Venezuela, within a few weeks of inauguration sends the president of the ALBA bank to tell me that US$40 million is available? Mr. Speaker, how is it that Cuba sent down their vice-minister to head a 10-member delegation to see what we want?" Gonsalves further said.
"In fact, the Venezuelans want, Mr. Speaker, to send a few persons from their construction brigade to help us, a few technical persons. And, if they do, I will get the Chatoyer-Che Contingent changed [to] Chatoyer-Che- Chavez contingent. They're a useful addition in memory of the great leader from Venezuela," he further said in reference to Hugo Chavez who died in March.