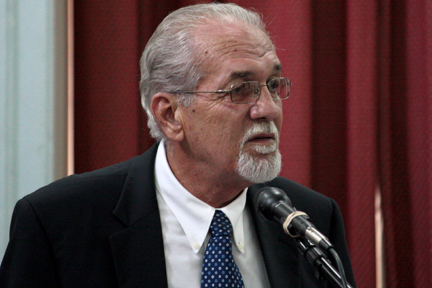 KINGSTOWN, St. Vincent, May 29, IWN — Government senator, Julian Francis, on Monday attempted to debunk in Parliament "this myth" that he told legislators on May 25, 2006 that the international airport at Argyle would be built debt-free.
Francis said that a recording the Opposition submitted to House Speaker, Hendrick Alexander, last year in an effort to confirm that he had in fact made the statement, was edited.
He said an edited version of his statement was also posted on the social networking website, Facebook.
"My statement in full was not played and the Honourable Member of Central Kingstown brought what was played on Facebook to the Honourable Speaker of this House as evidence of what I had said," Francis told Parliament.
"It was clipped, it was edited, it was cut short conveniently to hear me say the airport without debt," he said.
Francis read from the Hansard what he actually said to Parliament:
"'So, the Prime Minister presented on August 8 last year his plan to build an international airport. Including is in this plan — that he went as far as saying and giving a commitment that at the end of construction of that international airport, we would not have a debt: because we have very large land resources that over the years have not been developed.'"
He commented:
"That last sentence was clipped out totally out of the recording and broadcast all over the world. That is not the end of it, because I went on to explain what I was saying about vast land resources," he further said.
Francis also read from the Hansard his statement that lands in Bequia were identified for sale to compensate property owners at Argyle.
He quoted the Hansard as saying he had said the lands at E.T. Joshua Airport have a resale value of a quarter million dollars.
"That is a misprint by the Parliament, because I think I said a quarter billion. But they might have heard million. You always have these errors in the minutes sometimes."
He said he told Parliament in 2006 that the E.T. Joshua Airport site is a crown jewel and businessmen will lap up the land at pre-sale once the international airport is at a certain stage.
"All that I said, Mr. Speaker. They clip it at the debt and sent to you, Mr. Speaker, … an edited version of my presentation and it continues this myth that that is what I said period," Francis further said.
He also told Parliament that the lands at Arnos Vale could sell for $432,115,000.
"That is what we have sitting down at Arnos Vale. That is the point I was making in this House. Regardless of the interim borrowing, regardless of what we do now — and I hear the lamentation about taxpayers every time we borrow a loan, taxpayers have to pay for it. Mr. Speaker, we are using the assets of the taxpayers to help us build the international airport.
"So let me put an end to this myth from the opposition," Francis said, adding that the public knows what he said.
The airport is now estimated to cost EC$652 million.
"We do not yet owe 432 million dollars at the airport in loan," he said, adding that the state lands for sale will fetch far more than that.
"But what is burning them is that Dr. The Hon. Ralph Gonsalves, prime minister of this country, came up with a plan like this, unprecedented in any part of the world. You know what is burning them? That it is working," Francis said.
"Mr. Speaker, I trust that today, this presentation has put an end to this myth and I challenge the opposition, I challenge them, repeat me word for word. Put it on Facebook what I am saying here today. Don't just stop at debt. Go right on to the value of Arnos Vale 62 acres," he further said.