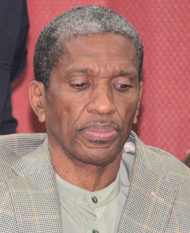 This country will find it difficult to afford dialysis service, former minister of health, Sen. Douglas Slater told Parliament last week.
Slater, a physician, stated his position on the medical procedure as he clarified a "misrepresentation" by Member of Parliament for South Leeward, Nigel Stephenson.
Stephenson, an opposition legislator, said he visited the hospital recently and met there a young lady who has kidney disease.
"… she was in real agony, severe pain," Stephenson said, adding that the patient asked him to ask Opposition Leader Arnhim Eustace to visit her so that they can have a discussion "because the government is not doing anything about our situation".
"And Mr. Speaker, as that young lady laid there, I really applauded her because of her strength. She said to me, there are so many people with kidney disease who came in here and died," Stephenson said.
He further stated that the young lady said the disease is taking a toll on her, since her family can no longer afford the dialysis treatment, which each cost EC$1,000 (EC$1=US0.37).
"So, she is basically lying there for dead," Stephenson said.
But he added that the Unity Labour Party, during the campaign for the 2001 elections, said it would introduce dialysis treatment here.
"And the former minister of health (Slater), while he was actually leading the campaign with respect to that, when they won, what did he say? 'It is too expensive and it is on the back burner'," Stephenson said.
But Slater objected to Stephenson's comments.
"Mr. Speaker, there is a misrepresentation of what I would have said," Slater told Parliament.
"Mr. Speaker, my colleagues will tell you, as a public health physician, I have always made the point clearly. I got licks by The News newspaper. I always said that at that point, I didn't think dialysis was the priority in health care in St. Vincent and the Grenadines.
"It is a fight that I have had with my colleagues. I gave in eventually, because I work with a team. …
"He (Stephenson) said that I campaigned and said that. I never did that, because I didn't think that at the stage of our development that dialysis service was appropriate, I didn't think we could have afforded it.
"And I want to tell you something, I think we are going to find it difficult to afford it even now. I will not and I am not one of the strongest proponents of dialysis service. I have never been. So, let's get that clear," Slater said.
"Well, you tell me how to finance it. All I am telling you, I am not a big proponent of it," he further said in response to Opposition crosstalk.
The ULP government is building a medical diagnostic centre in Georgetown, which would include dialysis treatment among its services.