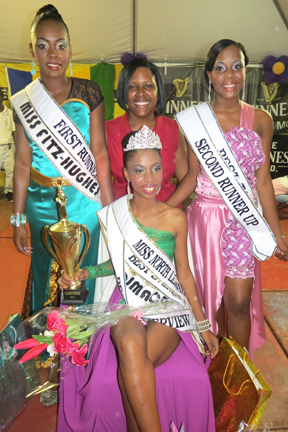 Miss Troumaca, Fayasha Lewis, sponsored by Providence Electronic Solution, demonstrated consistency and confidence to take the Miss North Leeward 2013 title.
Lewis won the Best Swimwear, Best Interview and Best Evening Gown categories, beating into second place Miss Fitz Hughes Deisha Murray.
Miss Petit Bordel, Ocean Edwards, was Second Runner-up, winning the Talent segment.
Kayana Stephens, Miss Chateaubelair, was voted most popular on Facebook.
Lewis said she felt confident going into the competition, and she was never nervous.
"I was prepared and I approached each category by itself," said Lewis, who expressed thanks to her sponsors and supporters.
She said she is looking forward to representing North Leeward at the Miss Easterval pageant in Union Island next year.
Following the queen show, there were performances from former calypso monarch, Tajoe, and North Leeward's very own, former soca monarch, Fireman Hooper, alongside Trini, and the young and upcoming Beenie West.
As the queen show activities concluded, a big truck with a powerful song system, blasted music to signify the commencement of the j'ouvert activities.
Revellers partied from outside the Petit Bordel Hard Court to Fitz Hughes, before making their way home, to return for the evening jump-up in the afternoon.
It was a weekend to remember in North Leeward, as there was no major incident and persons adhered to the call for peace.