What informed the decision by the police to declare former national footballer Dwaine Sandy "wanted … armed and dangerous" in connection with the robbery of some EC$100,000 and shooting in Kingstown last week?
Sandy's lawyer, Grant Connell, says he doesn't know.
Police on Wednesday released Sandy from custody without charge, two days after he turned himself in in relations to the robbery of a postal worker and shooting of a police office in Kingstown last week Thursday.
Sandy and his lawyer, Grant Connell, arrived in St. Vincent from Grenada on Monday and Sandy told reporters on Wednesday that he went there since May.
It later emerged on Wednesday that Sandy did not have evidence in his passport of when he went to Grenada.
It was noted, however, that the fact that Sandy might have entered Grenada illegally is no indication that he committed a crime in St. Vincent.
Asked on Wednesday, after Sandy was released, how police were able to identify him as a suspect, Connell told reporters, "To be honest I don't know."
Connell said that within an hour after he and Sandy arrived from Grenada, he went to the Central Police Station and spoke with the investigating officer, Station Sergeant Hesron Ballantyne.
"I asked Ballantyne, 'Show me the evidence. There is camera evidence? Let me see it.' And he didn't," Connell told reporters.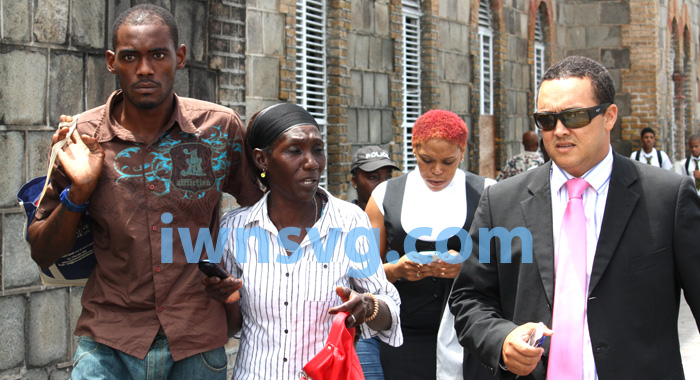 Police last week distributed a "wanted" flier bearing Sandy's photograph and description.
It said he was wanted in connection with the robbery and shooting and is considered armed and dangerous.
"Where they got that from, I don't know," Connell said of the information that led to the decision to declare Sandy wanted.
"I can only suspect that somebody passed and said, 'Look the guy there six-foot-something and he looks something like you know that goalkeeper boy –.'
"… when you say 'wanted … armed and dangerous', you send out a message, dead or alive. Because the authorities in another island, with somebody who is wanted, armed and dangerous, they approach them as if they will kill or I kill. … You put a hit on his head," Connell said.
He said no surveillance evidence was presented to him.
"If you have evidence against this man, bring it forward. They have done it the other way, around. They have destroyed his character and now what is the Commissioner going to tell this woman (Sandy's mother), and we thank God he came back in one piece."
Society still concerned
Connell, however, expressed concern about the crime.
"The society at large is still very concerned as to who committed this act. And if it isn't my man (Sandy), which clearly it's not — because you want a man, he comes to you, you've done investigations, you have your cameras and you are yet to charge him — so who did it? The police have their work to do," the lawyer told reporters in his chambers in Kingstown.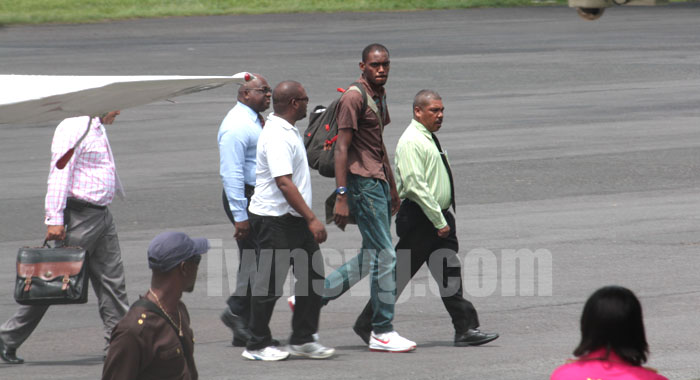 Connell said he hopes that the injured police officer, Jolani Jack, survives his injuries.
"… but given what I am hearing with the injuries he sustained, if he does not make it, what happens then? What happens to my client?"
Connell asked what would happen if the injured police officer says Sandy is not the man that shot him.
"… what excuse does the Commissioner [of Police, Keith Miller] have? What evidence did he act on?
"This was an irresponsible act on the part of the Commissioner. You don't just jump like that and say someone is wanted. He (Sandy) was in Grenada."
Connell spoke of the implications of the police having deemed Sandy "wanted … armed and dangerous".
"If a foreigner is in a land who is wanted, the police are not going to go where he is and ask him, 'Excuse me, Sir. We would like to have a drink; we would like to talk about you being here as a wanted man.'
"They are going to communicate with ammunition. He could move to even pull up his pants and they are going to think that he is reaching for something and they would riddle him.
"… What would Miller say [then]? … What is Miller going to tell this woman who is in tears?" Connell said of Sandy's mother, Margaret Sandy, who was also in his chamber during the interview with reporters.
"I mean he is somebody's child? If even you are dealing with a person who committed an offence, you have a system they must follow. Other than that, they may as well get their own gang and go and headhunt.
"… It is either you are acting in the confines of the law or you are not. I have warned against this position as it is held but nobody seems to be listening.
"God smiled on this man. He was able to get a lawyer here (in St. Vincent) and there (in Grenada). So, I hope God keeps on smiling and the Commissioner gets a lawyer too."
Asked if he had spoken to the police chief, Connell said:
"Commissioner is not in my reach. The Commissioner has not spoken since the weekend, but this is nothing overnight."
Read also: SVG needs female police chief, lawyer says