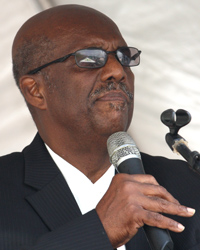 Opposition Leader Arnhim Eustace wants the Government to compensate Port Police officers in accordance with the severance pay law it amended last month.
Eustace said a letter to the 84 Port Police officers, all of whom will be sent home this month, suggests that their severance pay will not take into account their first two years of employment.
"I find that to be wrong because I think the entire 10 years ,or whatever period you have [worked], should be covered," he said Monday on his weekly radio programme.
He noted that Parliament last month amended the Protection of Employment Act to make it clear that workers are entitled to severance pay from day one of their employment.
"It is from zero (day one of employment) to 10 [years] and anything above six months should be treated as a year," Eustace said, noting that the Port Police was established about 10 years ago.
"So I don't understand how it can be from two to 10 years given the present law. … The Port workers should insist that the get from zero — from the first six months period — right up to the time they are severed," he further said.
Eustace noted that if the first two years are not taken into account, workers will receive one month's pay less in their severance package.
He further said that since the Labour Commissioner had ruled that Port Police were entitled to three years' increment, the severance pay should be calculated based on a salary that includes the increments.
"I am hoping that that is being done but from what I see in a letter that was brought to me this morning, that is not what is being done. I see no reference there to the increments whatsoever, and therefore, the severance pay is lower than it ought to be and the workers and their union will have to look at that, otherwise they will get much less than they are supposed to get…
"It is a serious matter that should be given some thought to see what is fair for the workers," Eustace said, noting that the Port Police are being severed but still have financial obligations.
"So, I want the union to take those things into account. I am pretty sure the union will do it but I am just stating my position as president of the New Democratic Party and as a Vincentian."
Prime Minister Dr. Ralph Gonsalves announced in May that the Port Police would be disbanded.
The announcement came after a sickout by the Port Police, which Gonsalves, who is also Minister of National Security, said exposed the country to potential negative repercussions under the International Ship and Port Facility Security (ISPS) Code.
"I am prepared to accept that the flexible system of the Port Police has not been a success…" he told Parliament last month. "I am taking a decision in the interest of the people," he further said.
He was speaking during debate on an amendment to the Protection of Employment Act.
The Government said the amendment was needed to make it clear that persons are entitled to severance pay from the first day of employment and not after two years, as a court had interpreted the previous law to mean.
Meanwhile, Eustace said on Monday that he was not involved in orchestrating the Port Police sick out.
"I heard about the industrial action when it happened. I didn't know anything about it before," he said, adding that he has been paying attention to the development since.