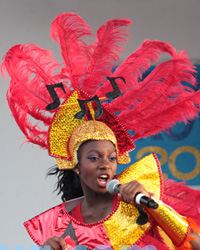 Ridiculed by her St. Joseph's Convent Kingstown (SJCK) schoolmates about her failure for two consecutive years to beat Shadé Baker in the secondary school category of the Junior Calypso competition, Gillian "Feisha" Smart resolved that this would be her year.
But, while the 14-year-old bard did win the competition on Tuesday, it was a bittersweet victory, as she was denied the pleasure of beating Shadé.
Shadé, having migrated, did not compete in Tuesday's competition.
But Feisha is confident that she would have triumphed even if Shadé, her SJCK schoolmate, were among the contenders.
"I am feeling elated and I hope I can regain my title next year," she told reporters after the results were announced at Victoria Park.
The Calder Ridge resident has been competing for the past five years and placed second for the past two.
But she said her victory this year had nothing to with the absence of Shadé.
"I think that I have tried harder this year because of the bad criticism that I have been getting over the last two years, that if Shadé isn't here … that I [would] come first," she said.
"So, that pushed me but I didn't know that she wasn't performing today. I still had a good performance and although my props were not at the best — as I wanted them, I think I did well," Fiesha further told reporters.
She said the criticisms that propelled her to do even better came from "my enemies at school.
"I have plenty people who watch me and like, 'Girl, don't watch me'… When I pass them, they would be like, 'You know she go in for Junior Calypso last year and Shadé beat she every year…'"
But Fiesha said she doesn't think Shadé "could have come up with a better performance [than] mine".
Feisha won the competition with "Vincy Nice", the rendition of which was preceded by a short skit of the artiste and two actors depicting a market scene with a "tourist" passing by and taking photos.
Shadaney "Tumpanks" Williams of Bethel High School was second, with her song "Teenagers Wait", a call for youths to postpone sexual activity.
Moesha "Chowder" Thomas of Thomas Saunders Secondary was third with "Clean dem up", a well-executed call for the authorities to remove vagrants and other homeless persons from the nation's capital.
Singing Kristy wins final primary school crown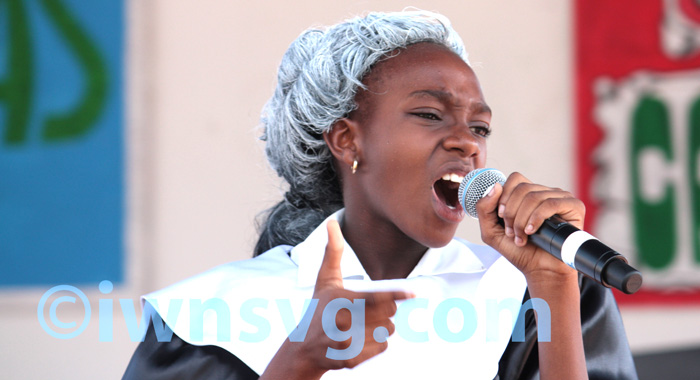 Meanwhile, Kristiana "Singing Kristy" Christopher won her last primary school calypso monarch crown during the competition even as she unseated Junior Calypso Monarch, Ottis "Flippa" Cain.
The lass, who completed a hat trick of wins, will attend the SJCK, and plans to represent that school next year.
"I am feeling great," she said of her victory, secured with the song "With Rights Comes Responsibility".
She said it feels "really great" winning two crowns in one competition.
"I am so proud of myself," said the 11-year-old representative of the Layou Primary School, who has been competing for four years.
Tia "Singing Tia" Wyllie of New Prospect Primary was second in the primary school calypso competition with her song "Proud to be Vincy".
Cha-chanie "Lady Chanie" Morgan of the New Prospect Primary, who sang "Education", placed third.
Meanwhile, Johnroy "The Blinger" Haywood of Troumaca Secondary placed second in the soca segment with "Soufriere", while Delanzo "Lanzo" Lavia of Owia Government placed third with "School Boy Soca".
The young artistes addressed a number of national and social issues in their songs, including a call for the reinstatement of corporal punishment in schools, support for the Caribbean Primary Exit Assessment — which will replace the Common Entrance Exam here next year, use of social networking websites, and national unity.
But some of the songwriters seemed not to have paid enough attention to the fact that they were writing for a junior competition.
Meanwhile, in the soca segment of the competition, a hit with the audience, at least two of the artistes had performances that would have fitted perfectly the national competition on Saturday, both in terms of the double entendre and the dance move of the supporting acts, and these might have cost them the crown or even a position among the top three.