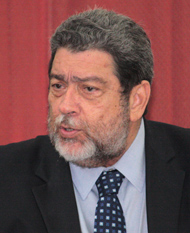 Legislators had a laugh in Parliament this week on account of a document that a lawyer submitted for a client applying for a Vincentian birth certificate.
Prime Minister Dr. Ralph Gonsalves spoke of the document as he explained why stringent measures are needed when applying for Vincentians birth certificates.
Gonsalves was responding to a question from opposition senator, Vynnette Frederick, a lawyer.
Frederick wanted to know if Gonsalves, as minister of citizenship matters, would consider suspending new requirements regarding proving identity when lawyers are functioning for clients and can detail this on the application form.
"When a lawyer makes a special plea for lawyers, I get very suspicious," said Gonsalves, who is also lawyer.
Gonsalves, who is also Minister of National Security and Legal Affairs, noting the law, listed the persons who can apply for a birth certificate.
They are: the owner of the birth certificate, parent(s) whose names is/are shown on the birth certificate, the children of the owner of the birth certificate, the legal guardian of the owner of the birth certificate, an attorney acting on behalf of a client whom he or she knows for at least five years, social welfare officers, police officers, or persons duly authorised by the applicant.
"We have has some very bad experiences with lawyers; very, very bad ones," Gonsalves said, adding that the birth certificate is the foundation document for several other documents, including the passport.
"We have had to, under the law, apply restraint on certain lawyers applying for certain documents," he said.
The Prime Minister said a man got a Vincentian woman's birth certificate and went to a lawyer saying he was born of this woman in Nigeria and therefore entitled to citizenship by descent.
Gonsalves said the Vincentian birth certificate was correct but "wasn't taken in an authorized manner".
He further said that the lawyer making the application was "not an uninitiated person" but "somebody high up in the system".
According to the information presented, a Nigerian man came to this country, married a Vincentian woman and they went back to Nigeria where she reportedly had a child in 1992.
"This is a birth certificate which a lawyer sent with somebody for a passport. … 'Communist Republic of Nigeria, State Department of Health, Bureau of Vital Statistics, Birth Registration Notice…" Gonsalves said as legislators continued to laugh.
"This document is filed on the 26th of November 1992. You know who signed this document? Leon Trotsky.
"Trotsky was the Minister of Defence in the Soviet Revolution with Lenin in 1920. And this man Trotsky was killed by an emissary of [Stalin] with an ice pick in 1940.
"Yet he turned up in Nigeria in 1992 to sign a document …" Gonsalves said.
The Prime Minister further said that while he does not want to make it difficult for people to get a birth certificate, "the way the world is now with document fraud, we have to be careful that we all cooperate and have the birth certificate secure".