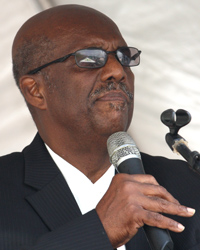 Leader of the Opposition, Arnhim Eustace says that while he doesn't have a problem with the "principle" of reparation, he sees part of the current effort as "an exercise in hypocrisy".
He said on his weekly radio programme on Monday that he has "very strong views" on reparations and called for what he termed reparations of the mind.
Prime Minister Dr. Ralph Gonsalves has convinced his CARICOM colleagues to form a united front to seek reparations from former colonisers for native genocide and slavery.
Eustace had said in the past that he supports reparations but that it should not be a priority currently.
He further spoke on the topic on Monday and referred to an incident in the lead up to the December 2005 general elections, when Gonsalves said that then U.S. President, George W. Bush would recognise him in the night, but not Eustace.
Unlike Gonsalves and Bush, who are both of European descent, Eustace is of African descent.
"What I have a problem with, when we look at reparations, we must also look at our minds. To what extent those have been repaired after the hazards and the difficulties of slavery, that we in fact now love ourselves as a people, as a race when those in authority in this country can publicly say that George Bush won't see me in the night?" Eustace said.
"That, to me, is racism. … I want to see those things erased. That, for me, is part of the reparations exercise, that we learn to love and respect ourselves as black people," he further stated.
He added that reparations is not just about trying to get monetary compensation for ills against us.
"That is part of the exercise but that is not going to come now. That is down the road," he said, noting a lecture last month by Barbadian academic, Professor Sir Hillary Beckles.
"I am saying the task today has to be one where we ourselves provide the institutional framework to improve our concepts, our belief in ourselves and to not denigrate each other, as has been done to me on more than one occasion by the government, by the Prime Minister of this country," Eustace said.
"Then they expect you to work together. I [am] not in that you know. I am proud of what I am, very proud of what I am. And if we are to be working together to improve and to look for reparations, we have to repair our minds too, and the attitude we display with respect to certain matters.
"So when a head of government can say that the Leader of the Opposition won't be seen in the night, it's only because he is black and then something is wrong with that. So, we have a problem right there. So I look at part of this exercise as an exercise in hypocrisy. And those who are supposed to be taking the lead, often need the reparation first…" Eustace further stated.
"I also feel also that this exercise is being used in a partisan political way now," he said, noting the talks of "reparations now".
"Any reparations of a financial nature will take decades. We are not going get that now. And who says it is going to go to government? As Professor Beckles said, money coming will go to institutions and trusts who will have the responsibility of utilising that financial assistance; not the government to give out to their supporters.
"I hear talk about people getting money before elections, so much thousand dollars. That is a lot of nonsense, trying to fool the population — a kind of stupid, partisan politics that makes no sense and serves to further destroy our minds, not ennoble them," he further stated.
"I look at this matter very seriously. My problem is not the principle involved, but how we seek to implement it, not fool our population," Eustace said.
This country is slated to host a regional reparations conference next week. The opening ceremony on Sunday will feature Jamaican artiste Bunny Wailer.