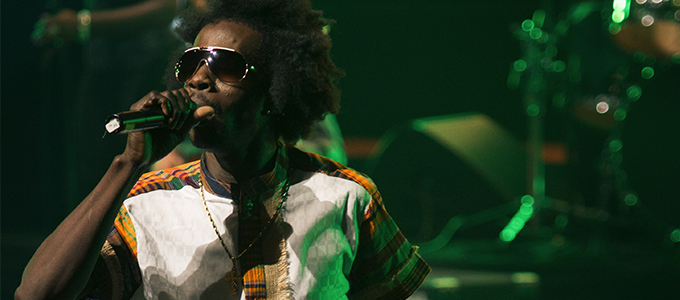 FORT-DE-FRANCE, Martinique — St. Lucian performer, Mongstar won the inaugural Jeff Joseph Trophy of the "ALL FOR ONE Caribbean Voice Contest."
The exciting final of the first annual pan-Caribbean song contest, which was held recently at Salle Aimé Césaire de l'Atrium in Martinique, showcased artists from nine Caribbean nations.
The competition is modelled after the famous Eurovision Song Festival, and was supported by the Regional Council of Martinique.
Finalists were drawn from Barbados, Cuba, Dominica, the Dominican Republic, Haiti, Martinique, St. Lucia, St. Martin and Trinidad and Tobago.
In addition to the contestants — who were selected by their respective ministry of culture or tourist board — the evening featured supporting artists Lisa Griffith of Barbados, Seal of Martinique and the iconic meringue singer Miriam Cruz of the Dominican Republic.
Each candidate had to perform two titles, slow and fast tempos, from their repertoire in front of a jury of nine representatives, one each from each of the competing islands.
Contestants were accompanied by the talented Guy Marc Vadeleux band from Martinique.
The dazzling two-hour show was televised in the French West Indies and France and will be rebroadcast later this month through Caribvision and selected television stations across the region.
The contest winner, Mongstar, appreciated the hospitality and professionalism of those who contributed to the success of the competition.
"I'm very pleased to bring this first Jeff Joseph Trophy to St. Lucia. I'm glad to see that the audience appreciated my performance and I am very proud of Martinique [which] was able to organize the first edition [so well]. I thank all those who supported me and the team of ALL FOR ONE," he siad.
Martinican Loriane Zacharie was judged first runner-up and Darline Desca from Haiti second runner-up.
"The result is not what matters to me, because from the beginning, I considered ALL FOR ONE as a most extraordinary platform for exchanging and sharing with other Caribbean islands. For me it was special to be in Martinique for the first time," Desca said.
The nine "ambassadors" embraced the memories of the musical and cultural adventure and marvelled at their common heritage which expresses itself though different languages and musical genres.
"We are all Caribbean, we are one. We have the same blood running through our veins and we need to share a lot more to build together a beautiful Caribbean unity," Mongstar said.
The organizers are looking forward to hosting the second edition of ALL FOR ONE next year with even more entrants from different nations and territories.