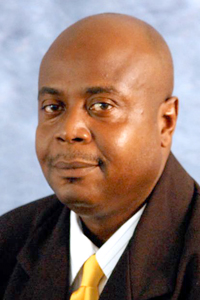 Addison "Bash" Thomas, the New Democratic Party's candidate for South Central Windward in the next general elections, says he will make a statement at a later date about his wife's attending the ruling Unity Labour Party's (ULP) convention last Sunday.
"Well, it is something I really would not want to make any comment on at this time. It is something I am thinking seriously [about] and I will make a comment later, but not at this time," Thomas told I-Witness News.
However, Thomas' wife, Monica Thomas, in a separate interview on Wednesday, told I-Witness News that she is a supporter of the Unity Labour Party, and "can't" support her husband's candidacy.
"I can't, I can't; I just can't. You understand? I just can't," she told I-Witness News.
Elson Crick, communications consultant in the Office of the Prime Minister and deputy general-secretary of the ULP, on Tuesday posted on Facebook a photo of Mrs. Thomas and Prime Minister Ralph Gonsalves at the ULP convention.
"I was told that there is a photograph there but I didn't look at it. I didn't go on Facebook yesterday," Thomas told I-Witness.
"Well, she did attend. … I was told so," he said, when asked if his wife attended the convention.
Thomas, a former teacher, failed in his attempt to win the South Central Windward seat for the NDP, amassing 1,771 votes, compared to 2,321 for the ULP's Saboto Caesar, who is now Minister of Agriculture.
Asked if his wife supports his candidacy, Thomas said that he will make a statement at a later date.
Asked if he was estranged from his wife, Thomas told I-Witness News,
"Well, we are living together."
Mrs. Thomas is traffic warden, based at the Colonarie Police Station.
Asked if there were any specific reasons why she attended the ULP's convention, she said, "I am a supporter of the ULP. That's one for sure."
When asked about her support for her husband's candidacy, she said,
"There are a lot of things behind it but I really can't support him," but added that she did support in him 2010, at his first outing at the polls.
Mrs. Thomas said she is not supporting her husband because of personal, rather than political reasons.
"I guess you are supposed to know what is the reason. The usual reason what they do when you are married: cheating, sleeping out."
Asked if she would support Mr. Thomas if their marital problems are resolved, she said, "I can't."
She said that she and her husband live in the same house, but added, "Main reason, I don't have anywhere to go."
The couple has a 26-year-old daughter who is living overseas.
Thomas was one of three teachers who ran for the NDP and were not rehired after the 2010 elections.
Political activist and former member of the NDP, Frank Da Silva, also attended the convention, saying he did so because he wanted tongue to wag and to show, the difference each party gives to its perceived opponents.