(See video at end of post)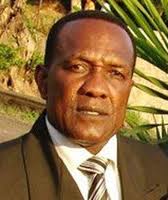 Former diplomat, Edson Augustus returned to St. Vincent on Monday, 10 days after his recall, was debriefed by the Ministry of Foreign Affairs, and left again that same day.
The former deputy consul general at the St. Vincent and the Grenadines (SVG) Consulate in New York was recalled after admitting to Prime Minister Ralph Gonsalves on Feb. 6 that he was offering, for a fee, to help persons in New York to source Permanent Resident Card, commonly called "Green Cards".
The government discontinued Augustus's salary last week after he failed to obey the recall.
Gonsalves told a press conference today (Tuesday) that his government did not give Augustus a timeframe within which to return to Kingstown.
"But I would expect he will return as promptly as all the circumstances would admit," the Prime Minister said, adding that one would have expected that Augustus would have returned to St. Vincent early the week beginning Feb. 9.
Gonsalves said Augustus arrived in St. Vincent on Monday, met with the Minister of Foreign Affairs, Sen. Camillo Gonsalves and Permanent Secretary in that ministry, Nathaniel Williams.
"And they would have questioned him on many things."
Gonsalves said he was informed that Augustus left St. Vincent for Trinidad that same day.
"Whether he is in Trinidad or not – I mean, he was no longer in the employ of the government of St. Vincent and the Grenadines. He has family and friends in different places, also in Trinidad, from what I understand," Gonsalves said.
The Gonsalves government has said that while Augustus acted outside of the scope of his employment, he did not break any of the laws of SVG when he took money from persons and promised to help them to secure Green Cards.
"If he says, 'Give me some money and I can help you out', I don't think there is enough basis there for a crime, even in the United States. But what we know him to have done, doesn't amount to a crime in St. Vincent and the Grenadines," Sen. Gonsalves said in a television interview broadcast on Sunday.
He further said he does not think the former deputy consul general's action could negatively affect Vincentians applying for visas or other status in the United States.
"This is a situation where somebody, for want of a better word, was preying on the vulnerabilities of Vincentians in the diaspora," the Foreign Affairs Minister said.
http://youtu.be/SB9pOhhNeDU