The Traffic Department will today — Monday — begin checking omnibuses for insurance after two of three vans in a smash-up along the Vigie Highway recently were found to be uninsured.
More than a dozen persons were injured in the accident.
Head of the Traffic Branch, Superintendent of Police Kenneth John, told a meeting of the National Omnibuses Association (NOBA) on Sunday that drivers will be required, as of today to have their insurance certificate in their omnibuses.
"… the traffic officers are outside doing what we call traffic checks. And we discovered that a number of the omnibuses are uninsured; a lot!" John said, but added that he could not give the exact figure.
"And we as members of the Traffic Branch, we cannot just sit by and allow that to go like that. We are planning to do something about it. So, sometime in this week, I am going to call on the president [of NOBA, Anthony "Code Red" Bacchus] to meet with him at the Traffic Branch, because we are going to carry out a check to ensure that all omnibuses are ensured."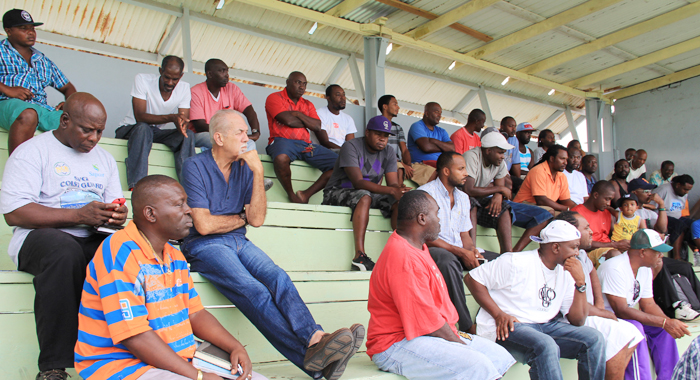 John appealed for the cooperation of omnibus drivers, saying that the police want to conduct the checks in a very orderly way.
"And once you comply with the officer, it is only going to be about 10 to 15 seconds the officer is going to stop you for."
He said police officer will stop the omnibus, the driver will be asked to present the insurance certificate, and the officer will check it against the vehicle's registration number.
"Every omnibus will be checked. Every one! So all I am begging, insure your motor vehicle before you bring them on the road," John said as he spoke of the recent accident.
"Twelve to 15 persons were injured. Only one of the omnibuses was insured. The other two are uninsured," he said.
"I, as the head of the Traffic Department, am not going to stand by and allow that to happen," he said.
John said he was pleased to hear the NOBA president call on all drivers to cooperate with the police.
"And I'd love to see that day when the police and minibus drivers are cooperating. And I know that will make our job easier.
"But you have to remember that we the police, we are placed out there for a particular purpose, and our purpose out there is safety. And if we do not do our part, the road will not be safe for that youngster there and that one over there," he said, pointing at two children at the meeting.
Minister of Transport Sen. Julian Francis and Commissioner of Police Michael Charles also attended Sunday's meeting.
The meeting discusses a number proposals relating to omnibus operations and traffic control.