Prime Minister Ralph Gonsalves was booed as he entered, and later as he was called upon to pay an honorary tribute to his former political ally turned political rival, Elwardo "E.G." Lynch, at the funeral in Georgetown on Saturday.
In the lead up to the funeral, there was much discussion on radio and social media about whether Gonsalves, who sued Lynch once for defamation, should have attended the funeral.
But Lynch's family invited Gonsalves to attend, and to pay honorary tribute.
Lynch is a former host of the New Democratic Party's (NDP) "New Times" radio programme on NICE Radio.
NDP President and Leader of the Opposition Arnhim Eustace, and former prime minister, Sir James Mitchell, delivered honorary tributes at the funeral.
Some NDP activists advocated on radio and social media that Gonsalves be booed, and on Saturday morning, a recording was played on NICE Radio, in which Lynch spoke about the booing of Gonsalves as he attended in 2011 the funeral of NDP activist and comedian Lucien "Saluche" Small.
In the recording, Lynch said he did not agree with persons booing a prime minister.
"But, you see the present prime minister that we have here, what he got here yesterday, with booing or whatever, that is a taste of what he use to do when he was in opposition," Lynch said in the 2011 recording.
"… sometimes it is good for you to get a taste of what you use to give people to drink… You eat that now; eat that now, Ralph Gonsalves, because that is your trademark," Lynch said even as he reiterated his opposition to the booing.
Gonsalves entered the church immediately behind the procession. He told I-Witness News on Monday that he arrived in Georgetown about two or three minute after 1 p.m, and not before the funeral began.
Two vehicles from the Office of the Prime Minister arrived in Georgetown ahead of the commencement of the funeral and remained parked outside the Georgetown Police Station, which is located across the street from the Holy Trinity Anglican Church, where the funeral took place.
Other persons entering behind the procession included Green Party Leader Ivan O'Neal.
Some members of the crowd inside the church began to jeer and boo as Gonsalves made his way to the front of the church.
At the front of the church, Gonsalves greeted Eustace and other dignitaries, and in a side conversation inquired of Lynch's daughter, Shafia London, if he is to speak before or after Sir James.
Eustace and Sir James' name were listed in the programme, but Gonsalves' wasn't.
The booing and jeering continued bringing the funeral to a halt.
A man in clerical garb then asked the congregation to sit, as the noise continued.
"Hello, hello, can I have your attention, please?" Keino Spring, one of Lynch's sons said, as the noise continued and he pleaded with persons to be quiet.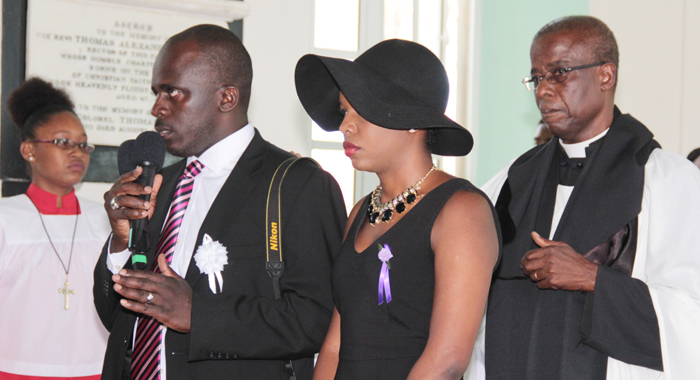 "This is not about you, this is not about me, this is not about Ralph, this is not about Eustace; this is about my dad. So just for one moment, just for two hours, if you can just put it aside and just give him the respect that he deserves. When you are finished, you will have an opportunity to make noise in the right way; just not now, please. Okay?" Spring further said.
"If you respect my dad, you will give him that much, just for the day. Thank you," he  said.
A cleric then attempted to continue with the rituals.
But as the jeering continued, the cleric said:
"Hello! Hello! Good afternoon everybody! With all due respect to you, we are in the house of the Lord and not in a fish market. I appeal to you to be quiet and listen to what the priest has to say. Otherwise, if you cannot be quiet, you will have to leave. Thank you very much."
But later in the programme — after Eustace and Sir James had given their tributes, as the cleric called on Gonsalves to give his tribute, the loud jeering and boos erupted again and some women took turns ringing a yellow bell.
London and her brother attempted to quell the crowd and one of the persons ringing the bell took it outside as the jeering continued.
"Hello! Hello! Hello! May I have you attention please," London said as the jeering continued.
"Hello! Hello, may I have you attention please. May I have your attention please?" she further said as she made several attempt to quiet the crowd.
London then spoke with her brother and her brother spoke to Gonsalves.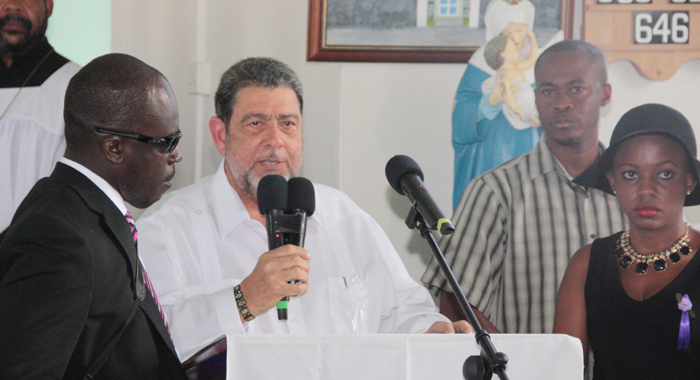 When the prime minister did speak, he greeted the congregation and said: "I came here at the invitation of the family to speak. I want to make sure that the dignity of this event is maintained in accordance with our Christian traditions and beliefs.
"I have known E.G. Lynch for a very long time and I have come to honour him with my presence. I shall publish my tribute at an appropriate time and I want to thank the family and the vast majority of people who are gathered here, who wish to have a funeral service proceed in peace and dignity and having done so in accordance with the wishes of the family, and I express my condolence to them, I thank them for the solidarity and may almighty God continue to bless them, and, in respect of EG Lynch, for his soul to rest in peace and light perpetual shine upon him. Thank you very much."
The jeering continued during Gonsalves' speech and some members of the congregations engaged in exchanges with a few persons who seemed to be supporters of Gonsalves' Unity Labour Party, the exchanges at time including expletives.
Gonsalves returned to Kingstown before the end of the funeral and delivered his tribute on his party's radio station, Star Radio, at 4:40 p.m.
(This article was updated at 7:57 a.m. on Monday, July 21, 2014)