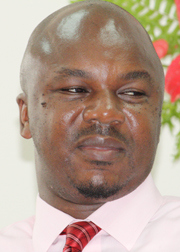 Hans King, press secretary to Prime Minister Ralph Gonsalves, did not like how journalist Jerry George handled a "breaking news" story about a health situation at Milton Cato Memorial Hospital (MCMH) on Monday.
So, the prime minister's spokesman and former journalist took to social networking website Facebook, calling George an "attention seeking, headline-grabbing a**hole".
On Monday, there was an ebola scare at MCMH as medical staff and patients scampered as a Nigerian student checked into the Accident and Emergency Department with a fever sometime after 2 p.m.
George reported on the development in a Facebook post at 4:23 p.m. saying:
BREAKING NEWS:
A SITUATION SEEMS TO BE DEVELOPING AT THE MILTON CATO MEMORIAL HOSPITAL RIGHT NOW WHICH IS DRIVING PANIC INTO PATIENTS ATTENDING ACCIDENT AND EMERGENCY AT THE MOMENT! A PATIENT TOLD ME THAT HOSPITAL STAFF HAVE BEEN SEEN DONNING MASKS ETC, AREA CLEARED AND PATIENTS HAVE NOT BEEN TOLD WHAT IS HAPPENING….!
At 4:23, someone commented on the post, saying, "Need more information.", to which George responded one minute later, "Working on it don't worry [name omitted].
In a post at 4:28, someone commented, "Wow!"
George, in a comment on the post, said, at 4:29 p.m., "Ok I am being inundated with calls and text messages now".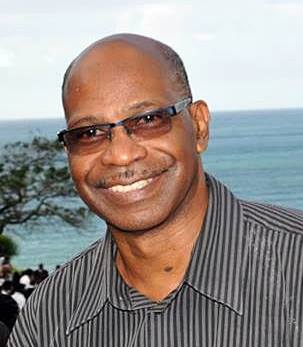 At 4:44 p.m., George made the following post, in which he cited "an authoritative source" as saying there was panic at the hospital but that the possibility of the Nigerian student who triggered the scare having ebola "is very low".
"Have an authoritative source which tells me that there is a Nigerian Student with fever and seems staff are panicking at the hospital. My source also assured me that the possibility of it be Ebola is very low. I believe its the open public reaction of the staff that has driven fear into the general public and we now have a LIVE developing case of an Ebola scare on our hands!"
George's post was edited after it was initially posted, but I-Witness News cannot verify what changes were made to it.
The Ministry of Health, in a statement emailed to the media as well as health care professionals at 5:35 p.m., said that the Nigerian student had suffered a relapse of Malaria and the casualty department was cleared of ambulant patients out of an abundance of caution.
George's name was not included in the email list.
At 8:05 p.m. on Monday, George posted a screen capture of the post in which the Prime Minister's spokesman called him an "a**hole"
"FOLKS SOMEONE JUST SENT THIS TO ME. THIS IS THE LANGUAGE AND BEHAVIOR OF YOUR PRESS SECRETARY," George said in the post.
Commenting on the situation on radio on Tuesday, King said, "I posted something on Facebook yesterday in relation to Jerry George, who I find has been showing a high level of irresponsibility as regards to journalism."
King said there was an accident in the Gomea area on Saturday "and this guy is reporting before any official thing that there is possible mass casualty from the incident.
"… People have just had to deal with the tragedy of five young persons losing their lives and two missing, and here it is, without confirmation, this guy is reporting that there is possible mass casualty," King said.
Five students have been confirmed dead and two are missing at sea and presumed dead after a bus crash at Rock Gutter on Jan. 12.
"What turned out to be the facts? Two people were in the vehicle. As far as I know, the two people are a'right," King further said of the incident in Gomea.
The police are yet to issue any official release about the Rock Gutter incident, although they have convened a press conference in which the Coastguard defended itself against public criticism over its response.
King then went on to speak about the incident at the hospital, saying:
"He (George) can't wait until the Ministry of Health sends out a release. He has to be the first to go out and tell the world. Talks about Ebola scare and low possibility of Ebola. Totally irresponsible!
"With an issue like Ebola, one does not speculate or report unconfirmed information or alleged information."
He said he had sent a private message to a friend who referred to Ebola in a post.
"But I posted publicly about Jerry George what I thought of him and what I still think of him. And make it worse, when after Jerry George had made his posting and the Ministry of Health sent out its press release, his same thread, not once did he post the press release," King said of George.
King also said it is ironic that radio personality and DJ 2Cool Kris read on radio word for word his (King's) post while criticising him for using the word "a**hole".
"And the same word he wants to condemn me for posting on Facebook, he reads that word and says that word on radio. But I guess he's just a DJ so it's all right for him to say it on radio. But I am the Prime Minister's Press Secretary, so, on my personal Facebook page, I can't use it," King said.
George, however, does not seem to have been fazed by King characterisation of him, saying on Facebook on Thursday:
GOOD MORNING ALL,
I HAVE DECIDED TO ASK YOU MY TRUSTED AUDIENCE TO DO SOMETHING FOR ME.
I CAN'T REMEMBER ever attacking anyone personally in my reporting here OR ANYWHERE but if I have please remind me, but more importantly, IF EVER you find me making a personal attack on ANYONE please don't spare me. I am asking you to castigate me in the worst way possible. I wasn't brought up like that so would be going astray from my parental upbringing in that regard.
Rest assured of one thing though, you can always count on me to bring you the ISSUES I believe you need to be made aware of and would do so in a fearless and EXTRAORDINARILY TIMELY manner when I think its important to do so. Your safety and well being is my concern. This is OUR SVG!"
It is not clear for how long King has considered George an "attention seeking, headline-grabbing a**hole".
King agreed to be interviewed by George on television sometime between 2009 and 2010.
It is not the first time King is being criticised for his choice of words. In August 2011, he told political activist Bryan Alexander in a telephone conversation that he would have shot him over a post Alexander made on Facebook had he (King) been in St. Vincent at the time.