Opposition lawmaker Sen. Linton Lewis said he was not threatening Speaker of the House of Assembly Hendrick Alexander when he told him in Parliament on Tuesday, "Don't worry man. You have to come to East St. George. You have to come to Calliaqua."
The New Democratic Party (NDP) chair and candidate for East St. George further told I-Witness News on Thursday that he is exploring ways of having the speaker sanctioned.
The comment by Lewis during the Budget Debate on Tuesday came as Alexander asked Lewis to leave Parliament after the senator said while Prime Minister Ralph Gonsalves was on the floor "That's a lie again, Mr. Speaker."
The Speaker's ruling triggered a walkout by the opposition in one of the few time that they have returned to Parliament to hear the Prime Minister wrap up the Budget Debate.
Alexander was not in office when I-Witness News telephoned on Tuesday to verify whether he had in fact reported the incident to the police, as has been reported elsewhere in the media.
Lewis, however, told I-Witness News on Thursday that his comments to the Speaker "could never be a threat".
The Speaker asked me, 'Are you threatening  me?' I said, 'No, I am not threatening you'," Lewis told i-Witness News.
He told I-Witness News that in Calliaqua Alexander visits "two shops and a house religiously and the people always confront him on what he is doing in the House…
"So, he has to go back there, he has to tell them exactly why he did what he did. It was wrong … When he comes up to Calliaqua the people will talk to him about what he did, as they always do … He knows exactly what I am saying to him. He knows what he does," Lewis said.
Lewis said that the Speaker "acted improperly" in asking him to leave, adding that not only did the Speaker not follow the rules of the House, but did not respond in the same way when government senator Julian Francis accused opposition lawmaker, MP for West Kingstown, Daniel Cummings of "lying" during the same debate.
"If I say to somebody that they are lying, his (the Speaker) responsibility is to call on me to give clarification, justification as to why I say that person is lying, if he thinks that what I am saying is un-parliamentary.
"And then if I cannot, in his estimation as administrator of the House, justify why I am saying that someone is a liar, then he may ask me to withdraw. If I don't seem to want to withdraw it readily, he will ask me to leave the House. That's the procedure. He didn't do that at all," Lewis said.
"Throughout the entire course of the proceedings, Julian (Sen. Julian Francis) was calling Cummings a liar. I've heard Ralph Gonsalves call people a liar. Ralph Gonsalves referred to me as [engaging in] a childish rant, which is also un-parliamentary. He didn't sanction Ralph on it," Lewis said.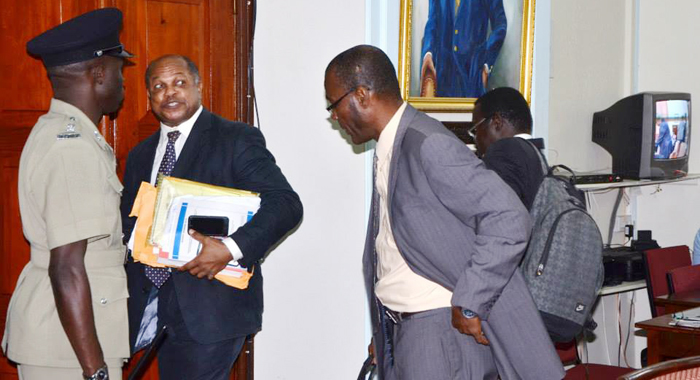 Gonsalves made the "childish rant" comments during the same outburst that led to Lewis being asked to leave the assembly chamber.
"Julian Francis shouted across to me and said, 'You can't go to Calliaqua, you afraid to go to Calliaqua; you can't go there'," Lewis said and asked if that wasn't worst than what he told the Speaker.
"The Speaker was wrong. He always does wrong things in the House. I am looking for some sort of ancient sanction to deal with the speaker, because in American, Newt Gingrich, who was speaker, he was charged $300,000 in one instance," Lewis said.
"Throughout my career in Parliament, Ralph Gonsalves, Julian Francis and other members of the House have said to people, 'You are lying.'
"If you are sitting down in the House of Parliament and somebody is telling an obvious lie on you, and you've had to deal with the issue, you have to say he is lying and then Speaker say to you, 'Why did you say that?' and then you clarify it. You can't allow a person to go ahead making those statements about you and then just sit down and say nothing at all," Lewis told I-Witness News.
He was not fazed by the fact that a report may have been filed with the police.
"Well, that doesn't make any difference. I didn't commit any offence. And even if it was said outside of the House, I didn't commit an offence. If I say to you, 'You have to come to Campden Park.' did I commit an offence? If I say I am going to kill you or I am going to do something to you it is an offence," said Lewis, a lawyer.
Asked if his comments doesn't suggest that something would happen if the Speaker comes to East St. George, Lewis said:
"But he knows exactly what will happen. He knows when he comes the people are always confronting him about things in the House and he is always boasting about it.
"I don't live in Calliaqua to say he is coming to Calliaqua and he will meet me there. … I grew up in Calliaqua and nobody could ever say that I've gotten into a fight or even gotten into confusion with anybody ever in my entire life," he said.