Leader of the Opposition Arnhim Eustace has criticised the "heavy hand" used against teacher Jozette Bibby-Bowen who has been slapped with two "obscene writing" charges in connection to comments she allegedly made on Facebook.
Last Monday, Officers from the Major Crime Unity arrested Bibby-Bowen at Bishop's College in Kingstown, where she teaches.
She is slated to reappear in court on March 17.
Related articles:
Speaking on his radio programme on Monday, Eustace contrasted Bibby-Bownens' arrest to the treatment of other persons who had gone afoul of the law and asked if it was a case of one law for the Medes and another for the Persians.
"We have spoken on this programme about a lot of persons who have been on Facebook, made different remarks and so on and have been involved in activities and actions, including in the Public Service, and all they got if a rap on the knuckles — not even a rap on the knuckles," he said.
"I can't understand the rationale for treating this teacher in this manner, except the fact, according to what I am hearing, there was some profanity involved, and I don't support that. Making it very plain; I don't support the profanity," he said.
"But the reaction and the treatment meted out, when you have had person who have in fact even stolen hundred of thousands of dollars and they are treated in a different way — very lightly, it begs the question, why is this lady treated like that. Why? Apart from whatever profanity there may have been, why? What did she do so wrong to be treated in that manner," he said.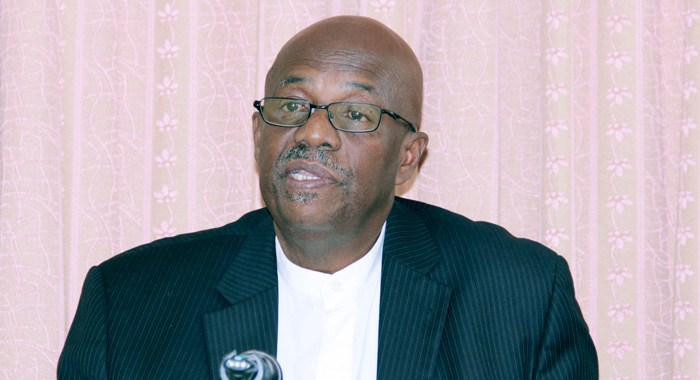 He said some persons have pointed out the Public Service regulations could have been used to discipline the teacher, if necessary.
He also decried the "heavy police" presence during the arrest and "the embarrassment of going to her in that manner".
"What is the cause of all this?" Eustace said.
"Others have been accommodated for doing more wrong to our society, but she has had the whole book thrown at her, even prevented from travel," he said.
The Public Service Commission last week suspended Bibby-Bowen from the classroom and barred her from travelling without permission.
Related: Teacher charged with 'obscene writing' suspended from duty
"… The question is, why the heavy hand, when, in comparison to others who have been on Facebook and who have done much worse in many instances, where is the heavy hand for them? Why is there a heavy hand for her? … You may take a decision to take action, but it must also apply to everyone equally," Eustace said.
"… She could have been called in. This heavy hand means something else," he said, adding that the reaction raises a lot of questions in people's minds.