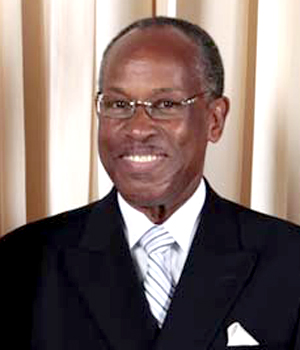 Former deputy prime minister Sir Louis Straker, who came out of retirement Sunday to become the ruling Unity Labour Party's (ULP) candidate in Central Leeward in the next general elections, says that he will focus on jobs for constituents if he is re-elected to office.
Straker, 71, retired from politics in 2010, after 16 years representing the constituency and is returning for what he suggested is a final term as the standard bearer in elections due in March 2016, but widely expected this year.
Political Leader of the ULP, Prime Minister Ralph Gonsalves asked the former minister of foreign affairs to return to the saddle, as the incumbent representative Maxwell Charles and his challenger, Dunstan Johnson refused to give way to each other as the candidate.
Speaking on the ULP's radio station on Monday, Straker said he is honoured, grateful and humbled by what he described as the great outpouring of support for his candidacy in Central Leeward from the party and party supporters.
Related stories:
"I think the people of this constituency, even those in the NDP camp, have agreed that I have given tremendous service," he said.
He said his "one regret" in leaving office in 2010 is not starting the proposed tourism development in the Mt Wynne-Peter's Hope area.
"… but it appears from what we have been negotiating that that development would have a start about midyear, sometime around June or July and I will be very happy for that, because the main thing in Central Leeward is jobs; jobs for the people," he said.
He said that he did not contemplate the outcome of the ULP's constituency conference Sunday night, where he was nominated by Charles and seconded by Johnson.
"I studiously stayed away so that the two candidates can have an open field and so that the people can make their choice, but I realise from going through the constituency and listening to people, and many of them have been asking me to come back, and I said no, because so many people have been telling me that I look so much younger now that I am out of politics," Straker said.
"So I stayed away until I received a call asking me if I would consider. I refused to consider. I called my wife immediately in New York, and she said, 'You mean to think that you're going back into this thing?' because it hit her like a bolt, as much as it hit me. The first thing I did after I spoke to my wife, I knelt at my bedside and I prayed. I had told the prime minister that I had certain friends down there and he must consult with them. I asked the Lord to show me his way and his will that I may make a decision.
"The Prime Minister called back and said he spoke to my friends and the people are saying it's the best thing that can happen if I can come back to represent them. I told him that I am not coming there at all, I am going to a crusade in Barrouallie, and when I got to that junction where the school is, I slowed down and the people were mobbing the car and saying, 'They need you up there. They need you up there.' I said, 'No, no, no; let them work it out,' and I went.
"Later, the Prime Minister, the people sent him for me, and I had to respond to the people. The Prime Minister said he spoke to Dunstan, he spoke to Maxwell, both of them agreed that if I were to consider coming back they would step aside," said Straker, who is said to have left the religious meeting to answer the call of politics.
He said that after the nomination "the people received me joyously".
"It means then that I have to put on my harness again and be on the political hustling. I intend to wage a vigorous campaign. I intend to do the best I can to make sure that the seat is kept for the Unity Labour Party. I have no doubt at all that we will bring the seat home," Straker said.
"So, here I am, wondering if it's a dream I had last night, but I have to wake up to reality and face the fact that I am here as a candidate this morning…
"But I am really honoured and grateful that the people have seen fit to turn to me to lead this party to victory in the next general election," he said.